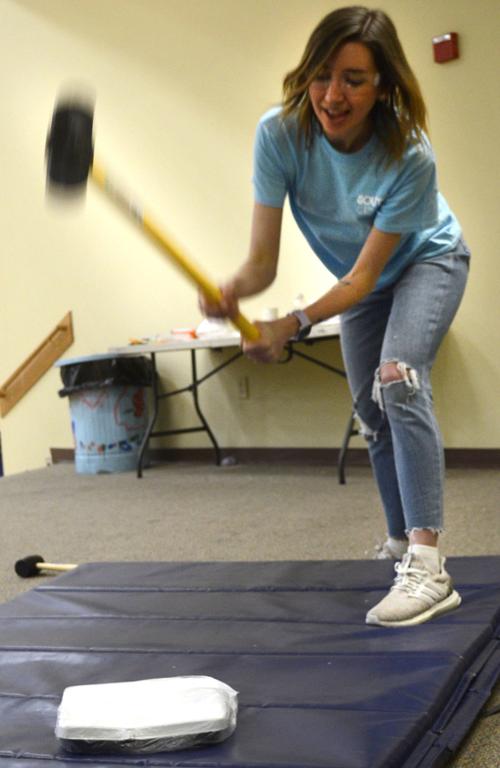 "You are not me. I am more than just my weight."
"You are just one number. My self-worth is not defined by you."
"You don't define me. I hate you. You are not invited to be part of my life. ... You die today."
These messages of defiance were written on "scale tombstones" laid next to scales crushed by "Southern Smash" participants on Sunday to raise eating disorder awareness and promote positive body image.
Local nonprofit Hello Life Eating Disorder Recovery Services and the Alliance for Eating Disorders Awareness hosted the event at Youth and Family Link to kick off National Eating Disorder Awareness Week.
"I think events like this are great because they bring awareness and take away stigma from an illness that's not talked about and which so many people suffer from in silence," said Shira Lile, Hello Life executive director. "The more awareness, education and knowledge people have the more power they have, the more empowered and supported people feel, and the more hope and healing it brings to them."
National surveys estimate 20 million women and 10 million men in the United States will have an eating disorder — such as anorexia or bulimia — at some point in their lives, according to the National Eating Disorder Association.
Lile, a Silver Lake resident, founded Hello Life in 2015. It offers free peer mentorship, connects clients to resources and education and helps provide financial assistance for treatment. Last year the organization served more than 50 people and is on track to surpass that this year, she said.
Lile wanted to hold the Southern Smash event because people in the community "deserved to know their self-worth and value are not tied to a number (on a scale) and to love themselves just as they are."
The event included a station for participants to write things weighing them down and tie them to balloons to symbolize letting them go, writing a self-love cards and scale tombstones, as well as the scale smash.
"Several years ago I smashed my own scale," Lile said. "I remember feeling empowered and liberated. ... It's emotional to smash something that's held control over you. It feels like the first time each time. I take my power back more each time."
For the last few months Kayla Humbyrd, an Americorps member, has been working with Lile to spread the word about Hello Life.
Humbyrd, 22, was born and raised in Longview. She said she had a severe eating disorder from ages 12 to 15 but couldn't find any support groups or other recovery resources closer than Vancouver.
"I'm happy we have one now," she said. "I never talked about it before and suddenly it feels like a safe place to talk about it, have support .. It's important we start being open and talking about it."
Get local news delivered to your inbox!
Subscribe to our Daily Headlines newsletter.