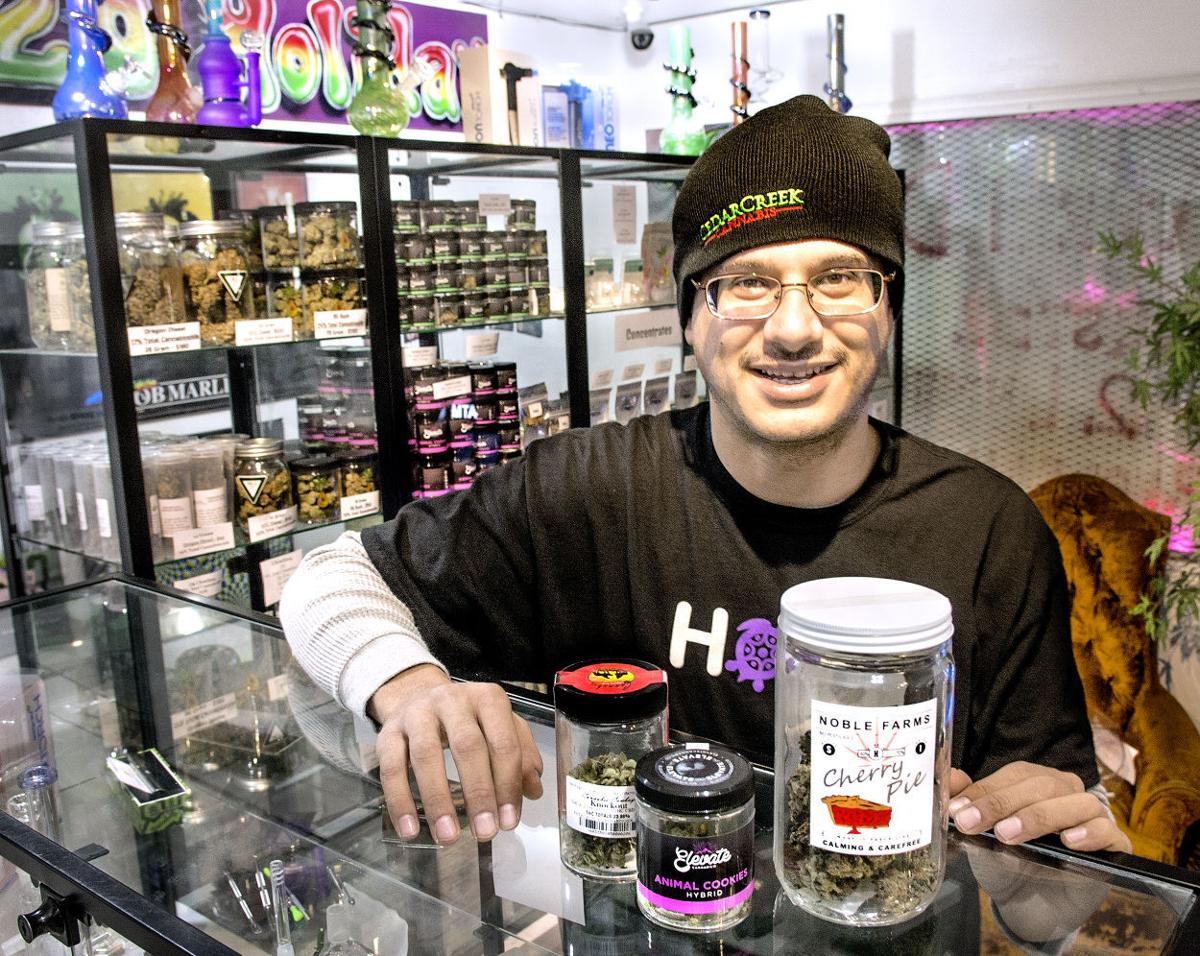 Hanging out with Mary Jane costs a lot less than it did two years ago, and prices could continue to shift in 2016 as local pot retailers brace for another year of changes.
Retailers have slashed prices in half since legal marijuana entered the market in July 2014. Then the average statewide price per a gram was $25 to $30. Now it's just under $10.34, according to the Washington Liquor and Cannabis Board.
Prices are plummeting because new retailers are flooding the market and tax changes are lowering wholesale prices. To prop up profits, local retailers say they are trying to boost sales volume and expand their clientele.
"In the beginning, we were fighting to keep our shelves stocked," said Andy Dhalai, owner of 420 Holiday at 2028 10th Avenue in Longview. Since then, supply chain kinks have been ironed out, more recreational retailers entered the market and Oregon recreational marijuana came on board in October 2015.
"Sometimes it feels like a race to the bottom," Dhalai said, referring to the competitive pricing.
Retailers say profits took a slight hit last summer when the state revised marijuana taxes. There used to be a 25 percent tax charged for producers, processors and retailers alike. A law passed over the summer eliminated the three-tier tax structure. It was replaced with a single 37 percent tax at the point of sale.
Rather than increasing pricing to account for the difference, Dhalai said he simply ate the cost to maintain lower prices.
Hollie Hillman, a manager at Freedom Market on 14th Avenue in Longview, said she and co-workers monitor their competitors' prices online daily and sometimes feel compelled to drop a price one or two dollars per gram.
Hillman doesn't expect prices to drop significantly more because some strains of licensed recreational marijuana have hit illegal street market prices — as low as $7 gram.
"I don't think it can get much lower than that," she said.
Even if it does, Hillman said Freedom Market sells enough volume to survive through fluctuating prices.
Established retailers are bracing for the addition of 222 marijuana licenses that will be added statewide this year. This includes three new licenses in Cowlitz County, three in Lewis County and one in Pacific County.
"It's definitely something we're trying to keep an eye on," said Ryan Drost, owner of Localamster, at 1006 California Way in Longview.
This week the state Liquor and Cannabis Board will announce new emergency rules surrounding the additional pot licenses statewide. The new licenses are being added to accommodate medical marijuana users once a law goes into effect in July that will integrate the medical and recreational marijuana markets into one.
Eventually, existing medical dispensaries will have to close or seek a new recreational license. Recreational retailers can also be endorsed to sell medical marijuana, and most Longview/Kelso retailers have done so. The exact laws surrounding that transition have yet to be announced.
"We look at it as an opportunity to help medical patients," Drost said.
Ultimately, the integration of the two markets could be a boon for recreational retailers. A recent analysis pegged the value of the medical marijuana market in Washington at $480 million annually. That's a 37 percent share of the overall marijuana market in the state, compared to legal recreational marijuana (35 percent, or $460 million) and the illegal street market ($390 million, or 28 percent of the market), according to Liquor and Cannabis Board.
In Southwest Washington, retailers also have to keep an eye on changing marijuana laws in Oregon. Rainier previously had a medical marijuana moratorium that Dahali said had sent would-be Rainier customers to Longview for weed. The city passed an ordinance allowing for the dispensaries in late October though. That same month, Oregon state started allowing medical dispensaries to sell recreational pot to people over the age of 21. Dhalai said he did see some business drop off when those new regulations went into effect.
"We had a lot of Oregon customers come across the border, and they're not here anymore. You still get very little, but not like what it was," Dhalai said.
For the first three months since those Oregon dispensaries started selling recreational pot, shoppers haven't had to pay a sales tax. Yet the honeymoon of tax-free marijuana in Oregon will come to end Monday, when the state slaps on a 25 percent sales tax to recreational marijuana for the first time. (The sales tax will drop to 17 percent once Oregon recreational shops go online in late 2016.)
The new sales tax could take some of the competitive edge off the Oregon market, said Breanna Alleman, administrator at the Freedom Market.
In Longview, local retailers are hoping that lower prices and quality will help them capture customers that normally would buy on the black market.
"At first people were scared to come into the shops because it was still federally illegal, but now … people are a little bit more relaxed," Dhalai said. "I feel (the business) is still viable … and there's a lot more customers now."
The Daily News, Longview, Wash.