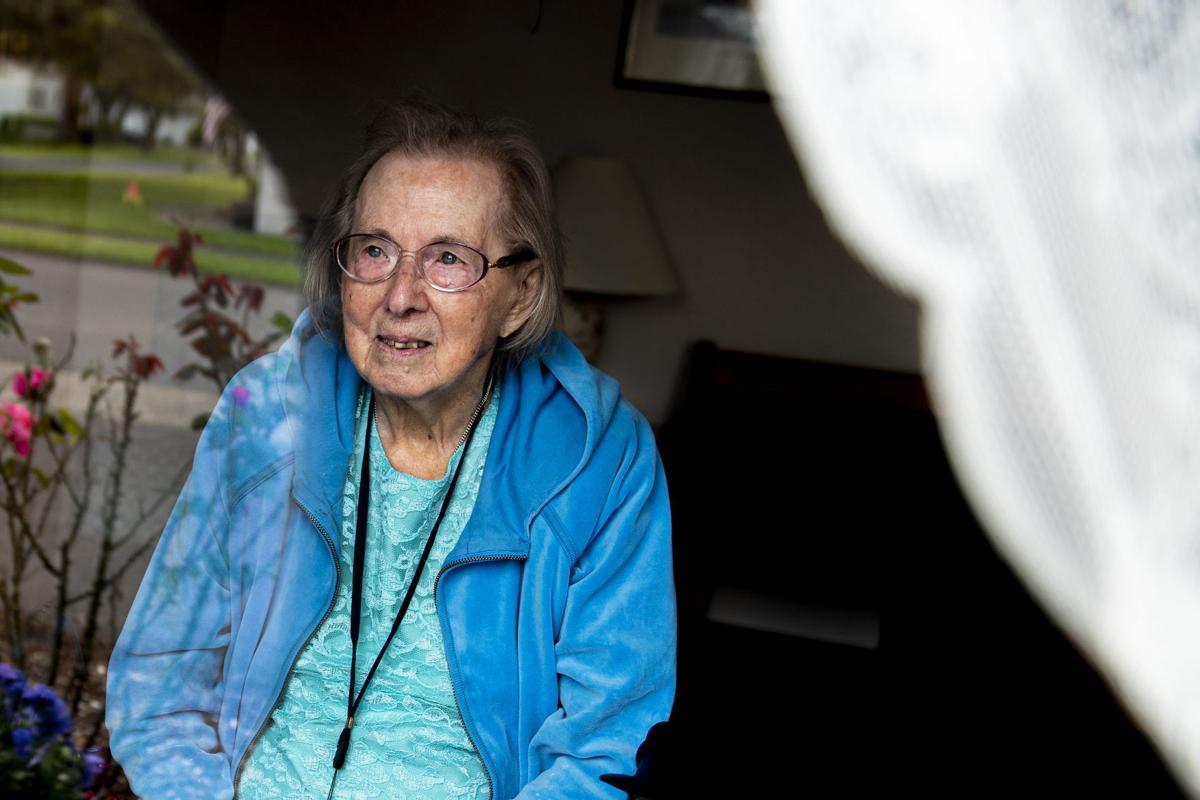 Ruby Hazen has been mostly confined to her room at the Villager Inn Retirement Center in Castle Rock since the coronavirus began spreading across the state late last winter.
The 99-year-old said Villager caretakers take good care of her and her fellow residents. Despite deadly outbreaks in assisted living centers elsewhere, Hazen said she is not too scared of the virus.
"I was worried about other people but not myself, because I figured I was isolated up here," she said.
Through a combination of care and perhaps good fortune, Cowlitz County's long-term care facilities have avoided the rash of coronavirus cases and deaths that have swept through many nursing homes across the country. As of Thursday, the county had reported no cases or deaths linked to a long-term care facility. In contrast, 19% of all COVID-19 cases and 62% of deaths in Washington were associated with a long-term care facility, either to staff, visitors and patients.
Local assisted living and nursing homes say they've closely followed state and federal safety guidelines or been even stricter. While family members said separation from loved ones has been difficult, they appreciate the restrictions that so far have kept residents and staff safe.
Saying 'no' hard on dad
Until March, Leigh Ford visited her 92-year-old father at the Woodland Care Center about every other day since he moved in about a year and a half ago.
"One of hardest things for us is we're so involved," Ford said of herself and siblings. "To go from seeing him every couple days to now we can't see him is really hard."
Care Center staff have been "remarkable" and helped Fords family communicate with her father, she said. They even help set up a video with his twin great-grandsons for their birthday, Ford said.
"They've done everything they can to accommodate," she said.
Ford said her father's hearing loss makes virtual communication difficult. Staff members have helped "translate" over the phone or video calls by repeating what she says to her father, she said. Face masks also make it difficult for him because he relies on reading lips, Ford said.
Ford said one of her biggest concerns was making sure her father understands why she and her siblings can't visit in person. Although the staff been working with her to convey that, Ford said she's worried he doesn't realize it's not his family's choice.
"He summoned me through the window during a window visit last weekend to come in," Ford said in an email. "I had to shake my head "no". It broke my heart, not knowing if he understood that it wasn't that I didn't want to go in to visit. I couldn't."
State orders
The state issued a directive to long-term care facilities on March 10, urging them to limit and screen visitors, screen all staff, provide personal protective equipment for staff, monitor residents for symptoms, limit resident movement, ensure social distancing and increase sanitation.
Recommendations evolved over time as cases rose across the state, including prohibiting visitors and increasing screening and testing of residents and staff, according to guidelines posted on the Department of Health website.
Eric Hanson, spokesman for Koelsch Communities, which operates four long term care locations in Cowlitz County, said the company is closely following CDC and state guidelines. Koelsch started taking preventative measures in February and has updated its protocols as new information and recommendations are released, he said.
"Anybody in this time would feel fortunate not to have something happening," he said of the lack of cases in Cowlitz facilities. "But at the same time, we're sympathetic to those dealing with tragic circumstances."
EmpRes Healthcare Management, which operates Frontier Rehabilitation and Extended Care Center and Americana Health and Rehabilitation Center in Longview, is following similar guidelines.
Staff are screened for COVID-19 symptoms before each shift, including having their temperature taken, according to the EmpRes website. Workers wear masks and other personal protective equipment when appropriate.
The ability to protect high-risk populations, including those living in long-term care facilities, is one of the key areas considered in Gov. Jay Inslee's four-phase Safe Start phased reopening plan. The plan requires high-risk populations, including residents, to stay home and not resume public interactions with distancing until the Phase 4, when large gatherings will be allowed again. It's unclear when that phase may begin, although at least three weeks will take place between each phase. Cowlitz County still is in Phase 1, but might soon move to Phase 2.
Ruby Hazen said she and her fellow Villager Inn residents have been quarantined in their rooms and staff bring them food and medications. Their temperatures and blood pressure are taken daily, she said.
"Our caretakers take excellent care of us," she said. "Our quarantine ensures our lives. Let us go back to normal life slowly, so that we do not lose our freedom again."
Playing Yahtzee in the hallway
The Villager Inn is like one big family, Hazen said, and she misses being able to spend time with the other residents, participate in activities and games and eating together in the dining room.
"I think I miss it all," Hazen said, but what she misses the most is "being able to hug somebody and letting them know you care."
Ginger Vorse, activities director, has been doing extra things to cheer up residents, Hazen said, like making them Easter baskets. Earlier this week, some residents played Yahtzee in the hallway using large, wooden dice, she said.
Members of the community, including local children, have sent notes letting residents know they've been thinking of them, and many residents have window visits with friends and family members, she said.
Tricia Rodman, whose father-in-law lives in the Canterbury Inn, said the measures the facility has taken are reassuring. But she's concerned about his condition because his memory loss makes it impossible to talk to him over the phone or video, she said. Staff update her mother-in-law when she calls, Rodman said, but it can't compare to an in-person visit.
"We wish so much that we could see him to make sure he's okay," she said.
Concerned about COVID-19?
Sign up now to get the most recent coronavirus headlines and other important local and national news sent to your email inbox daily.