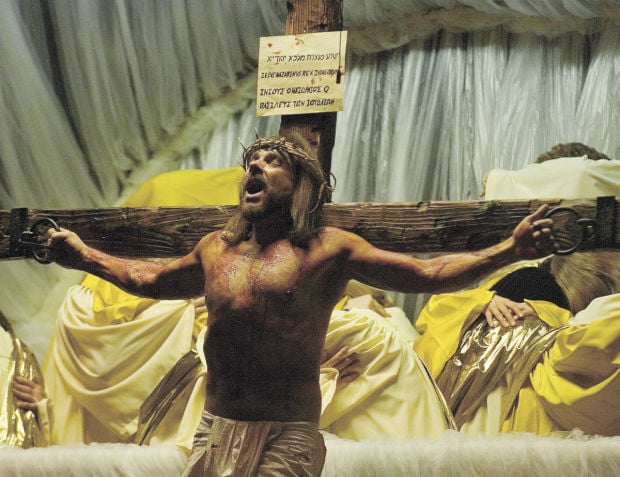 Jesus came to town Friday in a gray Honda Civic with Oregon plates.
He managed to miss the rush between Portland and Vancouver, making it to Kelso-Longview Community Seventh-Day Adventist Church with time to spare.
He had an appearance to make, a stage to fill, and a choir ready to back him.
Of course, Rollyn Betts didn't drive in character from his home in Salem, Ore. But the veteran player of the leading man in the church's annual "Journey to the Cross" Easter musical came ready.
"How do you play perfect? It's impossible," he said. "I'm a human trying to fulfill this role of love, empathy, caring, a healer. It's very hard to play. So I kind of wipe myself out of the picture, and I am thinking of each one of these (fellow performers)."
Rollyn drove up with his wife, Angie, who plays the storyteller – the singing narrator, and the only one on stage in modern clothes.
The couple has been a part of the yearly musical for more than a dozen years, making the drive to be with their extended church family every Palm Sunday and Easter weekend since 2001.
"We've been a part of their family up here for a long time," Rollyn said. "We just like worshipping with them and visiting with them, and that's how we got connected."
"I think I know Kelso better than Salem," he added with a laugh.
The role naturally leaves some big sandals to fill.
"It's very hard to play the part. I've played it for 18 to 19 years, but each time it's so moving, when you're on that cross, I'm weeping at the time."
The hourlong musical, featuring up to 100 people in the cast and choir, stays close to scripture. It condenses the story of Christ's journey to the cross – hence the name – from the time He is tempted in the wilderness through the crucifixion and resurrection.
"The Bible takes you through human struggles and what people deal with, the very Creation turning against its Creator, that's what's amazing," Rollyn said. "But He still loves them."
The church, at 1185 West Side Highway in Lexington, opens its doors to all denominations, or lack thereof, for the event, which takes place Friday, Saturday and Sunday nights the weekends of Palm Sunday and Easter. Tonight's final show starts at 7 p.m.
"We'll have people line up in advance to get seats," Rollyn said, since it's first-come, first-served for the free seats.
The 52-year-old health and vocal coach said he has grown spiritually with his recurring role as Jesus on the cross. And he says it's easy to tell when that spreads.
"A lot of kids come up to Jesus afterwards. And they'll hug you and they don't want to let go of you. There's some sort of connection there," he said. "They'll look at your hands, which will be scarred, and that scares them, but then they want to be with you. That's earth-shattering when you're trying to play this role."
He says it affects even the secular in the audience.
"Many of them have never seen the story before or read about it. They'll come in because they've seen the signs, and they're kind of blown away. It's really nice."
But there's no pressure from the church to join or anything. "It's the story as-is, and everyone's welcome to come in."
And when Jesus packs up to head back to Oregon, it won't be long until He returns.
"We've had offers to play somewhere else," Rollyn said, "but this is home."
Brooks Johnson covers Longview city government for The Daily News. Reach him at 360-577-7828 or bjohnson@tdn.com.