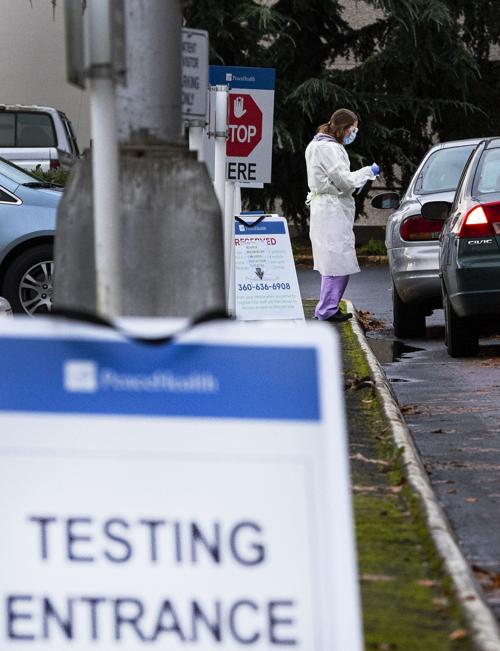 COVID-19 testing in Cowlitz County has fallen short of levels needed to adequately identify cases and prevent virus spread, according to county health officials.
To make matters worse, as cases continue to rise dramatically, the demand for testing demand is increasing, said Dr. Steve Krager, deputy county health officer.
"It's a big concern for us. We want everyone to have easy access to testing as quickly as possible," Krager told The Daily News. "Our testing has been pretty flat. When there's an increase in cases, that's not a great thing."
The percent of tests of Cowlitz County residents from Oct. 25 to Nov. 7 that came back positive was 10.6%, well above the state's goal of 2%, according to a Thursday health department data report. Meeting this goal would suggest the county's testing levels are identifying enough cases to reduce the spread of COVID-19, according to the health department.
Cowlitz County met the department's testing goal in mid-August, but since then, the county's percent of positivity has risen. In September, testing levels rose, but not enough to reach the state goal.
Testing decreased by about one-third between the last half of September and late October, as testing levels statewide increased. Since the end of October, testing in Cowlitz County has also risen.
"I'm hopeful we'll see an even stronger response," Krager said. "I think in general our provider community is pretty good about testing more people when there's more cases. Part of it is just practically, more people are requesting testing because more people are sick, and it's higher on providers' radar when they know we're in the middle of a spike."
COVID-19 cases increased significantly starting in late October, and the county recorded 207 new cases per 100,000 people from Oct. 28 to Nov. 10, up from 100 new cases per 100,000 from Oct. 21 to Nov. 3.
At the beginning of the month, the county health department issued an advisory to healthcare providers encouraging them to test everyone with COVID-19 symptoms, even mild ones, as well as asymptomatic close contacts of cases.
Most doctors' offices in Cowlitz County offer COVID-19 testing, and people who have symptoms should contact their primary care provider to get tested, according to the county health department. Patients who are uninsured or don't have a health care provider can contact the Cowlitz Family Health Center to request testing.
Insurance companies are not allowed to charge copays, facility fees or require prior authorization when someone is being evaluated for and tested for COVID-19.
Cowlitz Family Health Center has seen an uptick in demand for testing in the past month, said CEO Dian Cooper in an email. The clinic is testing symptomatic patients or close contacts that are symptomatic, including those referred by the health department, she said.
As the cases have increased, the time for lab results for tests has increasing from two to three days to two to four days, Cooper said.
If the turnaround time for lab results gets too long, Krager said the department may recommend providers use rapid antigen tests to get patients faster results. The antigen tests are less accurate that the standard PCR test, but it could be a net positive to use the tests if they lead to people isolating properly after receiving the result, he said.
The state has a supply of the antigen tests and the county may request some to distribute locally if the lab turnaround time gets too lengthy, Krager said.
PeaceHealth Medical Group is able to meet the testing demand of both inpatients and outpatients, said spokesperson Randy Querin in an email. PeaceHealth clinics test patients with COVID symptoms, as well as asymptomatic patients, including pregnant women, close contacts and if requested by the Department of Health.
The health department is struggling to keep up with tracing close contacts of confirmed COVID-19 cases, Krager said. Public health staff are asking confirmed cases to reach out to their close contacts and give them information about quarantining and getting tested, he said.
"I do worry a little bit," Krager said. "We're just trying to be upfront with the community about where we're at. We just don't have resources to keep up with that part of contact investigations, and we have to rely on the community to help us a little bit."
People should seek out testing if they are concerned or believe they have been exposed to COVID-19, Krager said.
Kaiser Permanente said it is seeing an increase in requests for testing across the region, said spokesperson Michael Foley. The healthcare group is prioritizing testing for symptomatic and high-risk patients and will not be conducting testing for social events, he said. Kaiser will reimburse members tested for this purpose for the cost of the test as long as it's done at a licensed facility, Foley said.
"A negative test result ... doesn't prevent you from getting or spreading the virus while interacting with others," Foley said "Because of these risks, Kaiser Permanente does not recommend testing for holiday gatherings as it consumes limited testing resources and does not provide any assurance you would be safer at such a gathering."
Krager said he doesn't know how many Cowlitz County residents will try to get tested related to travel or gatherings, or if it will put any strain on healthcare providers. But it may not present much of a problem because clinics struggling to meet testing demand will likely turn away those trying to get tested for those purposes, he said.
The health department has not heard that testing supplies are short, rather that clinics often don't have the time or staff to meet the larger demand, Krager said.
Carole Harrison, interim director, said the health department has been trying to work with a provider to set up drive-thru testing for people who can't get into their primary doctor, but hasn't had any luck.
If and when that comes to fruition would help expand testing further and make it more convenient for people to get tested, Krager said.
"Ultimately the best thing people can do is prevent cases from happening in the first place," Krager said. "If we want to reduce strain on testing capacity, people should stop having gatherings where people are spreading coronavirus. ... Please stop getting together with friends and family outside your household. Stop having baby showers and parties. Those are the things that are driving our cases. Stopping those and keeping your bubble smaller is going to be the most effective."
Concerned about COVID-19?
Sign up now to get the most recent coronavirus headlines and other important local and national news sent to your email inbox daily.