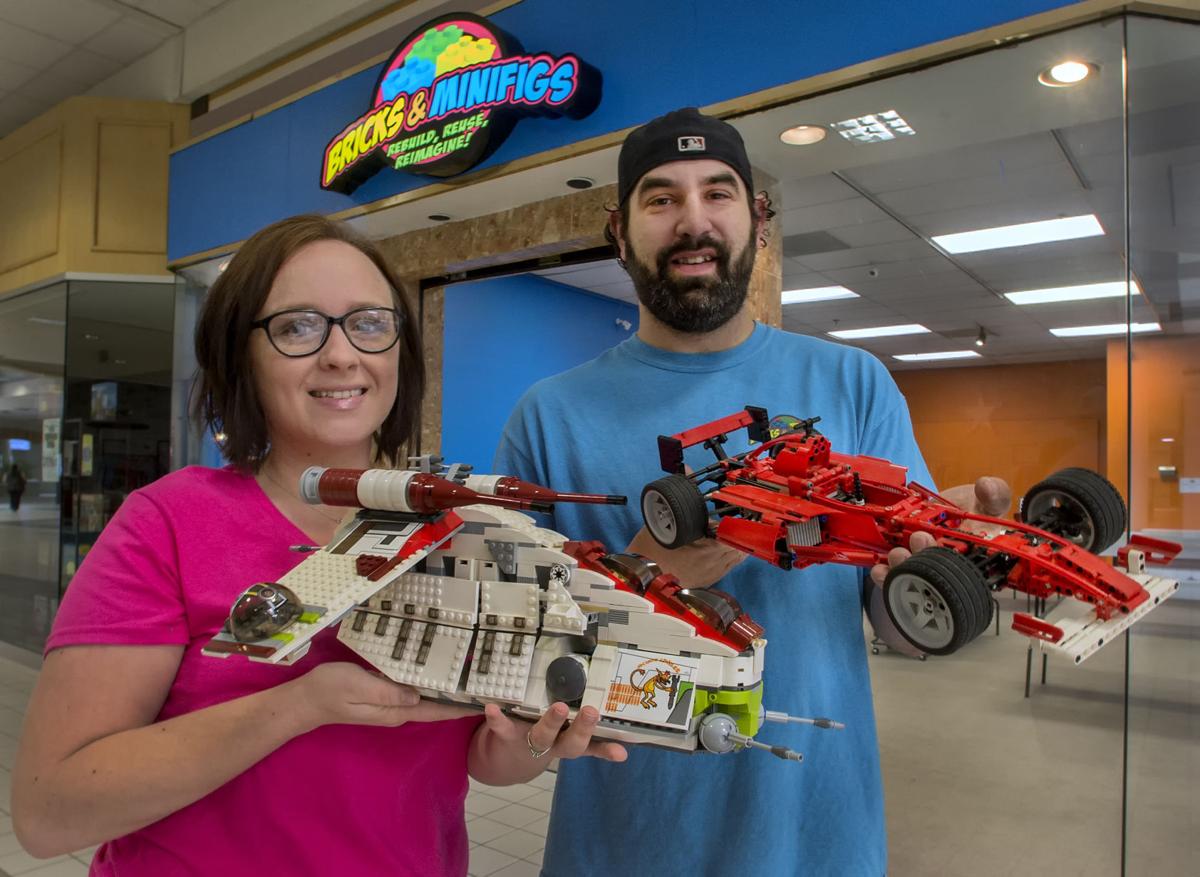 Jerame Moore jokes that Legos got him in and out of the construction business. The small, colorful bricks and figures inspired him to create and build things in real life.
So after deciding that 12 years in construction was enough, Moore returned to the roots of his creativity.
Moore and his wife, Vola, opened their second used Lego store, called Bricks and Minifigs, Saturday at the Three Rivers Mall in Kelso. The business specializes in selling used and "retired" Legos, with an emphasis on minifigures. Moore said it took them about three weeks to sign the lease and set up the store.
The couple, who are part of the national franchise of 33 stores, also own the store in Ridgefield, which was the original Bricks and Minifigs. They took over that one in November. The Cowlitz County natives hope their Kelso store will help promote local businesses and get them more involved in their community.
"It's been definitely a whirlwind of Legos in the last year," Vola Moore said. The store is an opportunity "to get involved and make changes, because we love our community and we just want to see it be better for our kids than it is for us."
The Moores said Bricks and Minifigs fills a niche in the Lego community. Because the store specializes in retired Legos, collectors and newcomers can find bricks or minifigures that are either no longer available new or can only be found online. It also allows buyers to make sure the pieces aren't knockoffs or broken, Jerame Moore said.
"We really try and focus on retired stuff. Anybody can go to Walmart, Target, Fred Meyer and buy current sets. So what we really try and do is fill a niche where people can come and buy things that are long gone," he said.
The Moores said they want to partner with other local businesses, such as the Children's Museum, Ashtown Brewing Co. and Longview Parks and Recreation to hold community events where kids and adults can come build, buy and enjoy Legos. The couple is finishing construction for their party room at the back of the store, which will provide an open area for events and building stations.
Jerame Moore has been a collector since he was little and has close to 1,000 minifigures of his own. He said being a part of the business and seeing others get excited about Legos inspires him to keep creating.
For the Moores, Legos have been a big part of their family. Vola Moore said her husband often spends his weekends and days off building and creating with Legos with their two children. The business has become a way to get their kids involved, as they often help rebuild some of the sets or pieces, the Moores said.
"We've been married for 14 years and ever since we got married we've always wanted to start our own business. … When we came across this one, it kind of struck with both of us. (We) make kids happy and sell cool things," Jerame Moore said.
"Legos are a big part of our family. … So for us it was already near and dear to us as far as it's kids, it's families, it's memories," Vola Moore added.
Jerame Moore said the store is a great place for people to come and chat about Legos and their experiences. He said he and his wife are happy to have a conversation with their customers about any of the pieces or figures, and are striving for honesty when it comes to trade-ins. He said they try to be as knowledgeable as they can about the Legos and will try to find answers to questions.
Prices are dependent upon rarity and popularity, Jerame Moore said, and most of the merchandise ranges from $4 to $25.
The couple said they look forward to promoting creativity and seeing the smiles and excitement of the children and families who enter.
"For us the biggest joy is when a kid comes in and they're excited to be here. A lot of retail places you can't go and simply be excited just for being there," Jerame Moore said.
"We want …to just kind of have a place where kids can come and have fun but be learning at the same time. So we're hoping to be a place where families can come and spend a few hours," Vola Moore added.
Contact Daily News reporter Denver Pratt at 360-577-2541 or dpratt@tdn.com