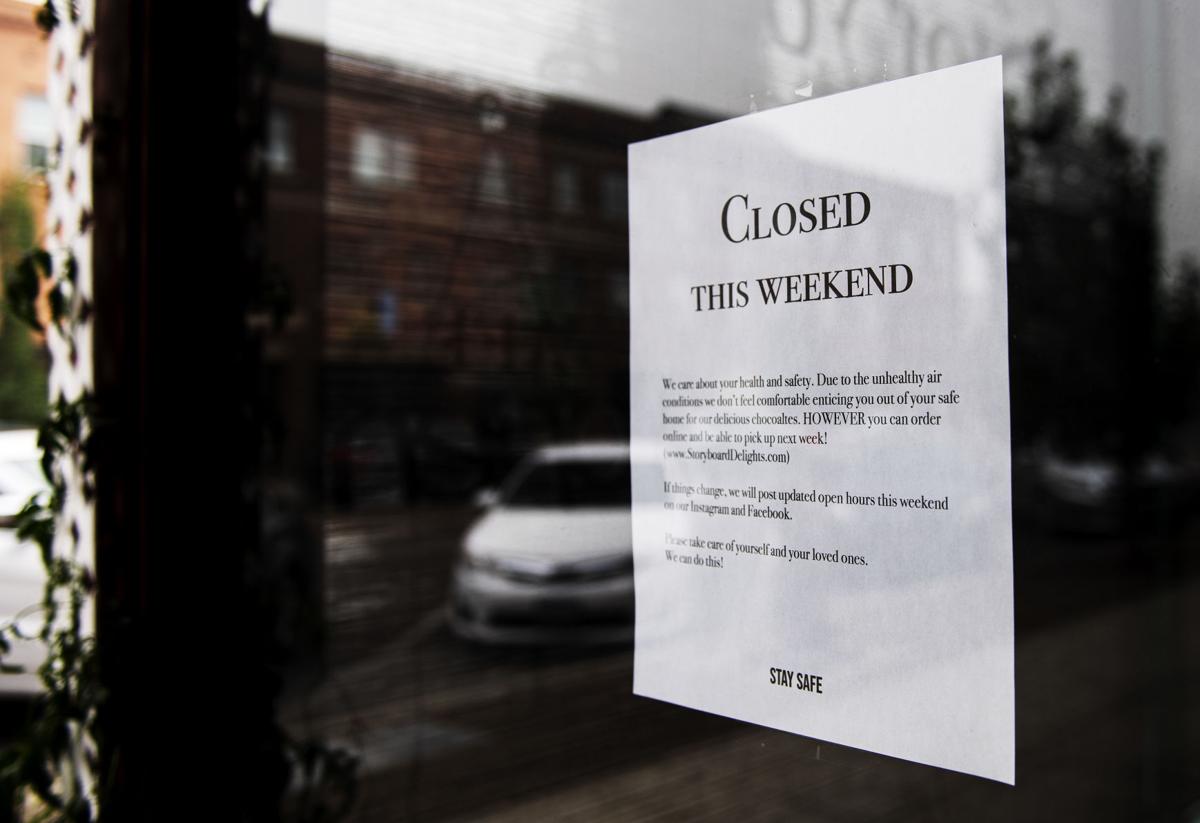 For most downtown shopping events, Storyboard Delights in Longview would warmly welcome customers into the chocolate shop for a sweet special on treats. But during the countywide "Shop Local Saturday" last weekend, the store sat dark and empty.
Co-owner Eric Wright said he and his wife, Julisa, decided to join a handful of other businesses in temporarily closing up shop due to the unhealthy air quality caused by the lingering smoky haze from wildfires in Oregon and Washington.
"It was supposed to be a great big weekend for everybody, and then the air quality got so bad that there were alerts from the local government being like, 'Hey, don't go outside,' " Wright said. "We just didn't feel comfortable enticing people out into the smoke. But it meant a great deal of loss in sales and revenue."
Unhealthy air quality hindered the success of Cowlitz Economic Development Council's attempt to boost business for retailers and restaurants with Shop Local Saturday.
Local business officials say the recent air advisories were "another beating" for the Cowlitz County businesses that are already struggling through economic tumult caused by the COVID-19 pandemic.
"You look at the last six months … and it certainly feels as though every time we hit a groove, there's a curveball that comes our way," said Lindsey Cope, community engagement coordinator with the CEDC. "Unfortunately you're dealing with this pandemic that's already decreased capacity and is largely spread via air droplets. And then you compound that with literally hazardous air quality. It's not really a winning combination."
Fine particle pollution in the air, including dust and smoke, can seriously affect a person's health, according to the state Department of Ecology. Ecology measures air quality levels with the Washington Air Quality Advisory to notify residents when they should take steps to protect their health.
If air quality reaches the unhealthy or hazardous end of the spectrum, people should limit outdoor activity or stay indoors completely, according to Ecology.
conditions inhibit retailers and restaurants from offering outdoor seating or sidewalk sales at a time when businesses need outdoor space the most, Cope said.
New state rules limit restaurants and retailers to 50% capacity inside, so outdoor space increases the number of shoppers a store can serve. It also offers an alternative for customers who might not be comfortable shopping or eating inside indoors during a pandemic, Cope said.
The combined health risks of the pandemic and smoky air may deter more people from shopping, which decreases local spending, she said.
For the local economy, that means "we just take another beating, and we hope the diversification and the change in business models and the things we've put into place because of COVID are enough to get us through another dip on the roller coaster," Cope said.
Wright estimated that his shop lost out on about $2,500 of sales when it closed over the weekend.
"That's a big deal when you're trying to pay rent and get things bought. And that's a conservative estimate," he said. "If the event had gone off like we had hoped for Downtown on Saturday, then the sales likely would have been more, and it would have … been able to mitigate some of the damages from our general loss of sales due to COVID-19."
The decision to close because of poor air quality is made by each individual business, usually with advice from the local health department, according to the state Department of Labor and Industries. L&I does not require closures, but it encourages employers to take precautions to keep their workers and customers safe, said Karen Anderson, an industrial hygienist with L&I.
That includes staying up-to-date on the air quality information, making sure indoor HVAC systems work, allowing employees to voluntarily wear a dust mask, rescheduling outdoor work, reducing the level or duration of physical exertion and encouraging workers to use sick leave or vacation time to stay home if they feel unsafe, Anderson said.
"Another really good thing for employers to do is communicate all of the things they are doing with their employees, so they know what steps their employer is taking ... and what their options are," she said.
The CEDC had planned a shop-local event last weekend to boost sales for businesses struggling under the state's coronavirus safety regulations. When the air advisories came out, a handful of stores decided to close for the weekend and forego the event.
That included Downtown Longview businesses like Storyboard, Offbeat Antiques and Oddities and Let's be Holistic.
Ariel Large, co-owner of Offbeat Antiques, said she expected the smoke would keep most customers home for the weekend.
"Because we knew the traffic would probably be low, we decided we would use that time to work on other projects to benefit our customers in the comfort of our own homes, where we are also staying safe," Large said of her and her husband.
They also used the closure to prepare space for friends and family who might have to evacuate their homes near the wildfires.
"The time was really awful, and I feel bad for the businesses that had planned for weeks to make it a successful (shop local) event," Large said, "At the end of the day it was up to us to keep our families and customers and ourselves safe. We can reschedule the event, but we can't postpone the weather."
Other businesses forged forward with their sales, though they cautioned their customers to stay mindful of the smoky conditions. For example, Ella Gray, a home and decor store in Kalama, moved its sidewalk sale inside, according to a Facebook post.
Others still stayed open for the weekend but put out closure notices Monday when the poor air quality persisted.
"We will be closed Monday September 14th. This is due to limited seating available indoors per (the Washington) governor's mandate and the extremely hazardous air conditions outside. Thank you all for understanding," Antidote Tap House posted on its Facebook page.
Wright of Storyboard Delights said the chocolate shop will likely stay closed until the smoke clears. Large said the antique store re-opened Monday because "we had to come to the shop to do projects anyway." But Offbeat will consider another closure if air quality doesn't improve soon.
"Anytime you have to make that decision to close your doors, that's money out of your cash register," Cope said. "It's not an easy decision to come to, but at this point, you have to roll with the punches, as every single bit of this is a punch. … Adaptability is the name of the game."
Cope said the CEDC will host a "Shop Local Saturday 2.0" event this weekend as a "do-over."
"There is so much of this that is seemingly out of our control," Cope said of the pandemic and the wildfires. "The silver lining in this (air quality) situation is that we have a much clearer picture of what the end looks like for the smoke in the air. We know that eventually the fires will cease and the smoke will end. You can wrap your mind around that."
"With COVID, we don't have that answer," she said. "We don't know when or if we will have that answer."
Concerned about COVID-19?
Sign up now to get the most recent coronavirus headlines and other important local and national news sent to your email inbox daily.