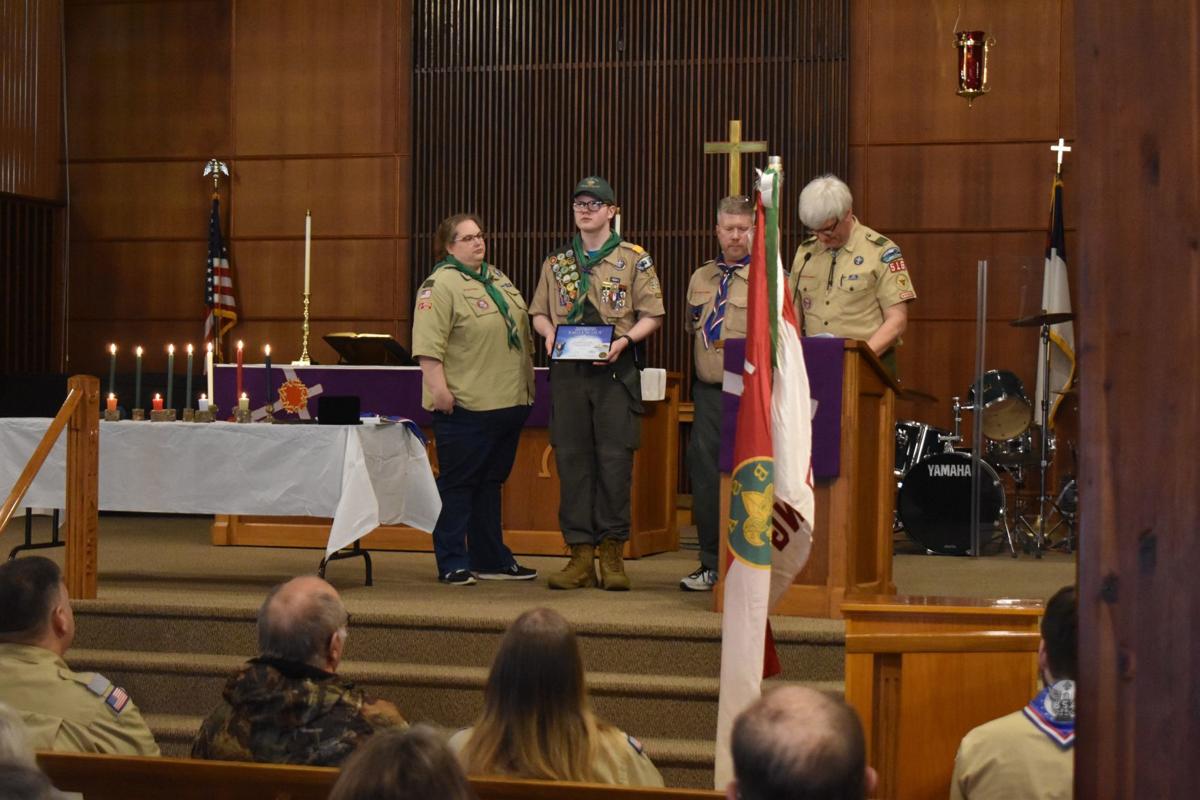 In a word, the national revelations of sexual abuse by Boy Scout troop leaders over the past few decades are "tragic," local troop 516 Scoutmaster Steven Mahoney says.
"As a Scouter, you're going: 'Look, we took an oath to be trustworthy,'" Mahoney said. "This is way out of line. It's not a behavior that you want to tolerate at all."
As an adult, Mahoney has been involved with the Scouts since 2009 and a scoutmaster for the last five years at Longview's Emmanuel Lutheran Church troop.
But Mahoney also has a perspective from law enforcement: He served 15 years as a reserve Castle Rock police officer and his father, Bill Mahoney, was a former Cowlitz County sheriff.
"The cop side of me wants to put handcuffs on people," Mahoney said.
Mahoney is one of many involved with the Boy Scouts of America who say they hope both for justice and healing for the victims and for the survival of an organization that has historically promoted leadership, self-reliance and outdoors skills among boys.
The 110-year-old youth organization has weathered a barrage of sex abuse lawsuits, many filed only recently as states expand their statute of limitations for prosecuting sex crimes.
By filing for bankruptcy in February, the Boy Scouts of America hopes to fund a victims' compensation fund for thousands of men who were sexually abused as boys by Scout leaders over the decades.
The organization has done a lot to improve since the 1980s and 1990s, when much of the abuse is believed to have taken place, Mahoney said.
Boy Scouts of America began requiring criminal background checks of all potential volunteers in 2002. In 2011, the organization began to require all members to tell police of possible child abuse, according to reporting by CNN.
A Los Angeles Times database indicates four people have been expelled from the Boy Scouts on suspicion of sexual abuse who were "connected in some way" to troops in Cowlitz County. Their names, roles and documentation on the abuse are not available, and their cases date back to the 1990s. The Cascade Pacific Council — which oversees troops from Castle Rock to Salem — declined to comment on those cases.
Other records of individuals deemed "ineligible" to volunteer with the organization don't list anyone in the TDN circulation area.
The effects of the national controversy have been relatively small locally, Mahoney said. He said he hasn't noticed any change in recruitment due to the lawsuits.
The biggest impact has been to local membership fees, which he said have skyrocketed from about $9 dollars per year in 2009 to about $84 currently. The majority of that increase is funding the lawsuit settlements, he said. (Only the national organization has filed for bankruptcy, not local councils and units.)
That's impacted recruitment somewhat, but he said the Cascade Pacific Council has worked on keeping the Scouts affordable and providing scholarships to those who can't afford the higher costs.
"They've been very good (about keeping membership affordable)," Mahoney said. "But there's definitely some sticker shock."
In a statement, the Cascade Pacific Council said: "We don't allow money to be a reason a family cannot participate in our program thanks to generous donations from Scouting supporters. "
Mahoney's hopes: "For the victims ... to be able to move on beyond the terrible things that have happened to them. That it not be something that's dominating their life or holding them back. As far as the organization, to be able to do the best job possible for building citizenship, character and fitness in young men and women."
Mahoney's 14-year-old son Seamus, a patrol leader and star scout in Troop 516, said he hopes the Boy Scouts can continue teaching religious, community, and financial responsibility, as well as survival skills.
"If something bad did happen to people, I hope that that gets improved," Seamus said. "But I do want Boy Scouts to keep going on, because I think it is a good organization."
Retired Longview troop leader Earl Azeltine said people need to be diligent and stop abuse if they see or suspect it, as well as report it to the proper authorities.
"Obviously it's a very, very sad situation," said Azeltine, who currently works at Steelscape in Kalama. "People have got to be aware that this could happen. It's happened in the Catholic church, in schools, it's always a danger."
Azeltine, 60, was most recently a Scoutmaster before leaving the Scouts a couple of years ago. He said that he and other troop leaders often had discussions with Scouts and other troop leaders about how to keep the boys safe.
"We always have warned our boys that not everybody wearing a Scout uniform is a Boy Scout," Azeltine said. "Unfortunately, in just about every organization and every walk of life, there's people out there that try to take advantage of the situations, and you've got to be aware of that. We start from day one and we reiterate the dangers of boys and adults in those situations. You'd hope you wouldn't have to talk about those kinds of things."
Despite the challenges the organization now faces, Azeltine said he still believes in the Scouts and its core mission. It gets kids outdoors, teaches them leadership skills and the value of helping each other and builds good citizens, he said.
As an example, he described a boy he once had in his troop who was "awkward" starting out.
"He would get real emotional and didn't handle difficulties really well," Azeltine recalled. "(But) by the time he was 16 or 17, he was leading organized camp outs and handling difficulties and negative things. Just a completely different person, in a positive, constructive way."