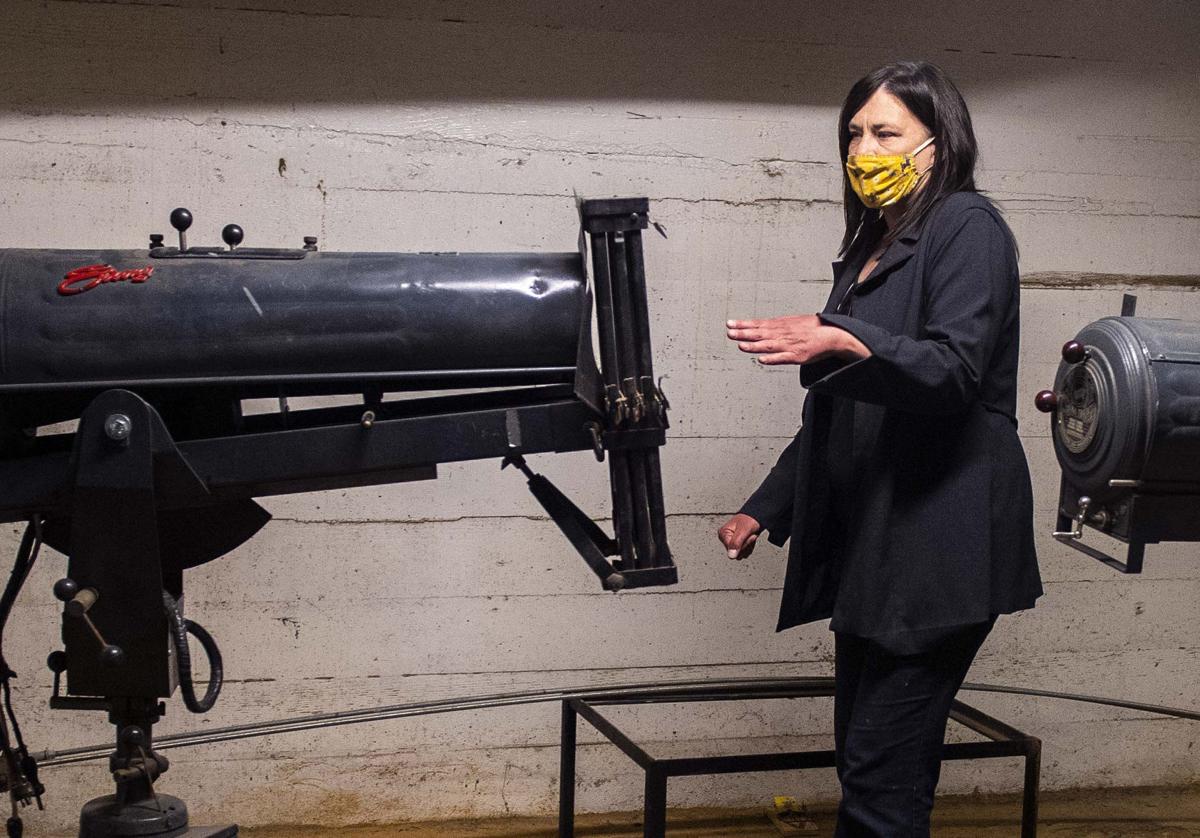 The May 21 performance at the Columbia Theatre Association in Longview returned a familiar feeling to the facility — reactions from a live audience.
California comedian Ellis Rodriguez presented the theater's first in-person performance since the facility closed in March 2020 due to the pandemic.
Columbia Theatre Association — like Stageworks Northwest Theatre in Longview and Love Street Playhouse in Woodland — have been closed for more than a year.
Columbia Theatre staff have filmed and streamed performances from the facility online, but haven't allowed viewers to watch live due to state restrictions to protect attendees from the airborne coronavirus.
General Manager Kelly Ragsdale said she might have been overly enthusiastic to greet the first performance's roughly 115 attendees as they walked through the door.
Kathryn Rose performed at Longview's Columbia Theatre in October 2020 without tickets sold or audience members in seats.
"I was so excited to be in the house with our volunteers, watching our patrons come in," she said. "I think we were scaring people."
Friday and Sunday Longview's Luminary Dance Academy hosts recitals at the theater, and Portland-based comedian Tyler Boeh takes the stage June 18.
The theater can seat a maximum of about 298, Ragsdale said, until the state completely lifts restrictions, which is slated to be June 30.
By then, Ragsdale said she hopes to pick up the organization's "full season" that was cut short in 2020.
Stageworks
Stageworks Artistic Director Janeene Niemi said the Longview theater is waiting until the fall to resurrect in-person events to allow maximum seating.
The theater plans to host a karaoke night in September that could be a regular event if successful.
The organization will run what Niemi called "an old timey" variety show through Thanksgiving and Christmas, which will highlight downtown businesses.
Niemi said Stageworks seasons will start to coincide with the calendar year, unlike before, beginning in January.
The majority-run volunteer organization will present canceled shows from the 2020 season in 2022 "to bring closure to the season we didn't get to finish," Niemi said.
Cowlitz County joined the state in Phase 3 of the state's reopening plan Tuesday, a welcome step forward for local businesses.
Shows include "Clue," "Arsenic and Old Lace" and an original play by the real-life relationship between a Cowlitz County deputy and the man he guarded that was to be put to death.
Love Street
Love Street Playhouse in Woodland plans to perform a play called "Shadowlands" in September, though no exact dates are set.
The play is about "The Chronicles of Narnia" author C.S. Lewis and his wife Joy Davidman.
Love Street Playhouse Owner Lou Pallotta said he and his wife Melinda chose "Shadowland" as the first play after the pandemic because the show is about "hope and love."
Gian Paul Morelli, executive director of the Columbia Theatre Association for the Performing Arts, will officially retire at the end of 2020, …
Attending a live performance, he said, can help audiences take a break from reality.
"The world has so many problems, but at the theater it's just people coming together, and focusing on the goodness of coming together," he said. "People leave feeling connected to each other."