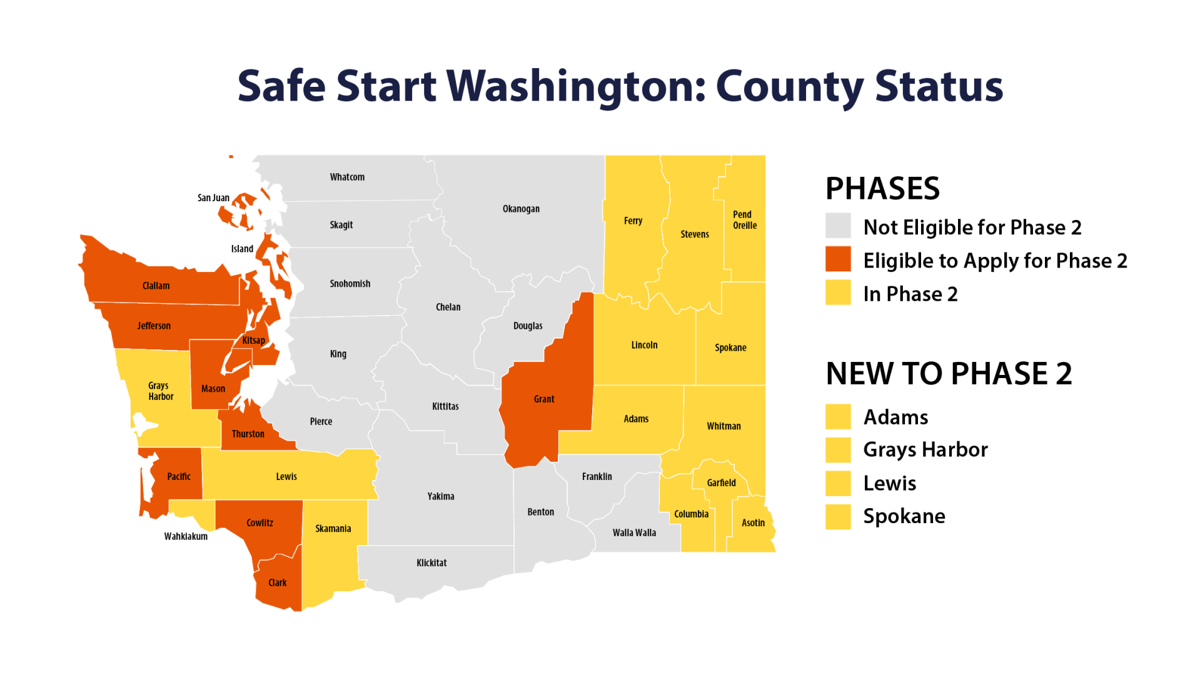 The state health department Friday approved Lewis County and three other counties to move to Phase 2 of Gov. Jay Inslee's four-step economic recovery plan, and Cowlitz County officials submitted their plan to move to that phase as well.
Cowlitz officials hope to receive a response by early next week.
The state health department Friday approved Lewis, Adams, Grays Harbor and Spokane counties for Phase 2. The state's action means all counties surrounding Cowlitz are in Phase 2 or its Oregon equivalent.
Steve Krager, county deputy health officer, said he believes Cowlitz County's application will be successful.
"I believe we can safely enter Phase 2," he said. "It's not a return to normal but a gradual reopening. We will work diligently to make sure we do that safely, that the businesses that reopen are doing it safely and provide guidance for them."
Krager stressed that moving to Phase 2, if the state approves, does not mean social distancing is no longer required. He encouraged people to wear cloth face masks in places where it's harder to social distance, such as the grocery store. People should try to do activities outside where it's safer than in an enclosed space.
A total of 14 of Washington's 39 counties now have been approved for Phase 2: Adams, Asotin, Columbia, Garfield, Grays Harbor, Lincoln, Lewis, Ferry, Pend Oreille, Skamania, Spokane, Stevens, Wahkiakum and Whitman.
Eleven counties are eligible to apply for a variance to move to Phase 2: Clallam, Clark, Cowlitz, Grant, Island, Jefferson, Kitsap, Mason, Pacific, San Juan and Thurston. Cowlitz County officials were meeting Friday morning to assemble the county's application to move to Phase 2.
To apply, counties must have an average of less than 10 new cases of COVID-19 per 100,000 residents over a 14-day period. The application process requires support from the local health officer, the local board of health, local hospitals, and the county commission/council.
Cowlitz cases were reported no new cases Friday and seven in the last 14 days, leaving it with a rate of 6.4 cases per 100,000 since May 9.Overall, the county has had 72 infections and no deaths.
PeaceHealth St. John Medical Center submitted a letter as part of the application verifying it has enough capacity for a 20% surge in COVID-19-related hospitalizations and a 14-day supply of personal protective equipment.
Elaine Placido, Cowlitz County community services director, outlined other criteria required for the application, including:
A description of the testing sites in the county, which include Cowlitz Family Health Center, PeaceHealth clinics, Kaiser Permanente and PeaceHealth St. John. Placido said the health department also has a process to test first responders and those unable to get a test otherwise.
The median number of days from illness onset to test from April 21 through May 8. The county had 33 positive tests during that time and the median testing lag was four days. However, that time period includes the testing of 201 Foster Farms employees, many of whom did not speak English, were fearful of losing their jobs or of governmental sanctions. Symptom onset report is likely skewed because of this, the application notes.
A review the last four weeks of COVID testing, from April 21 through May 18, which had a total of 1,039 tests with a 3.3% positivity rate. The state's ideal rate is 2%.
Description of the county's case tracking and contact tracing capacity. Based on a formula from the state, the county should have 16.34 trained contact tracers based on its population. Placido said the county has 7.5 trained staff and four trained volunteers available, two ready to be trained and can fill the gap using state resources if needed. Over the past four weeks 92% of the 37 positive cases were reached within 24 hours, and 89% of the 95 close contacts were reached within 48 hours.
A description of the county's alternative isolation and quarantine locations for those who can't do so at home. As of Wednesday, eight patients had voluntarily stayed at county-provided isolation or quarantine sites in local hotels and other locations. Local social services agencies are providing services such as food delivery to those in isolation or quarantine at home or in a county-provided site.
A plan to address an outbreak at a long-term care facility or a workplace. Placido said the county is in touch daily with the local facilities and has staff trained to respond to an outbreak there or at a workplace.
Phase 2 allows more outdoor recreation and small group gatherings of five people or less. Barbershops and salons could reopen along with restaurants at 50% capacity and tables of five people or less. Pet services, including grooming, could resume. Some professional services could resume, although teleworking still will be encouraged.
Businesses approved to move into Phase 2 must comply with all health and safety requirements outlined in the guidance to reopen.
Concerned about COVID-19?
Sign up now to get the most recent coronavirus headlines and other important local and national news sent to your email inbox daily.