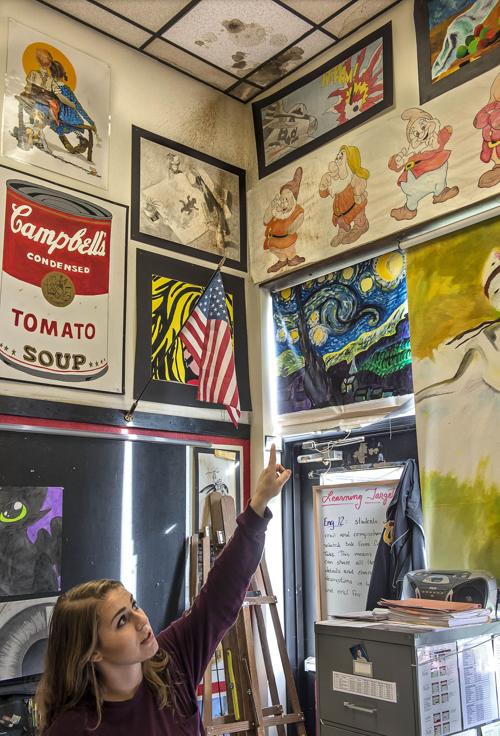 TOLEDO — The decay of Toledo High School was evident to influential state lawmakers who toured the 42-year old school Thursday and heard about plans to renovate it if voters here approve a $12.9 million bond on Nov. 7.
Members of the House Capital Budget Committee toured several schools in the region, including in Lacey and Chehalis, and expressed shock and sadness at the state of Toledo High school.
"It's due," noted one lawmaker, shaking her head.
Toledo Superintendent Chris Rust led the group of legislators and officials from other school districts around the high school, pointing out structural problems and failing systems: Classrooms are woefully short of electrical outlets; flimsy, movable interior walls are porous to voices and sounds from adjoining classrooms; the lunchroom's floor-to-ceiling windows leak in rainy weather; there's no air conditioning and the school has no windows that open, creating security concerns when teachers open exterior doors (there are 33 of them) to cool students in hot weather; the brick facade is vulnerable to collapse in earthquakes.
"No one in our district is complaining about anything," Rust said. "We make it clear that we will teach their children in whatever conditions necessary … but if you want better for your community, here's what we can do."
All three Toledo schools would be addressed in the bond, but the $10.7 million designated for upgrades at the high school would make up the lion's share of the bond.
The high school's degradation is entirely related to its age and not flaws in the original design, Rust said.
"The state expects to help us with construction every 30 years and it's been 42, so it's strictly the length of time," he said.
The school district estimates that it could qualify for about $8 million in matching funds from the State Construction Assistance Program (SCAP) — but only if the community agrees to pay its share of the costs through the bond.
When the high school turned 30 in 2005, the district was still paying off debt on a $5.8 million bond for the elementary and middle schools. Taking on additional debt to upgrade the high school was impractical then, Rust said.
But after that bond was paid off, voters in 2014 rejected a $23.5 million bond proposal amid voter complaints that the district did not explain how the money would be spent. Another bond proposal last February for $14.2 million fell about 60 votes short of the required 60 percent supermajority in February. So the proposal before voters this November is the third time in three years the district has attempted to address the needs of the high school and other facilities.
"I thought the last one was going to pass," Rust said. "I was surprised that it didn't. So I don't know what will happen."
Since February, the district Facilities Advisory Committee has pared back the bond proposal, working on a premise that the bond must be less than $13 million to pass. In the end, the committee kept many of the same projects on the bond proposal, but some upgrades were accomplished with existing money and and new cost estimates have been turned down some.
During Thursday's tour, Rust highlighted a brand new drinking fountain which was part of the two failed bond proposals but the district fixed recently with maintenance and operating (M/O) levy money. The fountain had been out of commission and wrapped in a trash bag for at least 10 years, Rust said.
"I can't tell you how proud I am of that project," Rust said. "It was the posterchild for the bond last time around, and to be able to fix that shows that we aren't standing around waiting for a handout."
The district also used M/O levy funds to purchase a new dishwasher and washing machine and update exterior lighting, fencing and security cameras.
The $12.9 million bond includes $330,000 to replace the boiler and $500,000 to re-roof the middle school. The district will use a grant and existing funds for those projects, so it will no longer need bond money for them. However, it's now estimating that all the bond-funded work will cost 4 percent more, so the full bond amount is necessary, according to Rust.
"There is no fluff in this bond," he said in a phone call Friday. "We're going to have to be really frugal and tighter than anything as we go through this construction."
Any bond money not needed for renovations will be used to pay off debt, Rust said.
The proposed bond would cost district voters $1.94 per $1,000 of assessed property value annually for 21 years. That would cost the owner of a $150,000 home $291 annually.
Rust acknowledge that the cost is "enormous."
"The children in kindergarten right now … will be paying on this bond," Rust said Friday. "There are people voting on this bond who will die before this is paid off. So it is a huge community decision."
Rust said he thinks upgrades to the school would improve community spirit.
"There are expectations that come along with supporting a project like this," Rust said. "When you send that kind of message to people, they sit up straighter and walk taller and produce at higher levels. … Similarly, if you allow the building to decay and don't take care of it, people start to think, 'If you don't care about it, why should I?' "