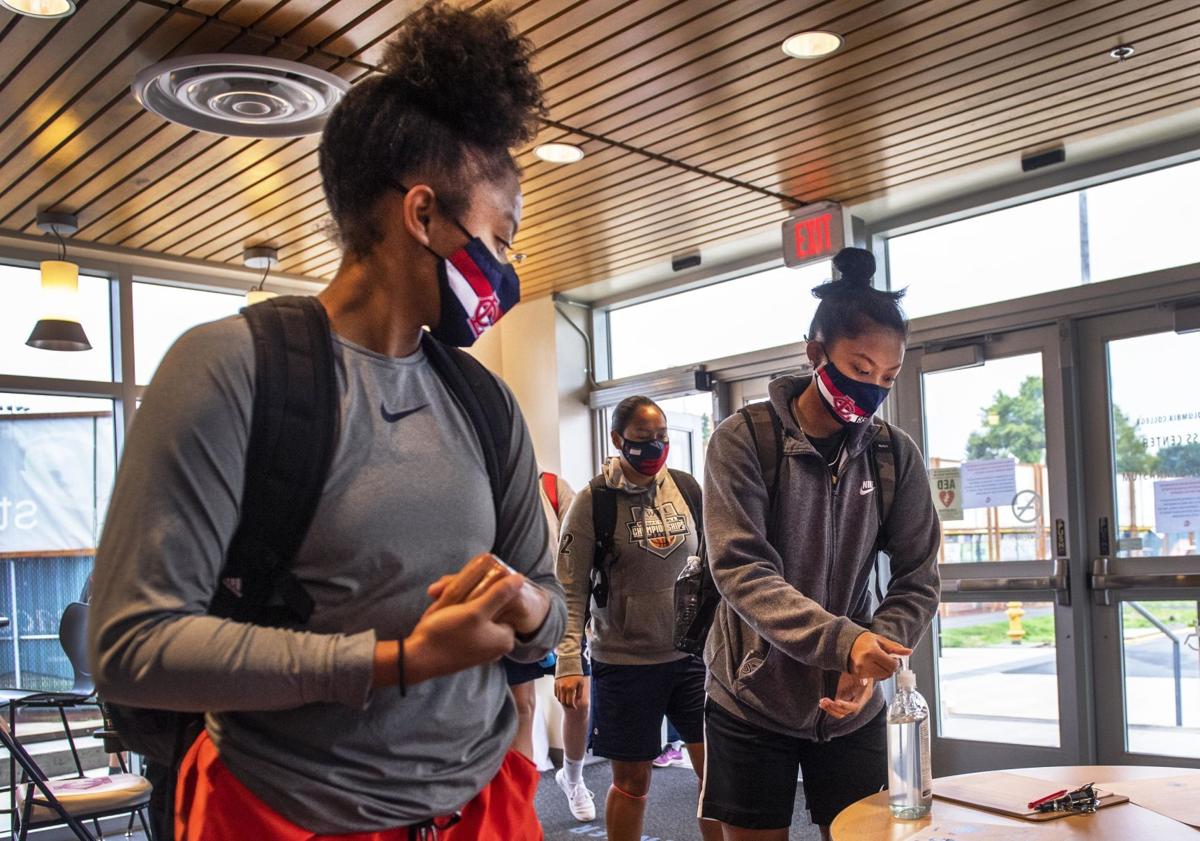 While the first week of Lower Columbia College's fall quarter was atypical, with most students online, the increased course load of hybrid classes started without problems, college officials said.
That's good news, Vice President of Instruction Kristen Finnel said, because its likely winter quarter will look similar to the fall quarter as COVID-19 cases fluctuate in the county.
"Unfortunately, COVID isn't getting significantly better," she said. "We're assuming it will look a lot like fall — we'll have some of the hybrid course similar to what we have now."
Finnel said even with 90 hybrid classes starting up on Sept. 21, staff and students were able to easily use the COVID-19 mitigation plans that they "fine-tuned" in spring on a larger scale.
"We have great safety protocols in place, so we just implemented those safety protocols in these new additional classrooms," Finnel said. "We have a plan in place. The faculty has been trained, the students have to go through COVID training. So far it's been doing really, really well."
Hybrid course offerings include the four areas that moved to a mixed in-person, virtual schedule in May: nursing, medical assisting, machining and welding. New to the list of hybrids are courses in pottery, English, math, English as a second language, history, engineering and education. The full course list can be found on LCC's website.
After the COVID-19 pandemic caused LCC to move mostly online, enrollment dipped. In the spring quarter, enrollment was down 14% due to COVID, while summer quarter dropped 13.8% from normal, according to spokesperson Wendy Hall.
As of this week, fall enrollment was down 19%, and students were taking about 1 fewer credit per person on average than they did last year, Hall said. In 2019, LCC had about 5,800 students enrolled by headcount.
Finnel said while at first enrollment in hybrid courses and courses in general was slow, the 1,940 hybrid class spots did eventually fill up.
"I think students who are parents were waiting to see what K-12 was doing," she said.
Finnel said the college is also reaching out to prospective students to let them know about funding opportunities. For example, this is the first year of the Washington College Grant program, which she said "essentially makes college free for eligible low- and middle-income families."
LCC has also been focusing on making sure students can access online or hybrid courses. This semester, 150 students requested technology, such as Chromebooks, Wi-Fi hot spots, cameras or microphones, Finnel said.
"Some of our students are very rural without great internet. It's been helpful, allowing them to check out a hotspot to hopefully make it better," Finnel said.
Those who are on campus for hybrid classes have to follow stringent protocols, including maintaining a minimum six-foot separation at all times, wearing masks, getting screened daily for COVID-19 symptoms and keeping a daily class attendance log of all employees, students and visitors. Class arrival times and bathroom breaks will be staggered.
Finnel said responses from students and faculty back on campus have been positive so far, and "they are thrilled to be back on campus."
While the campus is still mostly empty, as most faculty and students are still totally remote, Finnel said it's nice to see people on campus again.
"I'm very happy to see some movement around LCC," she said.
Get local news delivered to your inbox!
Subscribe to our Daily Headlines newsletter.