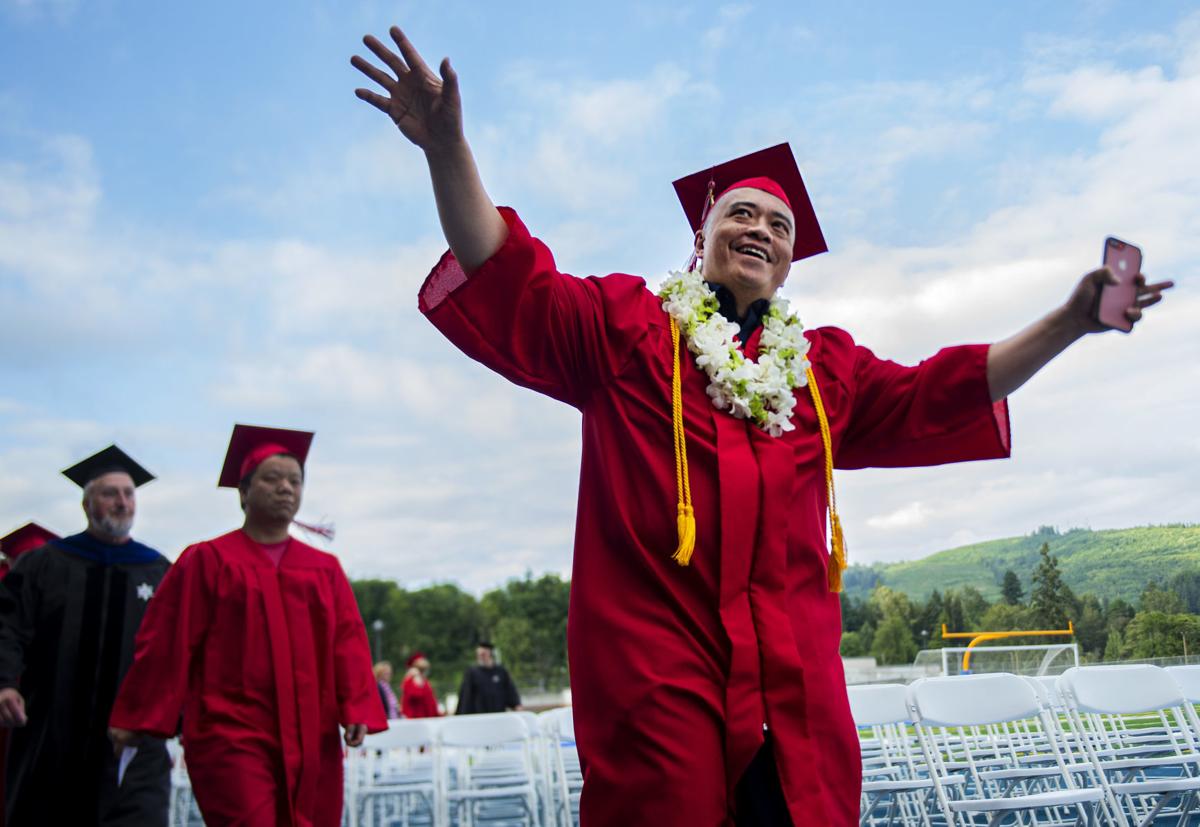 Though they look like regular people, the 2019 Lower Columbia College graduates are each superheroes in their own right, said LCC Student Body Chief Justice Sydney Pearson.
It's their everyday qualities of kindness and work ethic that make it so, she said in her address to nearly 415 graduates at LCC's commencement ceremony Friday night.
"As graduates it's easy to feel insignificant and unimportant. … There are millions of students graduating this year," Pearson said. But her classmates are like Marvel Comics' Tony Stark, who, despite his character flaws, commonalities and occasional self-doubt, must ultimately accept his superhero alter ego as Iron Man.
"Even if we aren't stopping villains from destroying humanity, we can be heroes every day by being kind, helping those around us and working hard," Pearson said. "Even by being here today we are setting a precedent that education matters."
Sitting among the graduates were about a dozen U.S. veterans, several dozen first-generation college students and more than 100 students earning their associate's degree in tandem with their high school diploma. In total, the college awarded 535 associate degrees, 29 professional certificates and 92 diplomas.
"Friends and family in the stands … embrace these graduates into our community. Raise them up as examples of what our youth should aspire to be," said keynote speaker Tonya Drake.
Now the Washington Chancellor for Western Governors University, Drake said her "spark of curiosity" ignited when she was a student at LCC.
You have free articles remaining.
After graduating from her hometown college, Drake earned a bachelor degree from Washington State University and a masters degree and Ph.D. from Arizona State University. In 2018 the Seattle Business magazine awarded Drake the Silver award for Job Training and featured her as a "daring woman."
"It's our shared experience that connects us here to LCC," Drake said. And like she has, this year's graduates will also "create change that will ignite a spark for us all."
"You are our future business leaders, artists and professionals," Drake said.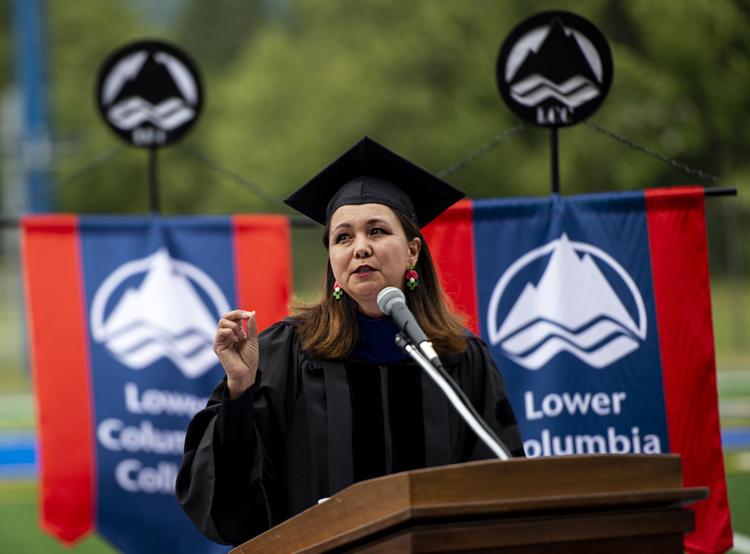 In lieu of a single valedictorian, the college recognized four students as "scholastic achievers." The award honored Carol Byman, Greg Futcher, Heidi Threet and Perrin Zahn as students with the highest grade point average and most rigorous coursework in academic transfer and professional-technical programs.
Byman plans to transfer to Central Washington University to pursue a bachelor's in music education and violin performance, while Futcher will attend Walla Walla University to study business and accounting.
Threet was named the 2019 Outstanding Business Management Student by LCC faculty and plans to apply to a full-time career in that field. Zahn was the 2019 Outstanding Machine Trades Student. He also plans to enter the workforce.
In addition to the four scholastic achievers, more than 150 students graduated with a 3.5 grade point average or better.
"Class of 2019, you are both amazing and inspiring," said LCC President Chris Bailey. "Thank you for taking this journey with us."