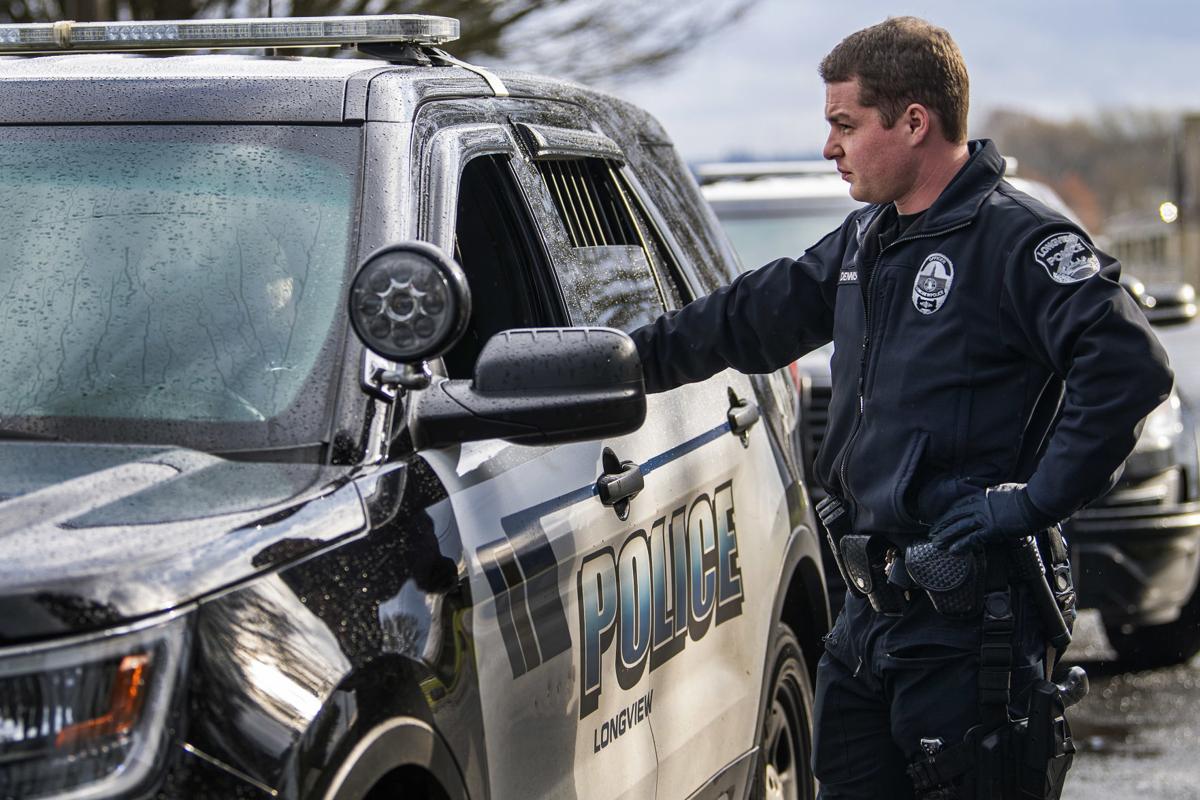 Across the nation and in Cowlitz County, police and deputies are adjusting to a world where keeping people safe means seeing fewer of them.
"Policing is inherently a people job," Longview Police Detective Sgt. Chris Blanchard said Wednesday. "We deal with people. We are experts at detecting criminality and locating criminals, and now we are in the position of trying to limit our personal contact."
It's one of several changes law enforcement personnel say they've had to make in the presence of coronavirus. But only one agency, Longview PD, so far is reporting significant drops in incidents, except for a bump in domestic abuse and property crime.
Patrol supervisors are instructed to try to keep briefings short and officers separated by six feet, Blanchard said, and officers are regularly using phone conferencing.
Officers aren't able to work from home, however, in part because they can't access police computer systems from home, Blanchard said. Some civilian staff are working from home.
A group of teens playing basketball in the park would ordinarily be a pleasant civic scene, Blanchard said. But it's now cause for concerned calls about social distancing.
"Obviously that's a low-level offense," Blanchard said. "We'd try to educate them if we have the time."
Cabin fever may be contributing to an increase in specific complaints.
Cowlitz County Sheriff's Chief Criminal Deputy Troy Brightbill said Monday that the sheriff's office hasn't noticed much change in call volumes. However, there seems to be an increase in recreational shooting complaints.
"It's likely that while people are staying home, more are engaging in recreational shooting, and others who are home now don't like the noise," Brightbill said in an email.
Similarly, based on call data provided by Longview PD, loud music and noise complaints are up for the last two weeks.
"I think that's a direct result of people being at home," Blanchard said. "More people at home that would be bored and blasting their music, but also their neighbors are at home to hear them."
Overall, Longview police incidents are down over the last couple weeks. Longview PD data indicates the department handled 1,115 incidents from March 9 through March 23, down 35% from 1,726 in that period last year. Traffic stops alone tumbled from 388 to 89.
Blanchard attributed that difference to a few changes in police strategy and public behavior, and noted the department's workload hasn't diminished.
Officers are conducting fewer traffic stops because there are fewer drivers on the road and the agency has reduced emphasis on traffic enforcement. They're arresting fewer people on warrants for low level offenses to help keep the jail population low. Juvenile complaints are down too, largely because school is out. And officers are trying to handle more calls over the phone rather than in-person, which means fewer call incidents are generated.
Meanwhile, domestic violence and domestic dispute calls appear to have increased, Blanchard said. Patrol officers have noticed an uptick in property crime, perhaps because non-essential businesses are closed under Gov. Jay Inslee's order. So officers have been tasked with checking up on those businesses when they have time between calls, Blanchard said.
Call volumes have remained steady across the board at the Kelso, Kalama and Woodland police departments, Kelso Police Captain Rich Fletcher, Woodland Police Chief Jim Kelly and Kalama Police Chief Ralph Herrera said this week.
"One would expect domestic violence to increase due to self-quarantine and isolation, but we have not experienced a significant uptick in DV complaints," Fletcher said in an email.
The situation in Kalama is "not as spicy" as other departments, and "I'd prefer to keep it that way," Herrera said.
Officers run on a steady and relatively low call volume, Herrera said, and he hasn't noticed much of a change so far. Officers are washing or sanitizing their hands whenever they leave or enter the building and are encouraged to sanitize their desks, equipment and vehicles.
"We're fortunate that Cowlitz County as a community and law enforcement and first responders, I think we're seeing that everybody's pretty much on the same page" on handling coronavirus, Herrera said.
At the Washington State Patrol, troopers are still responding to collisions and arresting people, spokesman Will Finn said.
"I can't stop cars from my driveway," Finn said Tuesday. "We haven't stopped doing our job due to the coronavirus. We still have a presence out there."
Inslee's stay-at-home order this week still allows people to leave the house for essential business, including by car.
But that "doesn't mean that it's a free for all when it comes to the freeway and state routes," Finn said. "Please don't be a problem in creating dangerous situations out there. Please follow the governor's order. If you have to travel, please do it safely."
Like everyone else, Longview PD's Blanchard hopes the coronavirus pandemic eases up soon. But crime doesn't stop, so the department is preparing for the possibility that stay-home and social distancing orders could last for months.
"We don't have the option to not show up at work," Blanchard said. "We're pretty adaptable as a group, and that's partly because we have to be. That's just the nature of our work."
Concerned about COVID-19?
Sign up now to get the most recent coronavirus headlines and other important local and national news sent to your email inbox daily.