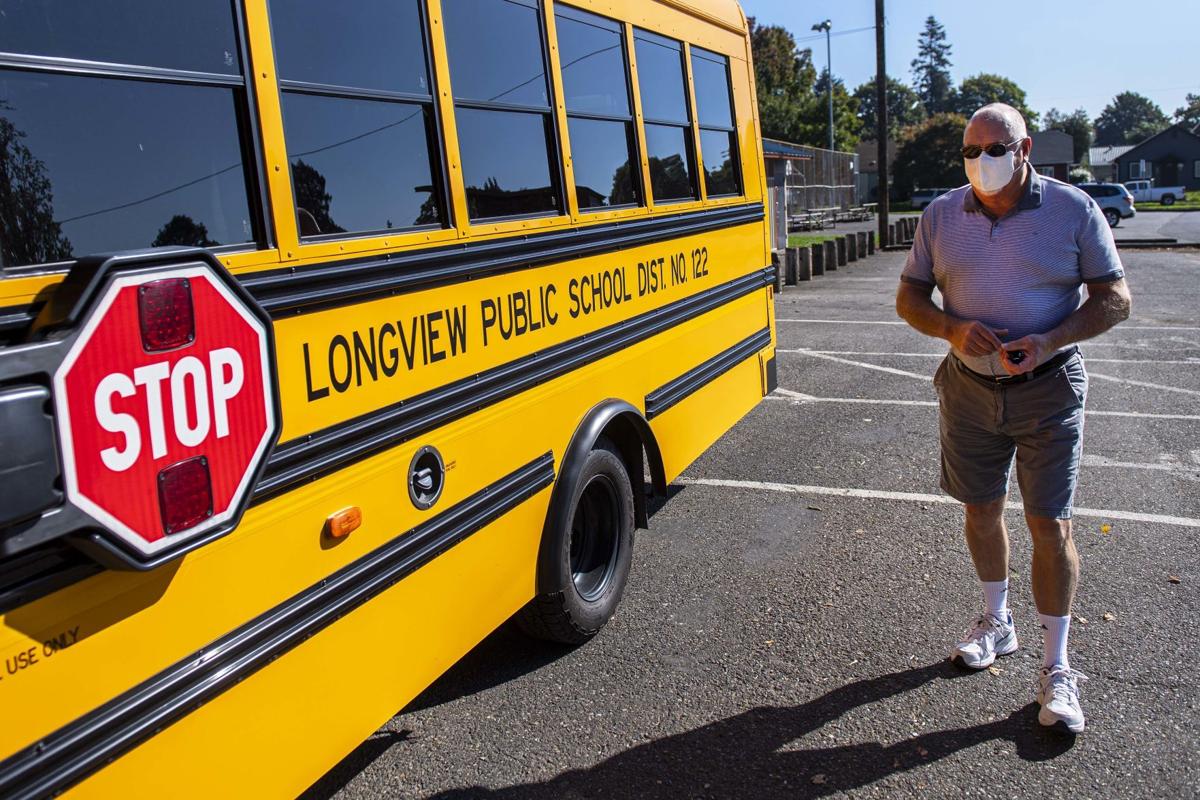 Yellow school buses are once again rolling down local streets, but like all things during the pandemic, there are some changes.
The biggest change for Longview students is new pick-up times, although bus stops and drop-off times remain the same.
District spokesman Rick Parrish said the new times will have students arriving at school closer to the beginning of class, creating a "safe school environment before class starts."
"Dropping them off later means less time to congregate and socialize before class starts," he said, which keeps class cohorts intact.
To find your new bus pick-up time, visit the district transportation website. Click the green "bus route" button on the page, then enter your home address. The site will tell you when and where your student will be picked up if they ride the bus.
The district is also asking parents to drop students off at school if possible, to reduce the number of students on the bus. Last year, there were over 3,700 students riding buses each day, across all grade levels and programs, on 109 routes.
"In the past, some parents would drop their kids off 30 or 40 minutes before school started," Parrish said. "But now we're asking then to only drop them off about 10 minutes before school starts" to again reduce the amount of time students congregate. (See the sidebar for school start times).
Students who live within a mile of a designated walking school will still not be eligible to ride the bus, Parrish said. If parents have questions about bus routes, call the transportation team at 360-575-7867.
So far, Kelso and Castle Rock already have younger grades back in school on a hybrid schedule. Longview and Kalama will start bringing some students back in-person Monday. Woodland does not yet have a hybrid start date, after two staff members tested positive in late September.
Once students get on the bus there will also be changes, no matter what school they attend. The Washington State Health Department guidelines "to prevent COVID during school transportation" include keeping riders as far apart as possible on the bus, seating students with household members or members of their school cohort, having assigned seating and keeping windows open as much as possible for air flow.
"Encourage students to wash or sanitize hands when they leave their home or classroom immediately before boarding the bus," the guidelines say.
On the bus, students and staff members have to wear a face covering. Frequently touched surfaces, like the tops and backs of seats, need to be cleaned often, according to the health guidelines.
Parrish said in Longview, students will sit one to a seat and the district is also encouraging students to practice physical distancing at the bus stops and wear their face coverings. The bus drivers will give students instructions about where to sit when they board, Parrish said.
The bus cameras are another tool the district and health department will use to do contact tracing if necessary, Parrish said, to determine if students had close contact on the bus.
"We're prepared for cleaning, disinfecting, assigning seats, keeping kids separate and contract tracing," Parrish said. "We just want kids to have a great first day back in school."
Superintendent Dan Zorn said he was excited and eager to get students back to in-person learning.
"We've been working real hard and feel real good about our preparations in terms of safety and curriculum," he said.
Get local news delivered to your inbox!
Subscribe to our Daily Headlines newsletter.