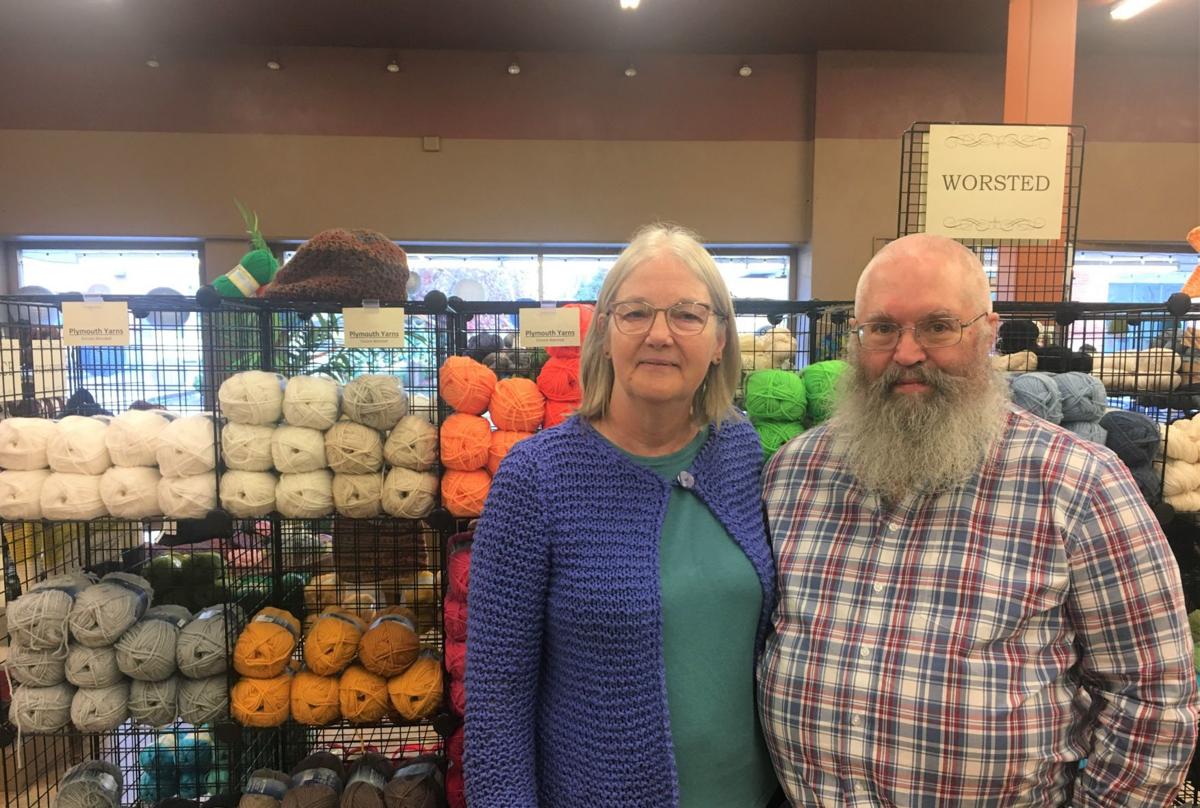 When word spread in October that LaFavorites Fine Yarn and Boutique would close without a new owner, the tight-knit crafting community took to social media to recruit someone to take over the 15-year-old Kelso business.
Longtime Kelso residents Kathy and Ken Hawkins answered the call, even though neither has experience running a business. She is a full-time special education teacher in Longview and he's a machinist in Woodland.
"I've always been excited about knitting and crocheting and crafting, and when the business came up for sale I didn't want it to close," Kathy Hawkins said. "It seemed like an exciting opportunity."
They officially took over the shop from Amy LaFave in January. LaFave built up the store and customer base but was looking to retire, according to the LaFavorites Facebook page.
"She's done fantastic job, but she's ready for other things, and I'm ready to take over," Hawkins said.
She plans to extend the hours into the evening at least one night a week, so those with full-time jobs can shop later without rushing and "get a chance to squeeze the yarn and look at colors and really shop," Hawkins said. (The day and hours are pending.)
She also is planning to add a Saturday knitting group and perhaps a weeknight knitting group to compliment the Tuesday and Friday morning groups that already meet.
"You don't have to come every week, just as you can make it," Hawkins said.
She's also started new classes, like a beginning weaving class on Feb. 22. Hawkins said she plans to expand class topics.
"I feel like we need to foster more local opportunities to get together," Hawkins said.
You have free articles remaining.
While the store has rows and rows of colorful yarn, Hawkins said it's not just about knitting or crocheting. The back of the store hosts an espresso bar with local Rill's soup mixes for sale, and she recently added local Homer Bread snacks to the menu.
"I would love for people to come in and meet friends and drink coffee," Hawkins said. "You don't have to be a crafter to enjoy the coffee bar. We certainly want you to feel welcome."
The store has several sitting areas where people can work on projects, including one by an electric fireplace. She also sells project patterns. Knitting and crafting doesn't have to be solitary, Hawkins said.
"You get a lot of energy from people around you and inspiration as well, if you don't know what you want to do next."
The act of "making" can also help people relax, Hawkins said, which is important in today's "fast-paced world."
"I want it to be a place that people want to come to and relax and do projects," Hawkins said. "The aspect of unplugging is something people look for, too. Knitting, crocheting and any type of crafting is a way of occupying your mind while learning to unplug."
So far, the experience of owning a store has been a "learning curve," Hawkins said. She and her husband work at the store on weekends, as they both still work full-time jobs.
Overall, Hawkins and her husband are grateful for the support of their employees, Amy LaFave and the community, she said.
"It feels like there's a lot of support, and people are happy the store is staying open, so I appreciate that," Hawkins said.
She plans to build on what Amy LaFave started 15 years ago.
"I would love to get young people interested. (Knitting) is not just for grandmas."