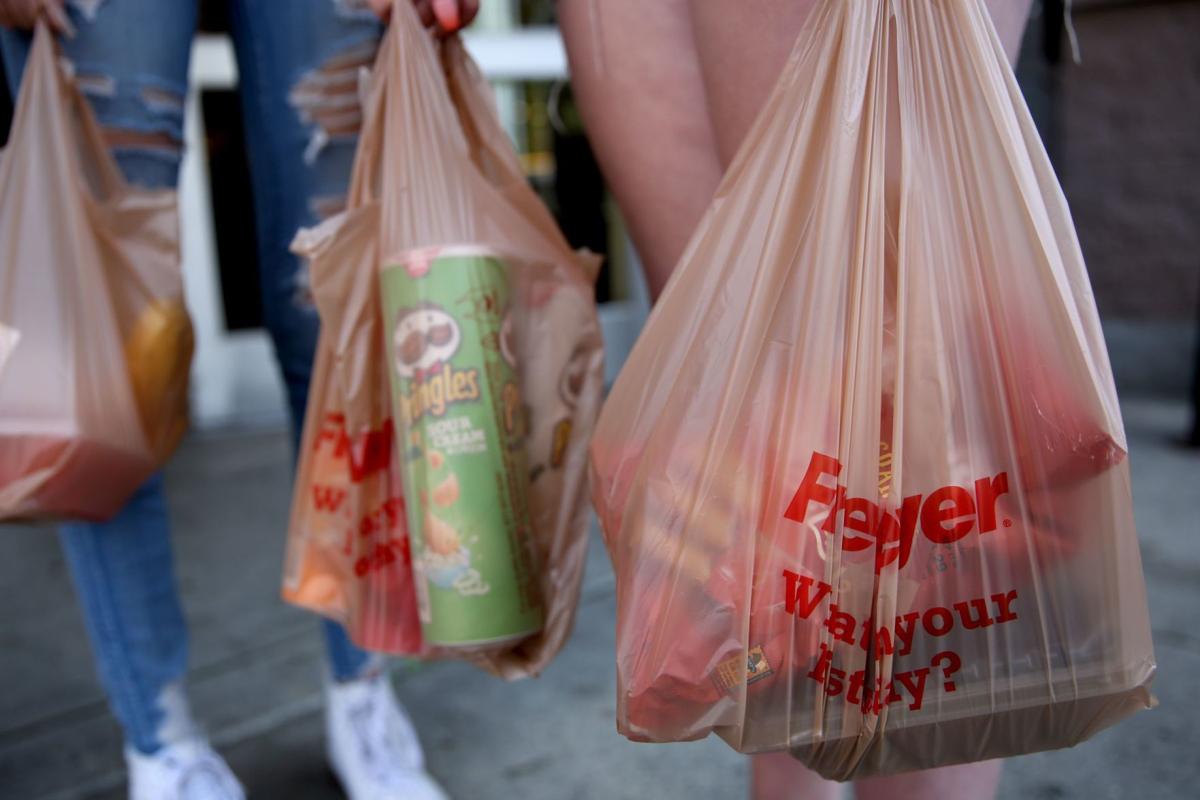 The war against plastic bags is gaining steam.
A growing number of cities, states, and counties have banned them.
The Kroger grocery store chain, which owns the Longview Fred Meyer, announced Aug. 23 that by 2025 it will become the first U.S. retailer to phase out plastic bags.
But people who know marketing and the paper industry say Longview and the pulp and paper industry shouldn't expect a windfall from consumers shifting to paper bags, even though the KapStone Paper and Packaging paper mill produces kraft paper used for paper bags.
RISI, a company that tracks data on the global forest products industry, forecast a couple years ago that increasing bans on plastic bags aren't expected to boost paper bag production and reusable bags are gaining a foothold.
Fred Meyer spokesman Jeffery Temple said the company's plan to phase out plastic bag use doesn't currently include increasing paper bag stock.
"The ideal solution is reusable bags," Temple said. "Paper bags are not part of the solution."
Paper bags could play a role as a possible backup, Temple said, but without a solid timeline, it's difficult to know if the amount of paper bags the company uses will increase.
Terry Webber of the American Forest and Paper Association said any day retailers respond to customer demands and move away from plastic is a good day. But it's challenging to quantify the impact of Kroger's plan on paper bag demand, he said. Paper bags make up a relatively small portion of kraft paper products, Webber said. Demand for paper bags goes up and down, but over the years it has remained fairly stable, he said.
Plastic bag regulation is on the rise across the country. According to the nonprofit Californians Against Waste, 23 states and Washington, D.C., have enacted plastic bag regulations. The organization lists 19 Washington cities and counties that have banned single-use plastic bags in the last eight years.
Many of these regulations require retailers to charge customers for paper bags. Webber said the American Forest and Paper Association doesn't support the fees.
"It's a sustainable alternative, and people shouldn't have to pay a penalty for that," Webber said.
Multiple states and cities, including Portland and Seattle, ban single-use plastic bags. Webber said the association tracks bag legislation, but it is hard to know how regulation is affecting paper bag production because there are so many factors affecting it.
KapStone officials did not return phone calls for comment. The company is in the midst of a Justice Department review of a $4.9 billion merger with WestRock Co.
Bagging changes at the Longview Fred Meyer are still a ways off. The company does not have a set timeline for the phase-out, other than the goal of 2025, he said. Giving its nearly 2,800 grocery stores seven years to reach that goal gives customers a chance to adapt, Temple said.
"It's exciting because we decided this is the right thing to do, and we'll figure it out as needed," Temple said.
Get local news delivered to your inbox!
Subscribe to our Daily Headlines newsletter.