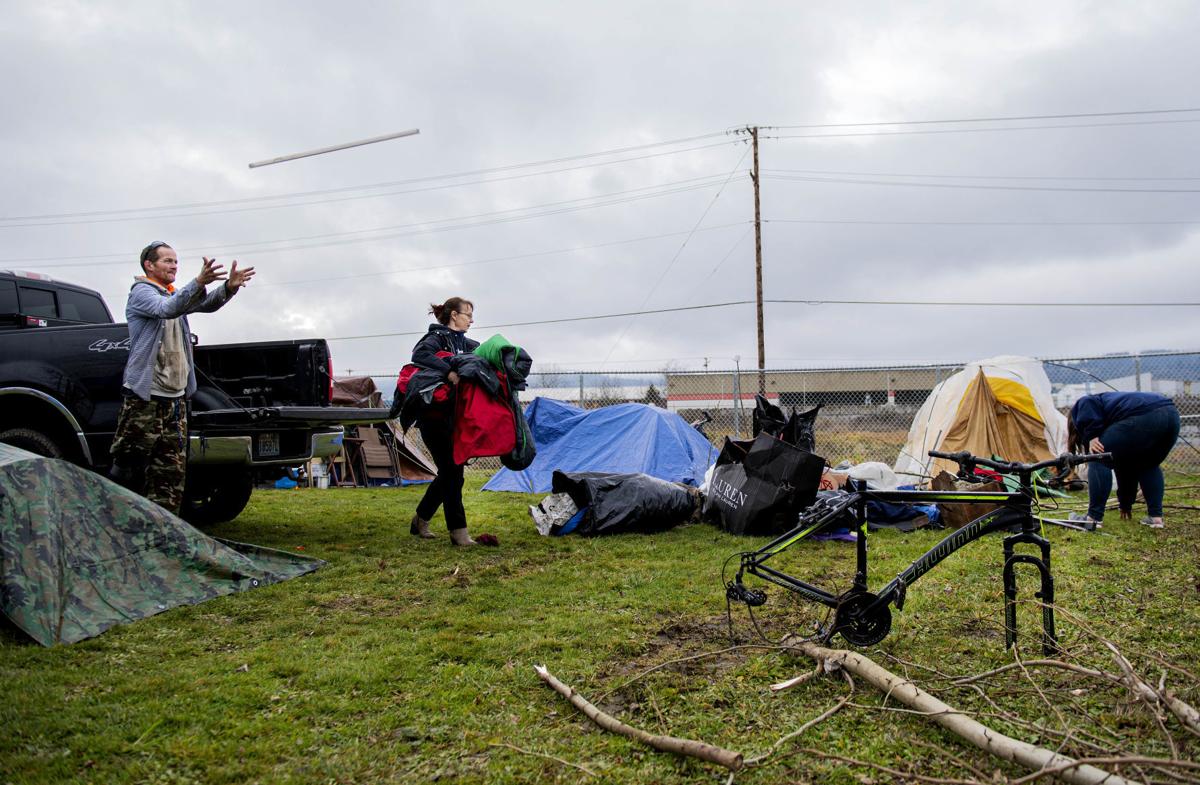 Editor's Note: This story has been updated to reflect that Kelso will not support a "no-barrier, unsanctioned, unhosted campsite."
The Kelso City Council on Tuesday unanimously voted to deny any payments for any unregulated homeless encampments in the county.
The matter was not on the council meeting agenda. But Councilwoman Lisa Alexander asked the council to officially state that the city would refuse to help finance another "no-barrier, unsanctioned, unhosted" campsite. She serves on the Cowlitz County ad hoc committee currently researching alternative campsites.
Kelso has not yet been officially asked for financial support. However, Alexander said the expectation has been clear from the start that Longview, Kelso and the county would share the costs of another site. Costs have not yet been spelled out.
"If we vote on this motion and it passes, when I go to the next ad hoc committee, I can make it perfectly clear that Kelso is not okay with low-barrier," Alexander told the council.
Longview City Manager Kurt Sacha on Wednesday said he was "bitterly disappointed" with Kelso's decision.
"Homelessness is a societal problem," he said. "It's one that will take all of us to come together to try to resolve. I don't believe sticking your head in the sand and hoping it will all go away is a solution to resolving homelessness. As a community, we all need to come together and try to develop a solution."
Cowlitz County Commissioners Joe Gardner and Arne Mortensen said Wednesday the board is waiting to see what the ad hoc committee decides but they are willing to entertain ideas. However, Mortensen said whatever site that moves forward has to be managed with rules.
Commissioner Dennis Weber, who's on the committee, said he agreed with Alexander that just moving the encampments around without adding services for the campers is "almost cruel," but he said the Kelso Council's vote was "a bit premature."
Kelso Mayor Nancy Malone Tuesday night said campers at Longview's designated homeless site off Alabama Street and Oregon Way are living in "squalor," and no one should have to live like that.
Kelso's denial to put money into additional camps "will send a message that we need to look further," she said. For those who are breaking the law, "I would rather have my tax dollars keep them in jail than running the streets and robbing neighborhoods."
Longview City Councilwoman Ruth Kendall, who also serves on the ad hoc committee, said she was alarmed to hear Malone's comments.
"She's not being realistic because putting people in jail doesn't solve the problem. It's not a solution at all and it's not even a cost-effective Band-Aid," Kendall said Wednesday.
You have free articles remaining.
Kendall, however, said Kelso's decision didn't surprise her because Alexander spoke "loud and clear" at the last ad hoc meeting about her concerns with Longview's campsite.
Alexander on Tuesday cited several problems with the temporary homeless campsite that Longview established in December to get homeless campers away from City Hall.
"What we're doing now (at that campsite) isn't helping these folks," Alexander said. "All you have to do is step one foot into the encampment and see how wrong it really is."
Citing Longview police statistics, Alexander said there have been 226 police calls in the past five weeks to Longview's homeless camp. Crime rates in general have increased 19% in that area, she said. Alexander said after the meeting that she is concerned the same thing would happen in Kelso and there wouldn't be enough police officers to handle the increase in calls.
Longview Manager Sacha, however, said crime rates in the city haven't changed between last year and this year.
"What that means is, has crime really gone up in Longview because there's an encampment? The numbers don't appear to support that. What they do maybe show is (crime) is a little more concentrated," he said.
In a jab towards Kelso, Sacha added that Longview responded to 146 emergency calls in Kelso city limits last year.
"That's the community working together for the betterment of all citizens," he said.
The committee last week narrowed the list for potential new homeless campsites to two locations: one located next to the Cowlitz County Jail and another near the Coal Creek Boat Launch off Ocean Beach Highway in West Longview. Neither location is in Kelso, but the site near the jail is on the edge of West Kelso.
Several Kelso council members said they didn't want to have the same problems the city experienced when Love Overwhelming operated an emergency homeless shelter near the Cowlitz County Administration Building in Kelso. They said the current encampment is unsafe and unsanitary.
Councilman Mike Karnofski was the only council member to raise any objection to Alexander's motion. He said there have been fewer homeless campers out at Longview City Hall and on the streets since Longview established the camp. Nonetheless, he still voted for the measure.
Mayor Malone responded that instead of sleeping by City Hall, the campers are now "getting what they want" from residential areas.
Sacha said he hopes the ad hoc committee will select a second campsite at its meeting on Friday and then begin developing that site. Because one of the proposed sites is located in Longview and the other is next to city limits, Sacha said he expects Longview to contribute funds to the sites. How much money is hard to determine, he said.
The next ad hoc committee is at 1 p.m. Friday at the County Administration Building.
Reporter Katie Fairbanks contributed to this report.
Get local news delivered to your inbox!
Subscribe to our Daily Headlines newsletter.