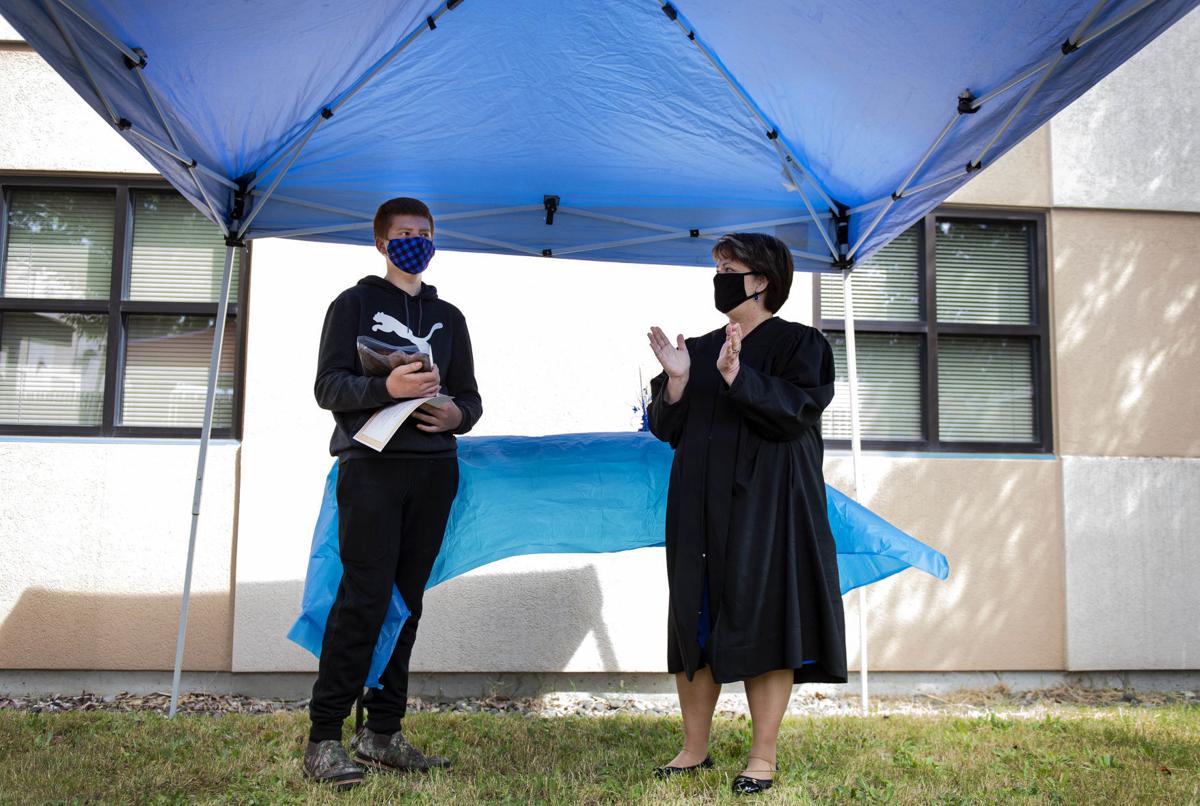 In an earlier time, 16-year-old Elijah Whiteworth would have gone to juvenile jail for assaulting a teacher, evading a police officer, destroying property and other charges.
But a new court program has diverted the Kelso youth from detention and helped him manage the anger and lack of social awareness caused by his autism and which contributed to his criminal behavior.
Wednesday afternoon, Elijah proudly became the first-ever graduate from Cowlitz County's mental health court for juvenile offenders, a program formally known as Individualized Treatment Court. It seeks to help youth manage mental illness and stay out of the court system and get their charges dismissed.
If he had not entered the program, Elijah said, "I would be in juvie or taking a lot of drugs."
Gathered with his team at the juvenile detention center for the graduation, Elijah received a certificate and plaque. Officials canceled a pizza party due to COVID-19, but Elijah and his mother, Tabitha Romine, said the court care coordinator planned to have a pizza delivered to them later that night.
Members of the court program, standing six feet apart to maintain COVID social distancing, told him they were proud of how hard he worked for two years and were excited to see what he does with his future.
"Thank you all," Elijah told his support team. "I'll miss you guys. I'll stop by."
Elijah's autism made it difficult for him to control his temper, he said, leading to a handful of charges: Assault of a teacher, possession of marijuana on school grounds, evading a police officer on school grounds, third-degree assault, malicious mischief, minor in possession and destruction of property.
"I never stopped to take a deep breath or take a drink of water and I never opened up to my counselors," Elijah said.
Without help, he may have been headed into a group home for autistic boys, Elijah's mother said.
"That's where he was heading," Romine said, saying it was difficult for her to watch Elijah be handcuffed and led away following his offenses.
But on Wednesday, she got to watch her son complete the program, and next year, he is scheduled to graduate from Loowit High School with honors, she said.
"I'm so proud of you," she told him as she filmed the ceremony.
The two-year-old program is voluntary. Its goal, Cowlitz County Superior Court Judge Marilyn Haan said, is to rehabilitate young offenders and make sure they stay out of the court system. It's funded under a block state grant for therapeutic courts.
That involves a team of people, from lawyers to counselors, who provide wrap-around counseling and treatment services. Participants learn how to identify how their illness triggers behavior and work through it, avoiding the actions that lead them into trouble.
"Mental health can vary significantly from person to person, so it's important that we individualize the treatments," Haan said. "A very large percentage of youth, perhaps 85-95%, that we see in the courts have mental health diagnoses of some form."
The program is designed to take between six to 14 months, according to the website, although it's flexible and dependent on the person. Youth with all manner of mental illnesses, including autism, schizophrenia and bipolar disorder, are eligible.
Haan said while the team was able to base part of the program on substance abuse courts, such as Drug Court, it's not a direct comparison.
"Unlike in substance abuse where you have someone who will get clean and sober, in ITC you learn to understand the diagnoses and it's likely a lifelong diagnosis they'll be addressing," she said.
That process doesn't just involve the child, Haan said, but the whole family. She said for children especially, familial support is vital.
And in this program, family members also learn to understand and cope with their relative's mental illness.
"Elijah's mom has just been fantastic from the get-go," Haan said, adding that Elijah was one of the first people to enter the program when it was started.
For Elijah, the choice was simple: He had many pending charges and he wanted the chance to wipe the slate clean.
For Romine, she said she had exhausted other possibilities.
"At first I was not sure, but I was excited because we needed something to change," she said.
Romine had never heard of the program before, she said, for good reason: It is one of only a a couple such programs in the state.
Haan said while the team based the program on the first juvenile mental health diversion program in Kittitas County, the program has taken a lot of effort because there's no road map to follow. Many members of the team thanked Elijah for teaching them just as much as they taught him.
Romine said she thought more places should have a program like this one.
"It's great, especially for kiddos who need that extra help and individualized treatment," Romine said.
Everything down to Elijah's community service was based on his strengths, she said. While the team did help Elijah become more comfortable with public speaking, his community service tapped into his love of using his hands.
He landscaped much of the area around the juvenile detention center, he said, pointing out flowers he planted and lawns he trimmed.
There are now seven other youth in the program, Haan said, and the team learns all the time what works and what doesn't, both on a large scale and for individual children.
While Elijah had his share of ups and downs, "ultimately, we have a fantastic success today," Haan said.
For his final presentation, Elijah said he shared a poem he wrote reflecting on his years in the diversion program. He got hooked on poetry in school, he said, and the poem titled "My Reason" expresses his growth and determination to move forward.
"I was put on this earth all alone since birth," one verse reads. "What's worse I was born with a curse. But I love my life and I learned to love my curse."
Get local news delivered to your inbox!
Subscribe to our Daily Headlines newsletter.