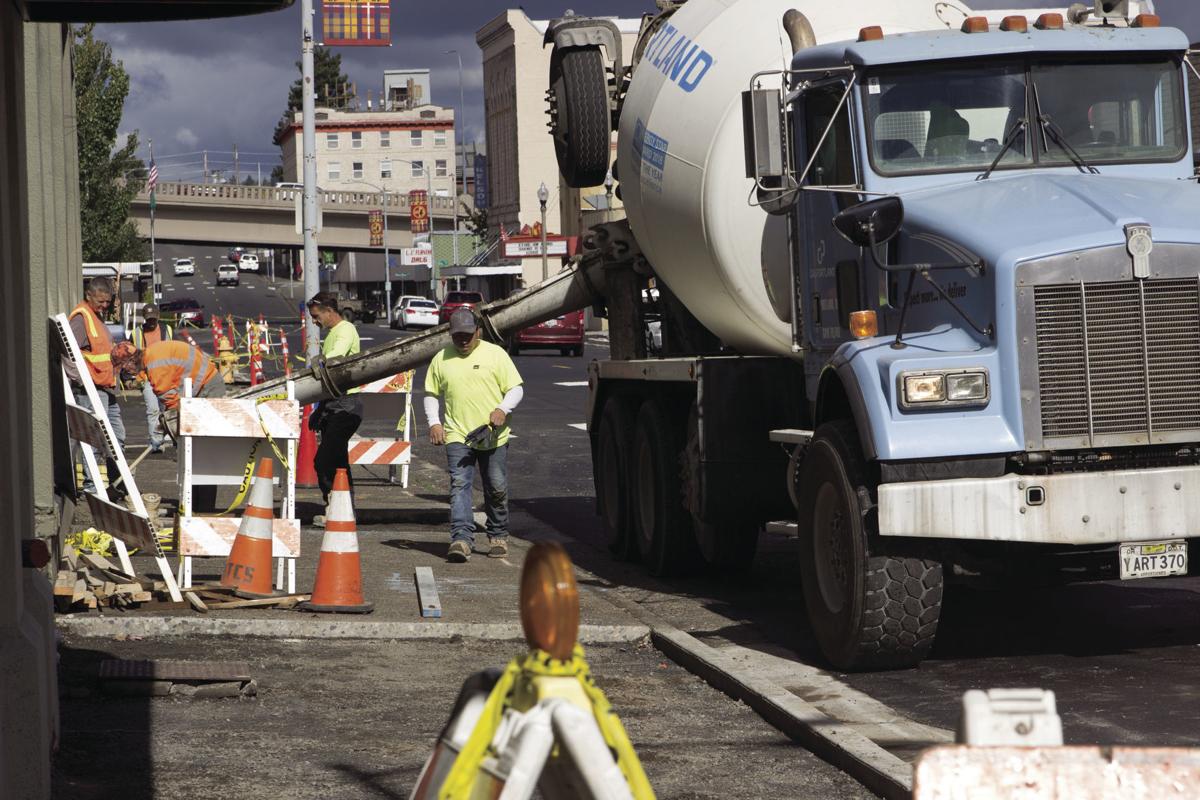 When the city of Kelso set out to repave a large portion of its downtown thoroughfare, it was legally obligated to accept the lowest bid from a contractor, even though city officials thought the contractor was inexperienced and ill-equipped.
There were early signs that Northwest Construction Inc. of Battle Ground might struggle to complete such a large project, Kelso community development director Michael Kardas recently told local lawmakers. But because the city was required to accept the lowest contract bid, "we had no means to say, 'Sorry, we don't think you're ready for this.' "
Had the city had been able to accept the second-lowest bid, which was from Longview contractor Advanced Excavating Specialists and was less than 1 percent ($8,000) higher than the lowest bid, Kardas said he is confident the project would have been finished on time.
To prevent a similar situation in the future, Kelso has asked legislators to amend state law to allow cities to accept bids from contractors that come within 3 percent of the lowest bidder. Instead of being legally obligated to accept the lowest bid, cities across the state could take past experiences into account before awarding a contract.
Longview Democrat Sen. Dean Takko said Monday that he plans to introduce legislation this week in response to Kelso's request. The 105-day legislative session kicked off Monday.
"It was very clear to me that not only did (Northwest Construction) make a mess of the downtown and take too long, but there's no way they made money," Kardas told 19th District lawmakers last month. "It's really not good for either one of us: They get into a contract they shouldn't be into because they're stretched, and we had to endure their inexperience."
Under current law, cities have very little flexibility when it comes to accepting contract bids. City officials would have to prove that a contractor had an unrealistic bid, poor references or pending legal claims in order to reject the lowest bid.
Cities can include "experience clauses" in paperwork for projects that require contractors to show they have performed certain tasks before, Longview Public Works Director Jeff Cameron said Monday. However, he added that it is challenging to create experience clauses that aren't overly restrictive.
"Just possessing a contractor's license doesn't mean you have the skills, ability and experience to complete a particular project," Cameron said. "It would be nice to have flexibility based on a small percentage of difference (in bids) to pick a contractor other than the lowest bid if we know the difference in experience between the two."
You have free articles remaining.
In addition, contractors sometimes intentionally bid low on projects and make up the profit with change orders, which can end up costing the city more money than if it had accepted the second lowest bidder, Kardas and Cameron said. (Kelso had to pay extra on the South Pacific Avenue project, but it was for "legitimate" unforeseeable utility problems, Kardas said.)
"Northwest didn't seek a bunch of change orders to try to get a bunch of money, but they clearly were struggling with trying to get the job done right," Kardas said. "They didn't have the manpower or equipment resources to do it. ... There is that old phrase where sometimes you get what you pay for."
Takko said his proposed legislation would only pertain to cities, but a representative from the state Association of Counties said the organization would be interested in seeking a "friendly amendment" to include counties.
"It adds some flexibility to the contracting process," Director of Government Relations Mellani McAleenan said Monday. "If you have someone you've worked with in the past (and) if they came within 3 percent, then you'd still have the opportunity to work with them."
However, Aberdeen Democratic Rep. Brian Blake said changing the law could result in unintended consequences such as inflating bids or discouraging contractors from entering the business.
His colleague, Aberdeen Republican Rep. Jim Walsh, meanwhile, called the legislation "good policy" and said he didn't think bids would increase significantly as a result.
"It's not capricious," Walsh said. "If the local governmental entity could show a history of working with the second lowest bidder, I think that's giving local authority a reasonable amount of discretion."
Takko said he didn't think there would be much pushback on Kelso's bidding proposal because a 3 percent buffer is a reasonable request.
"Just because your barber raised his haircut costs by 50 cents, you're not going to leave your barber that you're happy with and find a new one," Takko said earlier this month.
Kelso City Manager Steve Taylor said other cities have expressed support for the legislative change.
"We believe if we want to provide the best value, the best project and the most value for taxpayer dollars, the best way is to work with the best contractor, not necessarily the one that bid the lowest," Taylor said.