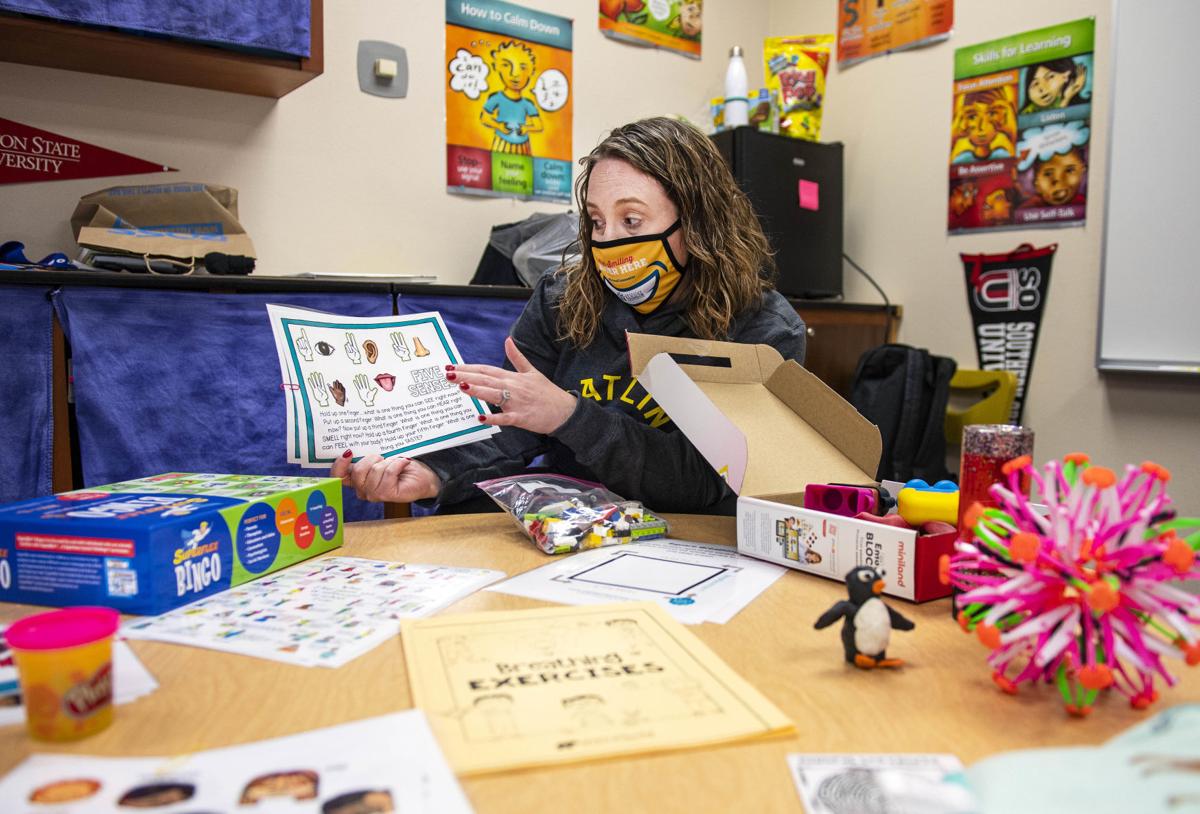 When given a choice about where to direct federal relief funds to support students, the Kelso School District placed behavioral health counselors near the top of its list.
The district will add the equivalent of four full-time counselors, making several of its part-time positions full time and adding counselors to its virtual academy.
"The pandemic has been a traumatic event for many of our students and families," said Director of Student Services Don Iverson. "We know our students will need additional social and emotional supports beyond what we have previously been able to offer."
While some of the federal relief funds for schools, called ESSER funds, have been earmarked for specific programs like summer school, most of it is left to the discretion of local districts, as long as its used for health and safety, connectivity, training or student success.
The additional counselors and hours will cost the district about $416,000 next year, Iverson said. Those funds will come from the district's ESSER allocation, but Iverson said the district doesn't know its total allocation yet.
Kelso administrators said counselors will help with student success, especially because there was a need for more counselors even before the pandemic. Catlin Elementary counselor Erin Schuhmacher will work full-time at Catlin next year, and said she has seen more students dealing with anxiety in the past year and more signs of depression.
"There are a lot of different variables with the pandemic, but I have seen a lot of anxiety spikes," she said.
Pandemic restrictions, especially early on, also made it challenging to meet the needs of students remotely, Schuhmacher said. Since in-person classes have resumed, she said it's easier to meet with students, but harder to explain all the changes to them in a way they understand.
"Why was it not OK to go to a restaurant last week, but this week you can? You have to find developmentally appropriate ways to explain it," Schuhmacher said, adding that changing Centers for Disease Control and Prevention guidelines for schools also caused uncertainty for students.
Rising need
Iverson said data from Kelso's own student and parent survey, combined with state and national data on rising emergency room visits for children due to mental health, made the need clear.
"Some students … find themselves filled with feelings of fear and anxiety since the start of the pandemic," he said. "Many have expressed concerns in being with large groups of people and resuming in-person classes."
The fall 2020 survey of 600 Kelso students, parents and staff showed 38% of parents and caregivers said they felt full remote learning harmed their students' sense of well-being. Many commented that grades were slipping and they were seeing signs of depression.
Those results seem to follow a state-wide and national trend. A March 26 emergency proclamation from Gov. Jay Inslee declared a youth mental health crisis, as pediatricians are seeing a "significant increase" in youth with eating disorders, anxiety, mood disorders, and depression with suicidal thoughts or self-harm behaviors.
Both CDC and Washington State preliminary data suggest reported emergency department visits for those issues are higher in the first few weeks of 2021 than the rates in corresponding weeks of 2019 and 2020, Inslee said.
Schuhmacher said peer-to-peer interaction skills also have taken a hit during the remote year, because "we already had students relating to the screen too much, and this past year that was all they could do."
"I'm nervous to see how this pans out," she said.
While there's a lot of different elements to student support, Schuhmacher said giving counselors more time for direct intervention with students will be "huge," as "the best prevention is early intervention."
'Extra support'
In February, she and other elementary school counselors rolled out anxiety coping strategy education programs to help students deal with their worry around the pandemic and returning to school to "help all the kids that need some extra support right now."
Schuhmacher also has tools in her classroom that help students calm down and regulate their emotions, like breathing exercises and glitter-filled tubes of water to focus on, that are getting "a lot of use."
Iverson said the distinct will add the equivalent of four full-time counselors, because all current part-time elementary counselors will become full time and one new full-time position will be added to the Kelso Virtual Academy.
As the state does not fully fund counselors, many in Kelso are partially funded from basic education dollars. Iverson said with the additional ESSER dollars, next fall Lexington Elementary will have two full-time counselors, as it combined two old elementary schools into one large school, while Butler Acres, Catlin, Wallace and Barnes elementaries each will have one full-time counselor.
Rose Valley and Carrolls elementaries will share a full-time counselor, instead of a part-time counselor. At the upper levels, Coweeman middle, Huntington middle and Kelso High School counseling numbers remain unchanged, with four counselors at the middle school level and five at the high school.
Support local news coverage and the people who report it by subscribing to The Daily News.