Kelso School District is re-examining school boundary lines in preparation for the 2021 opening of Lexington Elementary School, which will replace Catlin and Beacon Hill elementaries.
The Boundary Review Committee includes Parent Teacher Organization presidents, teachers, community members and school officials, said Superintendent Mary Beth Tack. The committee will work for the next several months to create a revised boundary map, which dictates which school students attend.
The committee's work will take into account a new demographic study of the district, which should be completed by the end of October, said Scott Westlund, the district's chief financial officer.
"We'll put together different types of scenarios that will get us to where we need to be in terms of balancing school (populations)," Westlund said.
The study will use the past four years of Kelso's data to project where enrollment is growing and declining, Westlund said. This will help the committee plan for long-term school attendance numbers, he said.
Some of the committee's proposed goals are to ensure that students attend a school as close to their neighborhood as possible, that attendance boundaries are enduring and that students have safe walking routes, according to district documents. The school board will vote on the goals at its Oct. 7 meeting. (See more attached to the online version of this story.)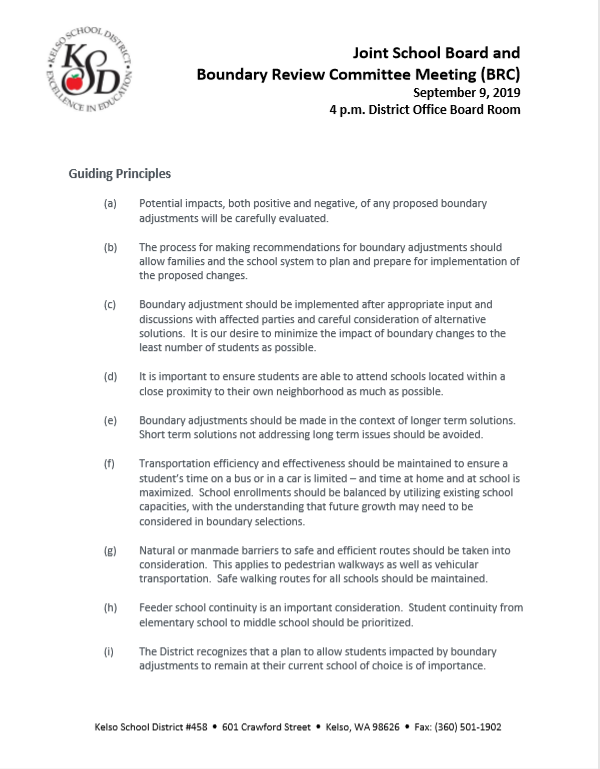 You have free articles remaining.
The new boundary map is scheduled to be presented to the school board in February. It will be open to public review in February and March. Westlund said a decision will ideally be made at the end of March, with the boundary changes going into effect in fall 2021.
Tack said the district is seeking parent and community comment and hopes to avoid as much disruption as possible.
Westlund said the redrawing will be concentrated on the Catlin and Beacon Hill elementaries area, which will combine into the new 600-student Lexington school. However, he said some adjacent boundaries may need adjusting.
The committee also will discuss how to deal with students who may have to switch schools as a result of boundary changes. No decisions have been made, but they may be allowed to remain in their old schools, Tack said. The district will retain its transfer policy for students who want to attend school in a different part of the district, she said.
"It's important that we communicate with parents and give them ample time to look at the adjustments, and to give input," Tack said.
Westlund said all Boundary Review Committee information is available on the district's website. For more information or if you have questions, email boundary.input@kelsosd.org.