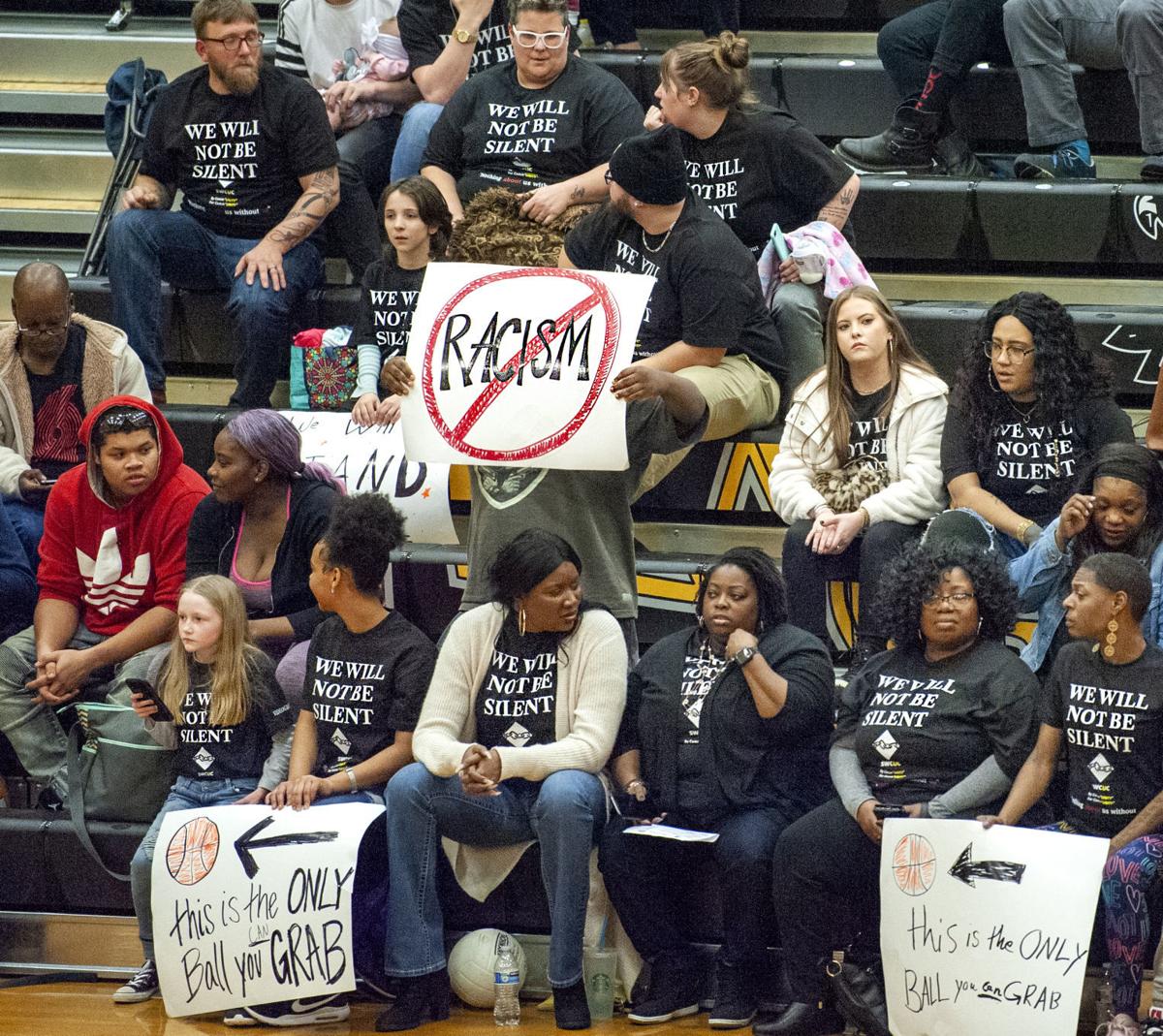 Kelso school officials Monday rejected claims that its fans directed racist taunts at visiting players during the Jan. 7 boys basketball game against Hudson's Bay, claims that led to a protest when Kelso played Hudson's Bay in a rematch at Vancouver on Friday night.
Kelso officials, after reviewing tape of the Jan. 7 game and interviewing students, coaches and referees, said another claim that a Kelso player groped a Hudson's Bay player during the Jan. 7 game remains "unsubstantiated."
"There is absolutely no place for racist sentiments or hate speech at the Kelso School District," Kelso Superintendent Mary Beth Tack said in a prepared statement. "With that said, after a thorough investigation, review of game footage and interviews with students, players and coaches, there is simply no evidence to suggest that any comments or actions of a racist nature were made by Kelso students and athletes directed towards Hudson's Bay at the January 7 or January 24 basketball games."
Hudson's Bay senior Derek Barnes, who is black, said Kelso students directed gorilla noises at him while he was shooting free throws in the Jan. 7 game in Kelso, The Vancouver Columbian reported. Bay senior Isaiah Gipson said a Kelso player purposely grabbed him in the genitals.
Kelso officials said they determined Kelso students were "barking," a common method of distraction students use at sporting events. Because the sound has now been misinterpreted as a racist taunt, students and teams have been asked to stop using it, the district's release said.
Lexi Bongiorno, acting president of community group Southwest Washington Communities United For Change (SWCUC), said she met with concerned parents and players from Hudson's Bay on Jan. 22, last Wednesday. It was the players' idea to hold a demonstration during Friday's game with Kelso, Bongiorno said. SWCUC helped facilitate that plan.
"Parents reported hearing monkey noises, gorilla noises explicitly being made at the black boy as he was shooting his free throws," Bongiorno told TDN on Monday, speaking of the Jan. 7 game.
Tack told TDN Monday that no formal, or informal, complaint has been made to the district, so Kelso's investigation into the allegations is concluded. She attended both the Jan. 7 and the Jan. 24 games. Tack said her staff was given a "heads up" about the allegations and possibility of protests from Vancouver public school officials before Friday's game. However, at that time Vancouver school officials had also not received any formal complaint. Vancouver staff members had seen protest plans on social media.
According to Tack, it was also her understanding that the protest would be on the sidewalk outside of the school, not inside the gym.
But the Columbian reported roughly 100 spectators in the gym and all Hudson's Bay players at Friday's game wore T-shirts that said "We Will Not Be Silent," and some fans carried signs protesting racism and sexual assault.
The Kelso School District statement said that some protesters at Friday night's game were "hostile, abusive, inappropriate and at one point, even required stoppage of the game for several minutes to contain the demonstrators."
Tack said in a prepared statement that "Our pride and respect ... showed at last Friday's game against Hudson's Bay. We want to commend our fans, players and coaches for their exceptional behavior in the face of such adversity, which should never have been allowed at a high school basketball game. This behavior would not be tolerated here at Kelso High School."
The district said it is "taking action" to keep future games well supervised.
But Bongiorno disputes Kelso's claim, saying the disruption was related to a parent protesting a referee's call of a technical foul on the Hudson's Bay player, not the demonstration.
People often assume that people of color are threatening and angry when they gather to protest, said Bongiorno, who described herself as a person of color.
"No one showed up there violent. No one showed up there worried about anything besides being a support system at a youth basketball game. … A few folks that showed up on our side were pastors and congregation members of churches. … Grandparents of students that were playing."
"Instead we're ... being told that it was inappropriate or hostile, scary, angry," Bongiorno continued. "That's the perpetuation of some of the social and institutional racism that we're seeing in Southwest Washington."
The Friday referee's call in question can be seen in a two-hour Vancouver schools video of the game. In the video, Kelso player Josh Webb can be seen colliding with Hudson Bay's Tony King as Webb takes a shot under the basket near the end of the third quarter. Audio on the video identifies the students, who both are white.Webb falls to the floor on his back. King falls on top of him. As the players try to untangle and stand up, Webb's knee appears to come upward. King appears to stand over Webb and say something to him. The referee standing nearby calls a technical foul on King, which the audio feed say was for taunting. King then appears to limp away.
Then, a woman can be seen shouting at referees. She steps forward and raises both middle fingers toward the court. Two protesters stop her and push her back into the bleachers. The woman was upset, believing that King had been kicked in the genitals during the collision, Bongiorno said, yet the referee didn't make a foul call in Bay's favor.
(Click the link below to see the video)
Tack told TDN Monday that she has planned a phone call with the Vancouver school administration to discuss additional steps at reconciliation.
"We have a great working relationship with Hudson Bay and Vancouver School District and we hope, and have every indication, that we'll be able to continue developing positive relationships and strong student and staff sportsmanship," Tack said.Kelso students on the team were unavailable to speak with TDN on Monday. Tack did not allow TDN to interview the players during practice Monday afternoon.
In a letter to high school parents Monday, KHS principal Christine McDaniel said the claims against the team are "unfounded and inaccurate allegations."
The letter shared similar information to the press release and asked parents to reach out with questions.
Get local news delivered to your inbox!
Subscribe to our Daily Headlines newsletter.