Students, staff and district officials officially broke ground for the new Lexington Elementary School Wednesday afternoon as children raced around the muddy grass that will eventually become their new school.
Amid the shouts of future Lexington students playing tag, Superintendent Mary Beth Tack welcomed the group of about 60 people to the lot at the intersection of Boardwalk Way and Wyatt Drive. She told the group this was the start of project that "our students and community will benefit from for years to come."
Patrick Donnelly from Integrus Architecture told the group it was "a great honor" to work with both the district and the community. He highlighted the community contributions that went into the design of the school, which will replace Beacon Hill and Catlin elementaries when it opens in the fall of 2021.
Then, students and staff from Beacon Hill and Catlin joined district officials, donned hard hats and shoveled scoopfuls of soil while parents looked on, taking photos.
Tasha Houston lives down the street from the construction site and brought her children to the ceremony. Her daughter, now in fourth grade, will not attend the new school, but her son will start kindergarten next year. And she and her husband have a baby on the way who will eventually attend the new, 600-student school.
"We're going to be walking distance from the (new) school," Houston said. "The kids will be able to walk to school themselves, which will help them feel independent."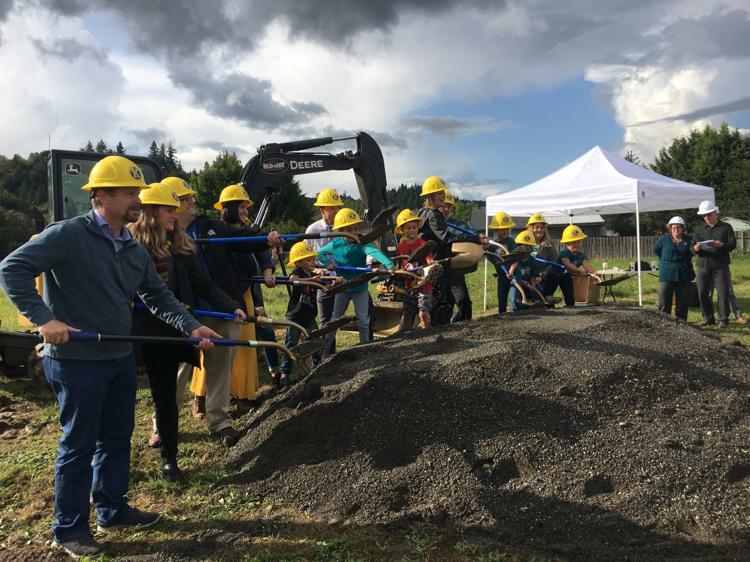 You have free articles remaining.
Gabby Lopez shared Houston's excitement. Lopez is the Beacon Hill parent group president, and she said her youngest child will be in Lexington's first kindergarten class.
"I see how many kids are in close quarters (at Beacon Hill)," Lopez said. "We need the extra space and security the new school will provide."
Lopez said she attended Beacon Hill herself, as did her mother, and it "hadn't seen much construction" since then.
"To have a state-of-the-art school for all my kids will be great," Lopez said.
While this is a new development for current community, it is not the first time there's been a school in Lexington. A K-8 school was built in the 1920s where the Lexington fire station is located, according to the Cowlitz County Historical Museum.
The new school is part of the $96.6 million bond approved by Kelso voters in 2018. Tack said she "couldn't thank the community enough" and that the project was currently on track for both time and budget.
"I have the utmost confidence that this will be a landmark school," Tack said.