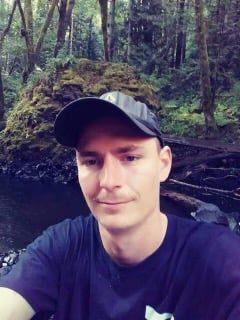 Kelso police are asking for information about or sightings of a man missing since Jan. 7. 
Joshua Dean Frazier, 30, was last seen at 8:37 p.m. on Jan. 7 walking north in the 400 block of Pacific Avenue North, near Holt's Quik Chek Market. 
Frazier's mother, Cynthia Gibbons, said participants can join a search party to look for Frazier, at 10 a.m., Saturday, Jan. 16, starting under the "old Rainier bridge" near Holt's Quik Chek Market.
Gibbons said police were notified on Monday, Jan. 11 when her son hadn't been seen all weekend.
Sgt. Kevin Tate with the Kelso police said he has helped with the search and added Frazier to the national database of missing persons.
Tate said Frazier is considered missing because "something out of the ordinary has created concern."
"In this case, it's the fact that he was severely depressed," said Tate.
He added that Frazier has also not been using "electronic media" like he usually does.
Gibbons said Frazier went into the convivence store on Jan. 7 to buy a drink. When he exited the store, he got into his friend's car, then immediately exited the vehicle and told his friend he would meet her at home.
Gibbons said Frazier did not have his keys or wallet, because he was expecting to go home. She said he is always in contact with his brother and that not hearing from Frazier is unusual.  
Frazier is 6'1" tall and weighs 175 pounds, police said. He has tattoos on his hands, arms and back and has very short hair. Frazier was last seen wearing a tan hat, black shirt, dark gray Carhart jacket, black pants and black shoes. 
Anyone with information or who has seen Frazier is asked to call the Kelso Police Department at 360-423-1270.