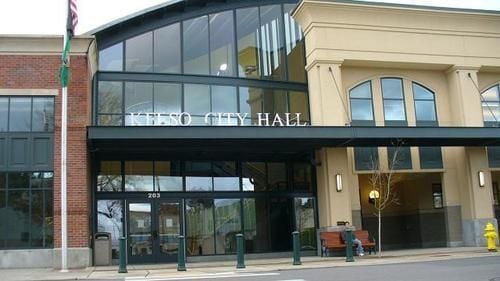 The City of Kelso's budget is still right on target, despite initial fears that COVID-19 would cause large shortfalls, city officials said last week.
Kelso Finance Director Brian Butterfield said while sales tax revenues have been down for March and April, overall the sales tax revenue is for the year is actually about 5% higher than last year. He's still waiting to see what May's tax revenue report will look like, he said.
The city's $89.2 million budget is "right where we should be for six months," he said, calling that a surprise.
"I've talked to Longview and a lot of cites, and everybody is like, 'I can't believe sales taxes are still coming in.' As long as they keep coming in, I'm not going to worry," Butterfield said.
Still, the city has a hiring freeze in place, leaving three positions unfilled, Butterfield said.
"We did that early on because we figured it was going to be bad," he said.
As of June 30, general fund expenditures are approximately $210,000 less than they were at the same time in 2019, Butterfield said.
And a couple smaller street repair projects paid for by the general fund are on hold, such as the West Visa Road repairs and planned streetlight upgrades. However, most of Kelso's street projects are grant-funded and will continue, he added.
Butterfield said property tax collections also are on track, but theater admissions taxes, hotel/motel taxes and motor vehicle fuel taxes have taken the biggest hits. Hotel/motel tax revenue, for example, is down about 40% from last year, he said.
"Those have been affected the most percentage-wise. But those aren't big budget busters" because they are a much smaller percent of the city's revenues, 25% of which come from sales and business and occupation taxes, he said.
And, the city has received a boost in revenue from the taxes on Kelso School District school construction projects. The district is rebuilding Wallace elementary school, as well as carrying out several renovations.
"That's a one-time revenue, not a normal thing, but that helped to fill the void (of lost revenue)," Butterfield said.
He also said he expects motor vehicle fuel taxes to pick up again now that the stay home, stay safe order has been changed to the safe start plan.
And the city also got $360,000 from the CARES Act to reimburse it for COVID-19 related costs.
The city partnered with the Economic Development Council to give $66,000 of that to businesses in the form of rent relief, Butterfield said. The rest will be used to pay for the salaries of city employees who were sent home but remained on call, offset the cost of buying masks and cleaning supplies and attorney's fees for emergency proclamations, he said.
"We'll see how (the budget) goes after all of those are reimbursed," Butterfield said.
Even with things looking up, Butterfield said the situation is still fluid and liable to change.
"We're just going month to month right now and hoping for the best," he said.
Get local news delivered to your inbox!
Subscribe to our Daily Headlines newsletter.