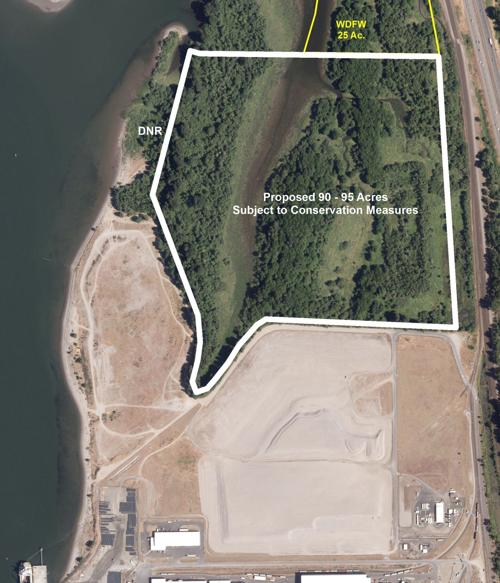 Methanol proponents say they're committed to seeing the $1.8 billion plant through in spite of a state board's reversal on Friday of two major permits needed for the project. While the Port of Kalama and Northwest Innovation Works weigh their options, Gov. Jay Inslee maintained his support for the project, which would increase state greenhouse gas emissions by 1.28 percent annually.
"The appeal process is a necessary part of that review. We fully expect the company to address the additional information needs as outlined by the recent decision of the Shoreline Hearing's Board," Inslee spokeswoman Tara Lee said Wednesday.
Inslee has traveled to Kalama in support of the methanol project, which would use new technology to cut emissions by 31 percent compared to traditional manufacturing methods. Proponents also have argued the project would help China reduce its climate change impacts by replacing coal-based methanol with natural-gas based methanol, a key ingredient in producing plastic. Additionally, the Department of Ecology would require Northwest Innovation to reduce greenhouse gas emissions by 1.7 percent annually until 2035.
"The governor is pleased that NWIW is looking to Washington state with new and cleaner technologies to make their product. The company has been diligent in working with both the community and local and state agencies in going through our rigorous environmental review," Lee said.
Even with the cleaner production methods, though, the project would still release a little over 1 million metric tons of greenhouse gas annually, the equivalent emissions of 260,000 passenger cars.
Environmental groups, in an appeal of the state shoreline permit, argued that the county and port erroneously concluded that those emissions would have an insignificant adverse impact on climate change, and the state shoreline hearings board agreed. In its ruling, the board said it was "troubled by the project's emission of greenhouse gases without further evaluation of potential mitigation (compensation) measures."
The six-member board sided with Columbia Riverkeeper, the Center for Biological Diversity and the Sierra Club, which argued that the EIS' analysis is too narrow in scope. The EIS only examines emissions from the project site and the immediate vicinity, instead of evaluating emissions from the entire methanol production process.
"As the Board has stated, this EIS completely failed to analyze the very significant climate impact from this large fossil fuel refinery," said Janette Brimmer, an attorney with Earthjustice, the firm representing the three environmental groups. "This order requires the refinery and the port to follow the law; to finally take an honest, thorough, and hard look at all greenhouse gas pollution from and caused by this facility."
Curt Hart, spokesman for Ecology, suggested the methanol project may have to undergo a supplemental EIS that takes a more cumulative look at emissions similar to one recent analysis of Millennium Bulk Terminals proposed coal project. This supplemental EIS would likely have to go through a separate public process leading to expensive and significant delays for Northwest Innovation.
Project proponents have 30 days to appeal the board's decision. They also could ask the shorelines board to reconsider its decision by filing a petition by Sept. 25.
Hart also suggested proponents may look for other ways to reduce emissions. It will be up to the port, county and Northwest Innovation Works to decide their next steps, he said.
Project backers say they're still evaluating their legal options.
"In the case of greenhouse gases (GHG), there is no specific law or rule to determine what constitutes adequate environmental review of GHG impacts. The EIS ... is an excellent work product. The study required thousands of hours of work by expert consultants from many fields and closely adhered to state Department of Ecology guidance and input," Mark Wilson, Port of Kalama executive director, said in a prepared statement.
"So while we are obviously disappointed in the Shoreline Hearings Board decision, we remain committed to our mission (of) balancing environmental stewardship with the economy and jobs, and with our quality of life. ... It is a very important project for our community," Wilson added.
In a prepared statement, Cowlitz County commissioners said they support "the quality work completed by our staff, the Port of Kalama and the team of expert consultants who collaboratively completed this complex environmental review, and we are disappointed in the decision made by the Shoreline Hearings Board."
The methanol project would generate 192 permanent jobs, 1,000 construction jobs, an annual payroll of $21 million and $36 million in taxes yearly. "Cowlitz County needs the jobs generated by quality, environmentally responsible projects such as the Kalama Methanol Manufacturing and Export Facility at the Port of Kalama," the commissioners said.