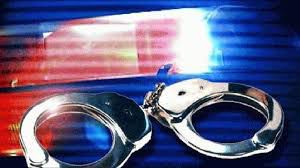 Cowlitz County sheriff's deputies found and arrested a shoplifting suspect who led authorities on a high-speed chase before crashing near the Toutle River Bridge on Interstate 5 and fleeing on foot Wednesday night.
Mark Garrett Hector, 31, fled from the Three Rivers Mall in a gold minivan at around 7:15 p.m. Wednesday after allegedly stealing a bicycle, according to a 911 dispatch log entry.
He ran multiple red lights in Kelso before merging onto Interstate 5, driving northbound in the southbound lane, according to the sheriff's office. There also was a passenger in the car, according to the dispatch log.
Nearly 10 miles farther north, Hector exited the interstate at milepost 48, merged onto Huntington Avenue and headed into Castle Rock. He reportedly swerved at oncoming traffic and caused a pedestrian to jump out of the way to avoid being hit in a crosswalk. According to the dispatch log, he passed the middle school at 75 mph.
Hector then continued driving north to the exit 49 off-ramp near the Castle Rock park-and-ride. Castle Rock police and county deputies tried unsuccessfully to stop him from entering the freeway in the wrong direction.
He continued driving northbound in the southbound lane to milepost 51, where he wrecked next to the Toutle River RV Resort and fled on foot, the post says.
Deputies, police and Washington State Patrol troopers searched the area with a dog and a drone but did not immediately locate Hector. However, deputies arrested the passenger for an outstanding warrant and located a bike in the minivan, the log says.
Castle Rock police found Hector early Thursday morning about a mile from the wreck. He resisted arrest and ran across all six lanes of I-5 before deputies stopped him, according to the sheriffs office.
He was booked into the county jail around 2:20 a.m. on suspicion of eluding law enforcement officers, reckless endangerment and resisting arrest.
The sheriff's office is seeking additional comments from any drivers or pedestrians who encountered the gold minivan while it drove through Castle Rock, the post says. Anyone with more information can contact Deputy Caity Neill at 360-577-3092.
Get local news delivered to your inbox!
Subscribe to our Daily Headlines newsletter.