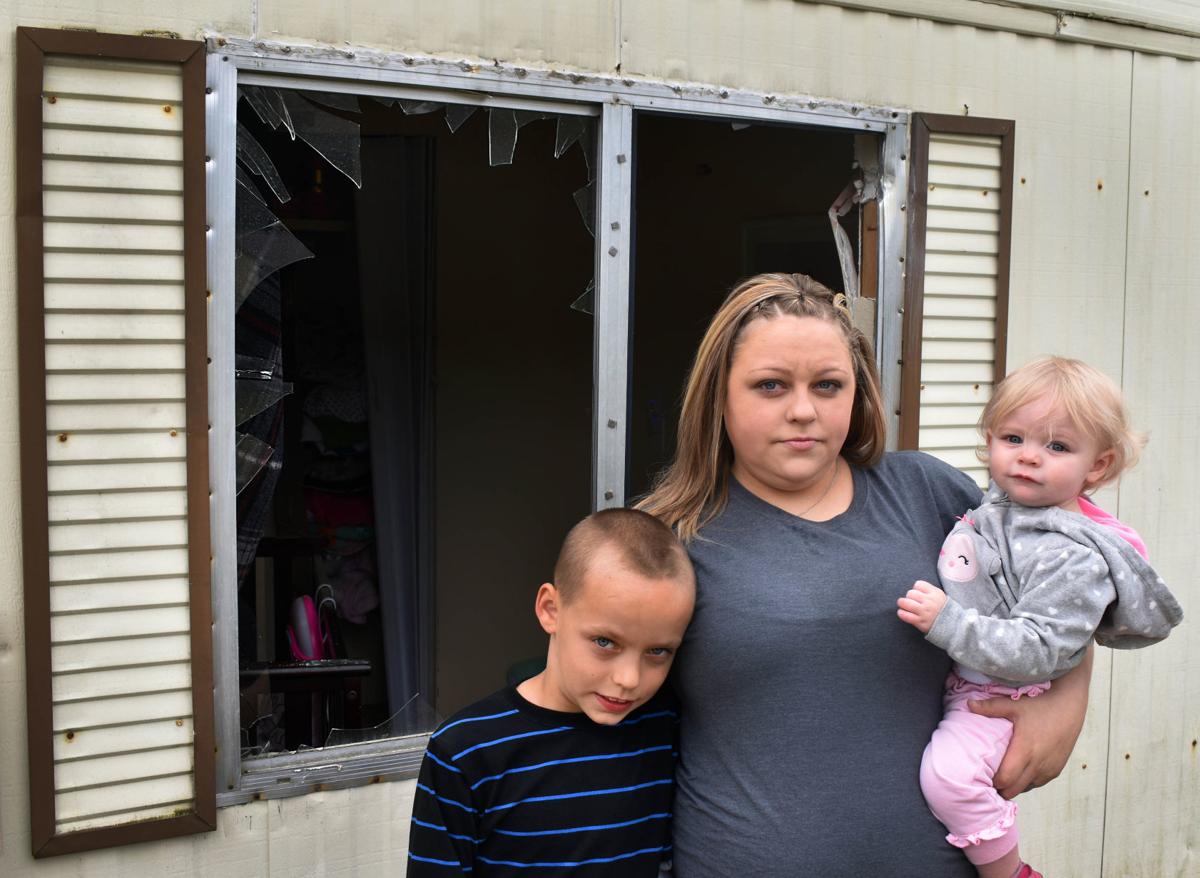 KALAMA — Savannah Eastman says she was visiting her brother in Oregon the evening of April 14 when SWAT agents broke windows and launched tear gas in a search for evidence at her Vincent Road home during the manhunt for Brian Butts.
Eastman said she understands law enforcement were pressed to find and arrest Butts, who is believed to have shot and killed 29-year-old Cowlitz County sheriff's deputy Justin DeRosier the night of April 13. But she said she's now being accused by some of being involved in the shooting, and she and her children are homeless while their Vincent Road house in Kalama is littered with glass shards and the pink splatter residue of tear gas.
"I'm not trying to overpower (DeRosier's death) or get the attention off of him at all. That never should have happened. But at the same time, me and my family are suffering."
Neither Butts nor anyone else was inside, deputies confirmed, and Butts would later be apprehended and killed by police in a shootout along Spencer Creek Road on the evening of April 14. Eastman's boyfriend Michael Veatch, who lives at her residence, was arrested earlier that day on a DOC warrant. Officers are still investigating the case and Michael Veatch has not at this time been charged with a crime in connection to the DeRosier investigation. (His brother Matthew Veatch is charged with aiding Butts' escape.)
"My three children and I are on the street right now." Eastman said last week. "Everyone thinks that my boyfriend was involved, (but) he's the one that was only picked up on the DOC (warrant). ... That's not me, that's not my immediate family. ... This is a small town. I have a lot of family here. I grew up here. And now I can't even get a handshake."
The Cowlitz County Office of Financial Management found there was no negligence or wrongdoing in the search, so Eastman won't be reimbursed for the damage done. She has set up a GoFundMe account to find a new place to live, but in the meantime, she and her children are bouncing between staying at family homes and in her car, all "because of some involvement that (she) never had," Eastman said.
"My goal right now is to get enough money for a deposit for a new house," she said. "I have money. I have a job. It's just getting that big lump sum to be able to move into a place, and to replace my children's things."
Eastman said her boyfriend was arrested for failing to pay some fines and report to police after being questioned, and she's adamant that he played no part in the shooting whatsoever. Regardless, comments on the GoFundMe for her repair expenses accuse her boyfriend of being the shooter, and Eastman says she can't walk down the street without putting her head down.
"I have people threatening me, saying they're going to kill me," Eastman said. "My children are getting bullied at school. ... I've wanted to crawl into a hole and not come out. I can't walk into a store without feeling like I'm going to die. My heart just races."
Kalama school officials referred TDN's inquiries about the bullying to the superintendent, who was not available to comment this week.
According to court records of the Vincent Road search warrant, nothing was seized from the property, although the investigation into the shootings remains open.
Eastman and Veatch rented the property but didn't have renter's insurance, Eastman said. When property is damaged during a search warrant, it's generally up to the city or county's risk manager to determine how much, if any, the homeowner is owed, officials said.
"Talking in big generalities, if I have a valid search warrant as an investigator at your residence, and we break in the front door, most of the time, if it is a valid search warrant, the homeowner's responsible for the damage," Clark County sheriff's Sgt. Brent Waddell said.
Cowlitz County risk manager Ronda Hollis said that if law enforcement is determined to have been negligent or in error in searching the house, the county would pay for the damage. In this case, she "could not find any negligence whatsoever or any issues" with how Cowlitz or Clark County served the warrant.
"If we were to pay for the door of every time we had to perform an arrest warrant with taxpayer dollars, that wouldn't be right either," Hollis said. "But if we did something wrong ... we would pay for that damage."
Longview Police Captain Robert Huhta was in charge of operations at a nearby command post when Southwest Washington SWAT served the warrant. He said officers had received information that Butts "was associated" with the residence and may have been there that day. The property is near Fallert Road, where DeRosier was shot.
Eastman said she knew Butts from school and living in Kalama, but said she didn't know him on a personal basis. He had never been to the house, she said.
Matthew Veatch was arrested at about 2 a.m. that Sunday, about 16 hours before investigators said officers searched the Vincent Road house. Michael Veatch was also arrested earlier that day at the Veatch family residence, which is located on Fallert Road, according to police timelines. About an hour after officers searched the Vincent road property, officers learned Butts had been seen in the 400 block of Spencer Creek Road.
The search warrant for Eastman's residence said police were seeking evidence of occupancy, clothing, weapons and associated supplies or equipment and bodily fluids, Sgt. Todd Barsness of the Clark County Sheriff's Office said. It did not list a specific individual as being sought for evidence.
No one was found or arrested at the house, he said.
Get local news delivered to your inbox!
Subscribe to our Daily Headlines newsletter.