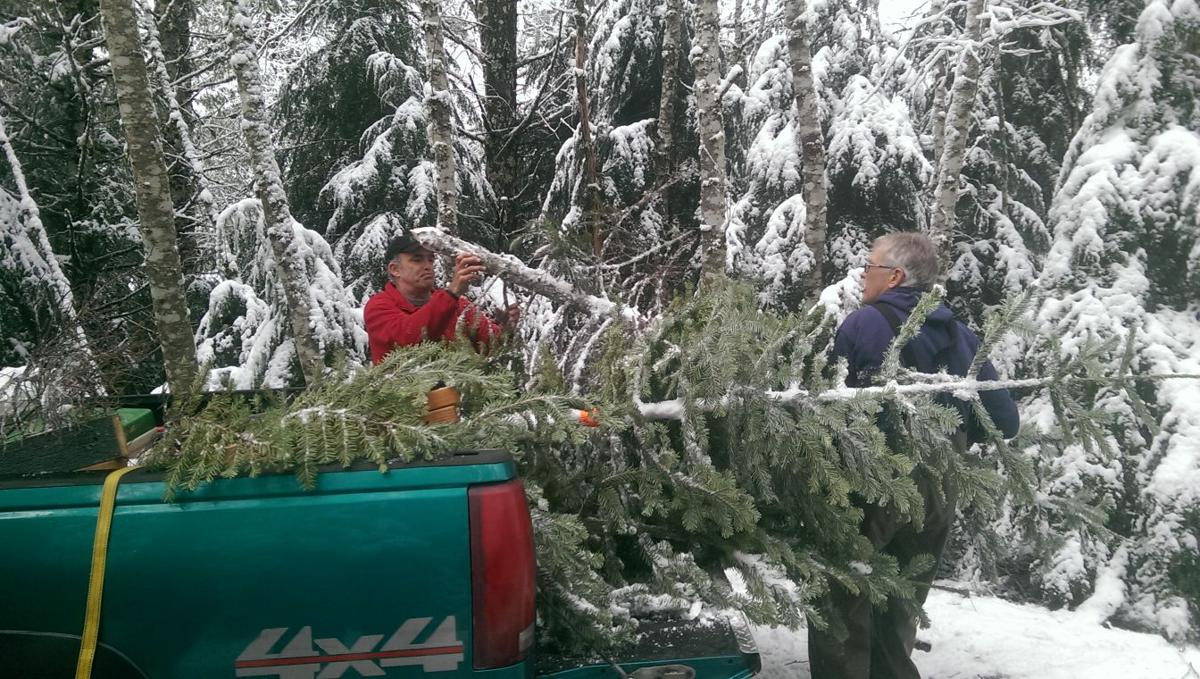 GIFFORD PINCHOT NATIONAL FOREST — The snow is soft, like the blue sky poking through the clouds, as a dozen boots scramble up a hillside. A creek roars hundreds of feet below, nameless to protect this hunting party's secret.
"This is a good possibility, but let's keep looking," Patty Pollock said of a noble fir as her family fans out across the picturesque slope.
That's been a phrase repeated every winter for the three decades the Pollocks have packed into the forest to get their Christmas tree, and Saturday was no different.
"We're not hunters — my wife and I often marvel at how much money they spend to get an elk or deer," Bob Pollock said. "One day we saw a tree for $40 at a store and said to each other, 'Well we pay about six times that.' It's all about the tradition — we've been doing it for so long."
Patty and Bob Pollock started their yearly trek on a whim before their three sons were born, when they lived in Longview. It was fun enough the first time to warrant a second, a third, a thirtieth — but now they decorate their hard-earned noble fir at home in Kalama.
Three generations of Pollocks made their way into the forest Saturday, ranging from Bob and Patty's sons Bryce, 25, and Stu, 20, to Bob's mom, Liz Pollock, 89. Also hunting were Bob's brother Bill, his sister Nancy and her husband, Bob McCready, and two golden retrievers.
The day starts every year with an 8:30 a.m. breakfast at the Oak Tree in Woodland. Hearty plates get cleaned, and any remaining food is passed around to be finished. That fuel will come in handy about 90 minutes up the road.
Not long after setting out east along the southern edge of the Lewis River, the Chevy pickup and Suburban caravan drives past a Christmas tree farm full of highly manicured trees.
"Those are the spray-on tan of trees," Bryce Pollock joked. What the family wants, he said, is "the girl-next-door trees."
The first stop is not far up the road: the Chelatchie Prairie General Store.
"This has been here since the dawn of time. It hasn't changed," Bob said after his brother-in-law picked up the four $5 permits the clan would need to bring home four trees.
The two vehicles load up again, and as soon as the road gets choppier, a blue sedan passes in the other direction with a Douglas fir strapped to the top.
"They didn't go high enough" to find a noble fir, Patty said.
Eventually Bob puts the first tracks in six inches of fresh snow when the family gets to its time-tested tree-harvesting hillside about 8 miles inside the national forest.
Early trips were a little trial-by-fire, which would explain the no-expense-spared preparations as far as clothes and food go. After making themselves waterproof, family members start their search. Bob McCready and Grandma Liz stay back at the truck, which becomes a makeshift kitchen.
Bryce and Stu scout a way forward with Bob close behind. It doesn't take long to find the first tree, branches green and lively, shorter than the 12-foot maximum. Deemed to be a choice cut, the family takes turns taking a hatchet to the base. (Paul Bunyon be proud). Three other trees are hiding farther up the hill, and the hatchet travels to each to make sure Bill, the McCreadys, and Patty's classroom each get a fresh fir.
Dragging a tree down the hill, a forest of fir plants itself in your nostrils. Fresh evergreen mixes with fresh snow — a Christmas cologne. At this point, though, it's apparent why the priorities on a trip like this are waterproof clothes — and a tailgate-based galley.
"This is the real reason we come out here," Bill said of the gourmet tailgate. "This is my first time out, but I know this family."
Chili, cookies, cold cuts and a cooler full of beers complement the cocoa, crackers and cheese in the forest's dining room — the narrative of the hunting party starts to look more like a family picnic.
The temperatures drop below freezing as the truck's tarp is put away to make room for the trees. The straps are secured just as fingers start to go numb — it's time to go home.
It felt like a day of backcountry skiing — hike up, slide down, eat and dry off. Despite setting out so early, by the time it's done the sun is going down. Saturday's snow gave the trip a decidedly Christmas feel, but talk on the way home was about the Seahawks and memories of haphazard early trips marked by bad weather and poor preparation.
Next year the story will be the same. The family will gather the weekend after Thanksgiving, pack up the Suburban and spend more than they need to on a Christmas tree, counting food and gas. Because it's better that way, and there's no turning back after all this time.