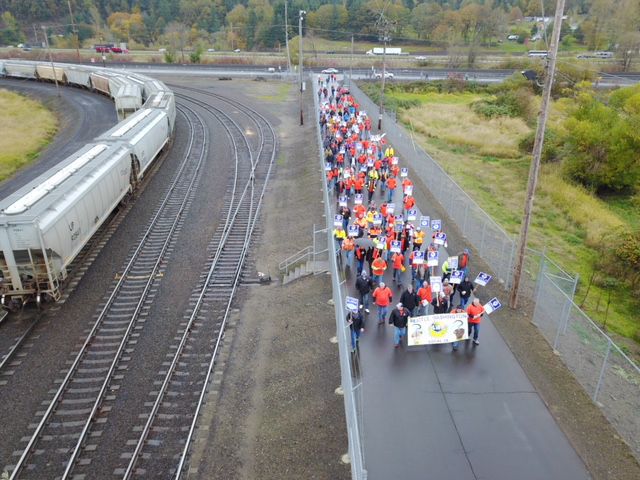 Wearing orange shirts with slogans calling for "equal benefits," about 300 longshoremen marched at the Port of Kalama Wednesday to draw attention to stalled labor talks between the Kalama Export Company and International Longshoremen and Warehouse Union Local 21.
The rally drew union dockworkers from up and down the coast, but representatives from the media and other labor groups were not invited. It's the first direct action Local 21 has taken during the three-year contract dispute.
Kalama Export officials declined to comment.
Local 21 represents 46 longshoremen at Kalama Export, one of two grain export terminals at the Port of Kalama. Kalama Export is owned by Pacificor, a joint venture between Archer Daniels Midland, Marubeni (aka Gavvilon) and Mitsubishi. Pacificor also owns the Columbia Export Terminal in Portland.
Dockworkers say they are fighting for benefits on par with industry standards, as defined by coastwide agreement between the ILWU and the Pacific Maritime Association, a non-profit organization that represents the Pacific Coast shipping industry.
Kalama Export is not a part of PMA, and it is the only grain export terminal in the Northwest that doesn't offer the same benefits, according to the union. Pacificor does offer those benefits to its Portland grainhandlers.
Currently Kalama longshore grainhandlers have a 401(k) plan that isn't as robust as the defined benefit pension plans provided at other terminals. Health care benefits also are not up to the PMA standard, according to Local 21.
"It's not right that the same employer has one standard for its workers in Portland but another for its workers in Kalama," ILWU Local 21 President Billy Roberts said in a prepared statement.
"The work is the same, the hazards are the same and the need for family health benefits and retirement security are the same. But the employer has refused, for three years at the negotiating table, to meet the industry standard on benefits. KEX (Kalama Export Company) needs to meet the same standard for its grainhandlers in Kalama as it already does for its grainhandlers in Portland," Roberts said.
Dockworkers overwhelmingly rejected a previous company offer, and no further bargaining is planned.