The job of supervising juvenile detainees is getting much harder than it was 20 years ago, when Chad Connors started at the Cowlitz County juvenile center.
The facility is responsible for "more and more" young offenders with mental-health problems, and Connors wishes they could be treated outside of incarceration. But at the same time, juvenile detention can be one of the few chances to intervene in a struggling kid's life, he said.
Connors was hired in 2005 to oversee juvenile court, and since 2009 he has overseen the detention center.
"The risk levels of some of these kids is off the charts, compared to 20 years ago," he said.
Insights into how the center treats all detainees, and the deep problems many of them bring with them, have inadvertently emerged as a result of a lawsuit involving a University of Washington researcher's attempt to get records about immigrant detainees held for U.S. Immigration and Customs Enforcement. ICE has gone to court to block the request of Angelina Godoy, who says it's undemocratic for the government to essentially hold young defendants in secret. And she has shared claims from former detainees that juveniles are mistreated.
The Daily News toured the center on Jan. 31 with Connors and juvenile justice staff to explore the issue.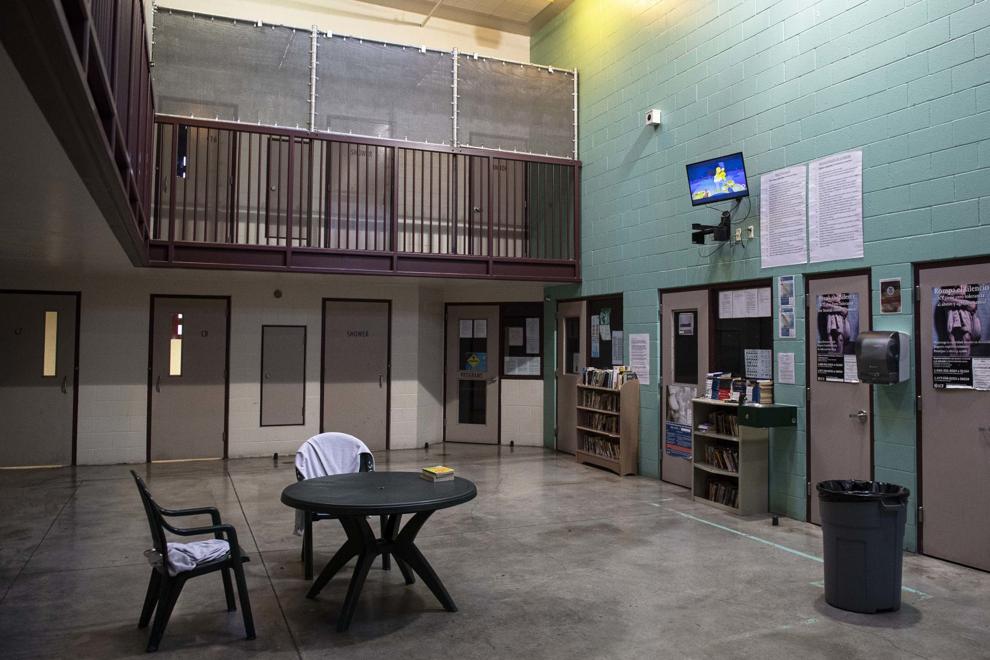 Four ICE detainees were in the facility at the time, but Connors said ICE prohibits him from disclosing information about who they are, why they're in custody or what offenses they're charged with.
But they are treated the same as other detainees, he said, and spend meals, school and the rest of their days mixed in with the other juveniles.
"They wake at the same time. They're fed the same foods. They're given the same access to medical care, counseling," Connors said. "And with a few exceptions, the ICE kids tend to behave, oftentimes, better than some of the kids that are in our community."
The juvenile center is one of three facilities in the country under contract with ICE to hold minors longer than 72 hours while they await immigration court or criminal hearings. ICE pays a daily rate of $170 per juvenile. Godoy has requested information about the minors who have been held in the detention center between 2015 and 2018.
In November, through Twitter, Godoy mentioned one claim she's been told: "Kids are punished by being strapped to a chair in an empty "isolation room" filled with cameras."
That room is a simple cell containing a bed, toilet and a sink. If a juvenile is harming himself or others and is too out of control for their regular housing pod, they can be temporarily moved there, Connors said.
"It's always about safety and security," Connors said. "It's not about punishment. … The goal is, once they go in there we try and get them out as soon as possible. … We have kids that will literally jump off beds and slam their heads into the wall. ... We obviously do not want that."
Some kids calm down quickly, while others may be kept in the room overnight, Connors said.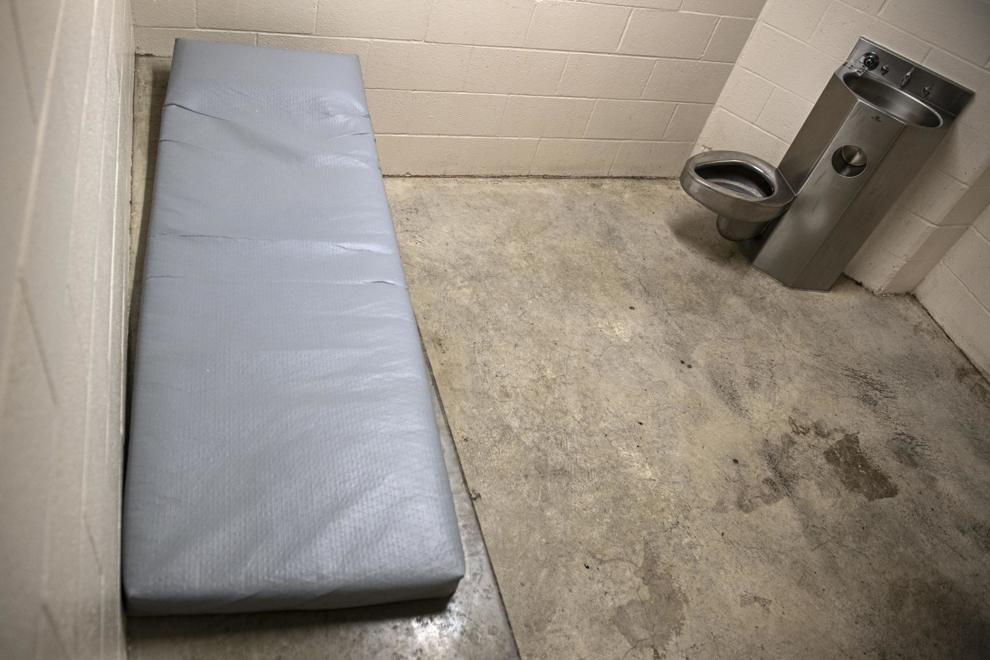 Staff very rarely use a strapped chair to restrain detainees in the room, Connors said, estimating it was used about four times last year. It can be used with any juvenile, whether held for ICE or otherwise. It is used on average for 15 to 45 minutes, Connors said, depending on the juvenile. If an incident went on much longer, staff would call for a mental health evaluation and see if the juvenile needs to be taken to a hospital.
It's "absolutely never" used as punishment, Connors said. It is reserved for cases where a juvenile simply can't be controlled and could harm themselves, other inmates or staff.
The chair uses straps to restrain its occupant at the waist, shoulders, wrists and ankles. Citing security concerns, Connors allowed reporters to see the chair but not to photograph it.
"We want to make sure that when we have to use it, our residents aren't prepared to obstruct us from being able to use it properly," he said.
Godoy said her primary concern is the legal rights of juveniles held for ICE. While she did hear accounts of detainee treatment that sounded "worrisome," she added: "I have no reason to suspect that (Connors) is not being perfectly forthright."
Another concern Godoy raised in November on Twitter: "A former detainee told me yesterday that cases of self-harm are common in the facility.""I don't think that's an accurate characterization," Connors responded.
Given the emotional highs-and-lows of adolescence, staff assume every detainee is "high-risk," Connors said. They have few assaults, and incidents of self-harm are uncommon, though they do happen, he said.
Fencing covers the second-floor railings in each of the four inmate pods. Numerous juveniles have tried to jump over in suicide attempts, jail staff said, so the fencing was put up to keep them from climbing or falling over the edge.
That was a problem "long before I got here," Connors said. Since at least when he started in 2005, they have not had a youth die in the facility, he said.There's a growing number of juveniles who really need treatment, not jail time, but Connors said it seems like the corrections department is shouldering more and more healthcare needs.
"They're mentally ill. They're very disturbed, hurting children. We want them in a place that's medically equipped. We are a correctional facility. … We're not a mental health center. Because of the state chopping up some of their mental health services, we've on occasion become, it seems more and more, the de-facto mental health center."
And the kids themselves are different, Connors said, with more significant needs than before.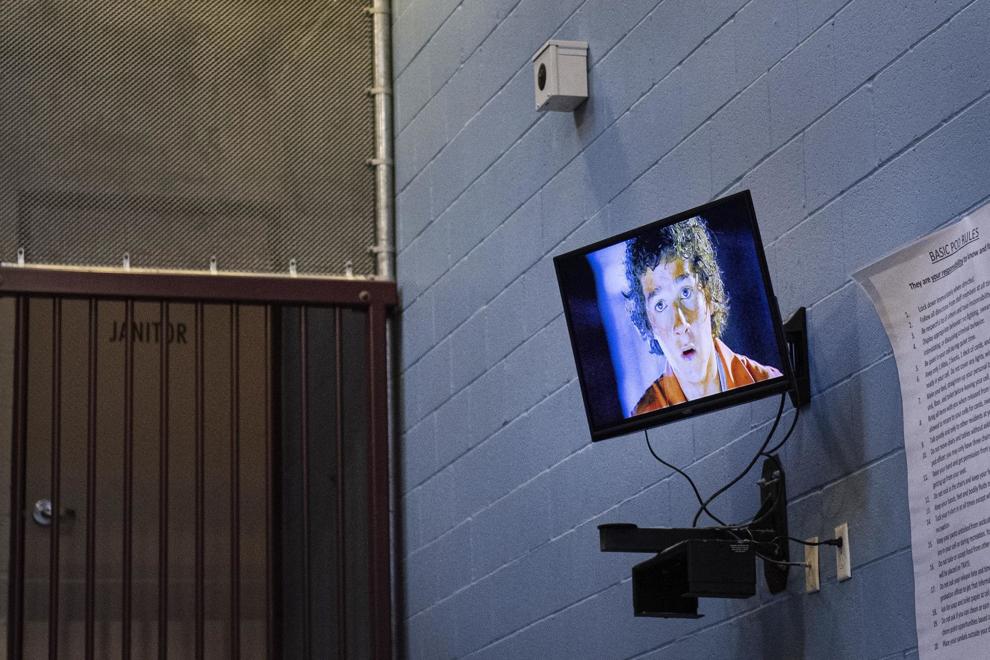 There are about 100 out-of-custody juveniles supervised on active probation in Cowlitz County. "All of them have used within the last month or so, some sort of illegal drug (including alcohol)," Connors said. A large majority of them also face some sort of mental-health challenge, Connors said.
There were about a dozen juveniles in detention during the visit, Connors said. On average, they have about 18.
A "transition school" classroom at the front of the building provides lessons for kids who were expelled from school, making up for truancy or otherwise catching up on credits. There are four more classrooms inside the jail section for detainees.
They have 30 more days of school than students outside. That helps them both catch up on credits they may have missed and retain structure during the summer, when they'd otherwise have little to do, jail staff said.
Connors said he's realized over the years that the facility is one of the few chances they have to intervene when a young person is struggling.
"What we've found in the early years … is, while we have them here, whether they come into the judge's courtroom or they're in detention, it's really a capture point," Connors said. "Once the youth leave this building, there's a lot of shiny things out there that get them distracted, or barriers like transportation."