Amber's troubles began with skipping class. At 9 years old, she had enough unexcused absences that she was summoned to weekly court appearances for truancy.
But her attendance didn't improve even as the court dates became more frequent. When she was 11, Amber was expelled from St. Helens Elementary School for egging on a fight among classmates in which a girl was left beaten and bleeding. At 14, she began stealing cars with her friends, dabbled in drugs, pilfered her mom's rent money to buy alcohol and regularly shoplifted clothes.
Amber eventually was placed on probation under the supervision of lead juvenile probation officer Trish Scudder, who at the time supervised high-risk youth, those who generally are beyond parental control and have substance abuse problems and other behaviors that threaten their health and safety.
Amber's story has a happy ending, but high-risk juveniles like her are becoming more common in Cowlitz County and across the state, even though the total number of juveniles admitted to the county's juvenile detention facility has steadily decreased since 1998. The juveniles entering the system are more troubled and harder to rehabilitate, said Chad Connors, the Cowlitz Superior Court administrator who oversees the Cowlitz County Juvenile Detention Center.
In 2014, more than 1,025 offenders were admitted to juvenile detention in Cowlitz County — a decrease from 2005, when nearly 1,600 kids were admitted. Since 2008, however, there's been a 33 percent increase of high-risk youth.
Overall, Connors said the center is seeing more kids suffering from mental health problems, drug and alcohol abuse and sexual abuse.
"Even as we're improving, we're still one of the highest in the state in terms of these other, real high-risk factors. ... The neat thing is we're seeing a really nice trend — a positive trend — that I think is really important for people to be aware of," Connors said. "At the same time we still have some really hurting souls that we're dealing with here in juvenile court."
Amber's Story
Amber, who asked that her last name be withheld, didn't intend to graduate high school or attend college. She planned to drop out of school and become a waitress.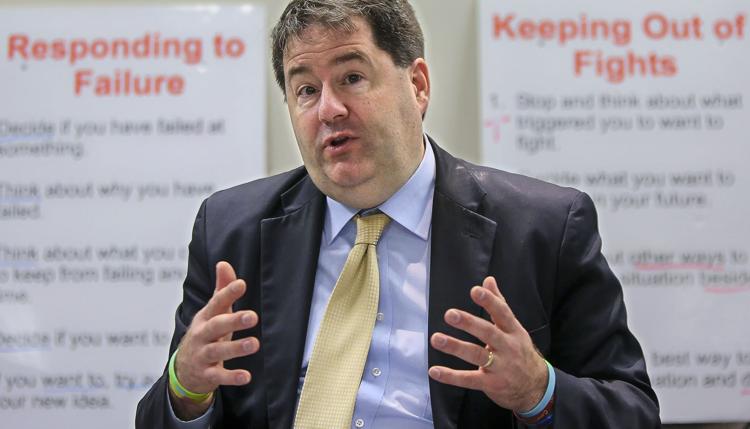 "I always thought if I ever even did something with my life it would be becoming a waitress at Shari's," she said. "I thought that was, like, the thing to do."
Now 23, Amber has since made strides in a better direction. In the past several years, she's graduated high school, earned her associate's degree in criminal justice and is working toward a bachelor's degree in human development. Her juvenile record has been cleared, and she works three jobs to pay rent at her apartment.
"It's crazy," Amber said, her voice soft. "I feel like none of that stuff happened."
Rehabilitating a young offender is more complicated than just dishing out punishment. It entails dealing with the entire fabric of their lives, said County Superior Court Judge Marilyn Haan, who handles juvenile cases.
"We're not just dealing with the child. We're also dealing with what home life they come from," she said.
Connors said there are multiple factors that contribute to bad behavior, and sometimes securing a more stable environment for the child is part of the solution. He said many kids, especially young women, are coping with sexual abuse. Others are dealing with drug and alcohol abuse or dysfunctional families.
"You look at that scope of issues, and say 'OK, these are all the challenges this child is dealing with,' " he said.
Connors said those with adverse childhood experiences — such as abuse — are more likely to suffer from a variety of problems, including alcoholism, illicit drug use, suicide attempts, unintended pregnancies and criminal behavior.
"If we don't deal with those (childhood) issues now and as early as we can, that can just have a devastating effect on the individual," he said. "It can manifest itself in many ways negatively — from antisocial behavior to criminal behavior to teen pregnancy to sexually deviant behavior."
Amber's own childhood was turbulent and, at times, uncertain. Her dad served time in prison, and her brothers were in and out of juvenile detention. During one of her father's prison stints, Amber and her mother became homeless.
"We had to go to Community House," Amber recalled of her month-long stay.
As a young girl, Amber remembers at times not being allowed in the kitchen because a strange man was creating fake money, and the fresh bills were still wet. She recalls helping family friends wash checks without fully comprehending that what she was doing was illegal.
A turning point came when Amber was 13, and she said she was sexually assaulted in her bedroom by a family friend.
"It was like the most traumatic thing in my life," she said, explaining that she later suffered from depression and post-traumatic stress disorder as a result of the abuse.
After the assault, Amber said she began partying more often.
You have free articles remaining.
"I just let all my grades go down. I didn't want to do sports anymore or anything. Then I started going to juvy a lot more frequently, because I wasn't going to school anymore. I was just, like, partying," she said.
"I didn't talk to any counselor," she added. "I kept everything inside. … I continued to go to juvy all the time. Truancy court ... you have to go to court once a month. They made me go once a week."
Amber regularly went to court for truancy until the age of 14, when she was placed on probation after she was caught stealing candy from WinCo.
That was when Amber met Scudder, her probation officer. Their relationship had a rocky start. Scudder described Amber as "stubborn" and said supervision initially was unsuccessful. Over time, however, the pair bonded.
"Trish, she's not just my probation officer. She's like my mom. We have this really close relationship even today. We've been through a lot together over the last nine years," Amber said.
Many juveniles thrive after leaving the system, but "that's rare for kids that have the same type of background as Amber," Scudder said.
Solving the problem
Connors said it's difficult to pinpoint the cause for the increase of high-risk juveniles.
Haan said the answer is as complex as the children. There are many factors specific to each child, she said, including homelessness, poverty, neglect and a breakdown in family structure.
"Any one of these factors is significant in and of itself, but then combining several of these factors creates a very difficult scenario to address and thus, very difficult cases," she said.
Connors said those at the juvenile detention facility have started many cost-effective programs to rehabilitate youth, with an emphasis on education. Detention has a full-service school, and a transition school is available to kids not performing well in home school. Those on probation are required to work toward an education goal.
"As they progress up in their academics, their chances of entering and penetrating deep into the criminal justice (system) goes down," Connors said.
Much of Amber's time in juvenile detention focused on earning her high school diploma. She had missed so much school that by the time she entered high school, she said, her education level was that of a third-grader. When she entered her junior year, she had earned only half a credit. A guidance counselor told her that at that pace, she'd be 21 before she graduated high school.
"A high school diploma, to me, was something that normal kids did — smart, normal kids that come from normal families," Amber said.
However, when Amber eventually got off probation, she began working at a fast-food chain, where she saw the realities of working without a degree. She worked long hours for little pay.
"It was the worst experience," she said. "I was like 16 years old, and I was working full time, no day off. I barely had any money, so that's when I was, like, I'm going to school."
Amber earned her high school diploma from Lower Columbia College's Career Education Options, a high school completion program for people ages 16 to 20. She completed four years of school in less than two years to graduate alongside her original graduating class.
"From there, I went to LCC like me and Trish planned," Amber said.
Amber still deals with hurdles today. Scudder said Amber has had to distance herself from certain friends and family members. But those decisions have helped her stay on the right track. Ultimately, the move out of the system has a lot to do with a juvenile's willingness to make those necessary changes, Scudder said.
"Perseverance, and Amber's ability to advocate for herself, which a lot of our youth lack, is a huge factor in her success in not only the programs she made it through as a youth, but her ongoing endeavors as well," Scudder explained.
Still, Scudder said there is no one answer to keeping youth out of the juvenile justice system.
"That is why it is important to develop a relationship with these youth in order to provide structure, support and skills for them and their families — and most of this needs to be individualized or "tailored to the youth's needs at the time," she said.
For Amber, her journey through the juvenile justice system doesn't bring a sense of shame. In fact, she said she hopes to one day return — but this time as a probation officer.
"I'm thankful for all the things I've gone through," she said with a nod. "It's made me who I am today."