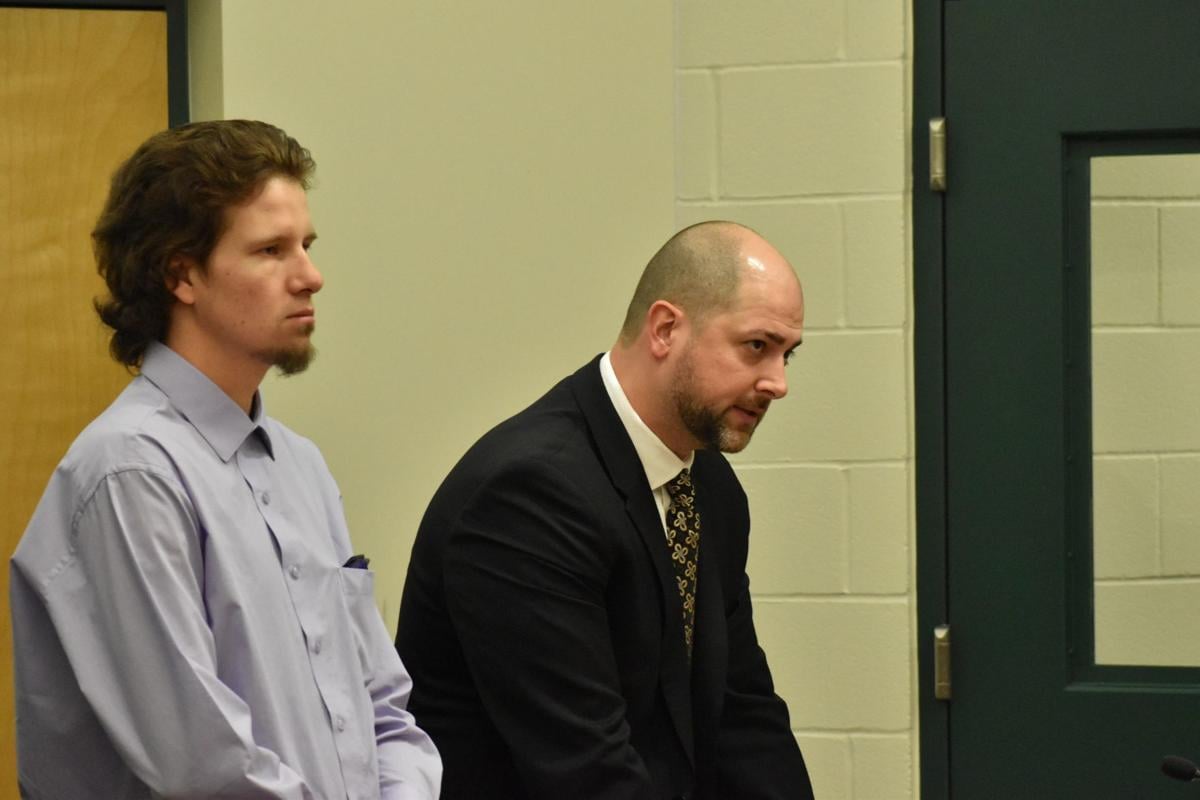 A judge Wednesday ruled that interviews between sheriff's detectives and Matthew Veatch will be admissible at Veatch's trial on charges that he helped Brian Butts elude a law enforcement manhunt after Butts fatally shot Deputy Justin DeRosier on April 13.
At a pretrial hearing, attorneys cross examined officers from the Clark County Sheriff's Office and Vancouver police who interviewed Veatch, a Kalama resident, in the days immediately following DeRosier's shooting. At issue was a basic question: How much can police lie to criminal suspects to get them to talk?
Superior Court Judge Michael Evans ultimately sided with prosecutors who asked to have the three sets of recorded interviews entered as evidence for the trial, which is scheduled to start Oct. 29.
Transcripts of the interviews released by the Clark County Sheriff's Office indicate officers read Veatch his Miranda rights at the beginning of each interview. And officers testified that Veatch voluntarily spoke to them without an attorney.
Veatch's defense attorney, Mark Muenster, focused on a detective's acknowledgement that, as part of their interview tactics, detectives may have lied to Veatch at least once about the investigation during the interviews.
According to interview transcripts, Clark County Sergeant Todd Barsness told Veatch that a test found gunshot residue on Veatch's hands, which could only have been there if he'd fired a round sometime in the last day or two. Veatch told the officer he hadn't fired a weapon in that time and didn't know why the residue would be found on him.
Clark County detective Fred Neiman acknowledged detectives may have told Veatch that the test gave positive results, even though the test was actually inconclusive.
"So you lied to him?" Muenster asked.
"Correct," Neiman said, adding that such lies are sometimes used as bluffs to obtain an admission from a suspect. He did not identify any other instances in the interviews where he lied to deceive Veatch.
"You have testimony before you that the police ... deliberately lied to him about certain facts in order to try to elicit a statement," Muenster told Evans. "So on a due process basis, I would argue that the statements shouldn't be admitted because of the police misconduct during the conducting of the interview."
Cowlitz County Deputy Prosecutor David Phelan replied that the Supreme Court-approved practice of being lawfully untruthful to criminal suspects has a "long and storied history in law enforcement" and is commonly accepted.
"If that's the case," Phelan said in response to Muenster's argument, "we really probably need to retrain all the detectives. Because deception is part of interrogation, and it always has been."
Evans agreed and said the detective's tactics didn't violate due process or pose a large concern.
Veatch, 25, is currently charged with criminally aiding Butts in escaping law enforcement after the DeRosier shooting. Butts came to Veatch's residence on Fallert Road and asked him to "get rid of" a handgun partially covered in wet mud, detectives say. Veatch, who told an investigator he had heard a gunshot before Butts arrived, told detectives he locked that weapon in a gun cabinet before leading Butts away from his house and into the woods.
After Butts told Veatch during that walk that he had shot a cop, Veatch led Butts to a barn and the two parted ways. At about 7 p.m. on April 14, officers found Butts on Spencer Creek Road. Butts fired on officers, prompting them to return fire and kill him, police say.
Butts' guns
Evans also ruled that Veatch's statements to investigators that Butts, when he showed up at Veatch's Fallert Road residence after the shooting, gave him a gun to ditch can also be admitted at trial.
Phelan said officers believe Butts had two guns on his person at that time. The gun Butts allegedly gave Veatch — a .40 caliber pistol — was not the gun officers believe Butts used to kill DeRosier, Phelan said. Officers believe Butts was carrying the DeRosier murder weapon — a 9 millimeter pistol — when he fired at police on Spencer Creek Road the next evening and was in turn shot dead.
Prosecutors believe Veatch didn't know at the time which pistol killed DeRosier. That indicates Veatch likely knew Butts was involved in some kind of criminal activity that night, Phelan argued.
"It goes to show the defendant's state of mind," Phelan said. "Because he did not know that it was not the murder weapon. It's never come out it any interview that Mr. Butts said, 'This isn't the gun I used to murder Deputy DeRosier.' At the point that (Veatch) has agreed to hide (the gun), I think that goes to show Mr. Veatch's awareness of the stakes of what's happening. The gunshots, he's being asked to hide a gun. I think that shows his awareness that there was potentially a murder, and that awareness of course blossoms later when Butts tells him that he shot a cop."
Prosecutors have to prove that Veatch knew Butts committed the murder, or was being sought for it, in order to convict him of rendering criminal assistance.
Muenster argued the evidence is "completely irrelevant" and could prejudice the jury.
"I disagree completely that receiving a gun or doing anything with it afterwards goes to prove knowledge that Butts had committed the offense," Muenster said.
Evans said the allegations would be relevant to trial, and allowed them to be admitted into evidence.
Jury prejudice
All parties agreed that a jury questionnaire — typically used to gauge a juror's background, opinions on the law and prior knowledge of a case — will be necessary for the trial, given the intense media and community attention DeRosier's death received.
"There is a lot of community feeling about this case that needs to be teased out before we're ready to pick a jury," Muenster said.
He said one TV broadcast specifically is of "great concern," telling the court that a station apparently misrepresented Veatch as having a criminal history and erroneously stated that he hid the murder weapon in his house.
"There's been a lot of negative publicity, a lot of inaccurate negative publicity (in the case)," Muenster said. "We need to find out what exactly's going out in order to ask about it in jury selection."
Muenster also asked the court to prohibit the prosecution from introducing evidence about DeRosier, such as his family, law enforcement experience or commendations, to which Evans agreed. The only relevant fact about DeRosier in the trial, Muenster argued, is that he was a law enforcement officer.
"I'm concerned in this case about the prejudicial impact of sympathetic factors about deputy DeRoiser, and the fact that he was killed, in a trial involving a person who had no part in the shooting," Muenster said.
Phelan agreed with Muenster that background information about DeRosier wouldn't be relevant to the trial.
"This is not a trial about the murder," Phelan said. "This is a trial about someone who potentially rendered assistance after the fact."
Get local news delivered to your inbox!
Subscribe to our Daily Headlines newsletter.