Journey Seventh-day Adventist Church Pastor Jim Wibberding and his congregation still are picking up the pieces after an arsonist set the church's elaborate set for "Journey to Bethlehem" aflame in July.
At the center of the holy village, there's a pile of charred and melted props, too mangled to identify. The smell of burnt wood still filled the cold, December air Tuesday. Only several structures remain intact after a July fire caused $60,000 in damage — and which has forced the Lexington church to cancel this year's dramatic production about the nativity of Jesus.
Just after 1 a.m. on July 29, several fires were reported behind the church, including a blaze that consumed 11 of the "Journey to Bethlehem" structures. Officials said the fire was likely arson, though no one has been charged.
There also were four small brush fires in wooded areas near the church. The church itself was not damaged.
Months have passed, but the destruction near the church is still visible. A heap of blackened props is piled near several ruined tents. There are items that can't be replaced, such as memorabilia from Turkey, Israel and Jordan donated by church members from their travels.
Despite the destruction, though, Wibberding is optimistic the church eventually will revive the production, which has featured live camels, other animals and people playing Roman soldiers, shepherds and other personas of the nativity story.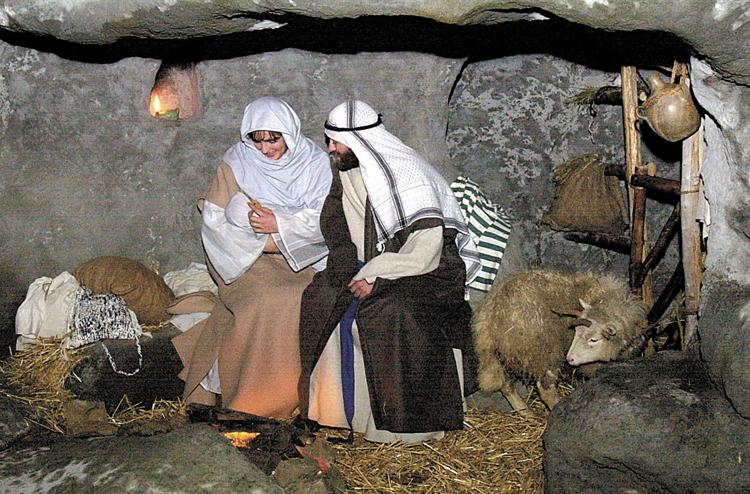 "It's an opportunity to make the village more authentic to the times," he said of rebuilding the village, an effort he expects to cost more than $60,000.
Wibberding said the the annual "Journey to Bethlehem" production – which would have been 20 years old this month – is canceled this year to make time to design and, eventually, to rebuild the village.
"Because we're trying to reshape it, we need some time to design it well," he said.
Many of the original structures were made from wood. Wibberding said he and the volunteer-based design team plan to craft the new village from less flammable material. They also will install surveillance cameras.
Once the village is rebuilt, the church plans to offer a Bible immersion day camp during the summer, though that's still a long way off.
Wibberding said he's unsure when rebuilding will begin, and there's a chance it won't be ready in time for next year. But he is confident the new village will be worth the wait.
"We're committed to telling the Jesus story, both for and with our community," he said.
When Wibberding first learned the village had been set aflame, he said he felt sick.
"Mostly I think about the people that have invested so much over the years," he said. "This was their creation, and now it's charred."
But looking around at what remains of the village – including a stone oven that once heated bread to serve to village guests – he's excited about creating something even better.
"I see more potential than anything."