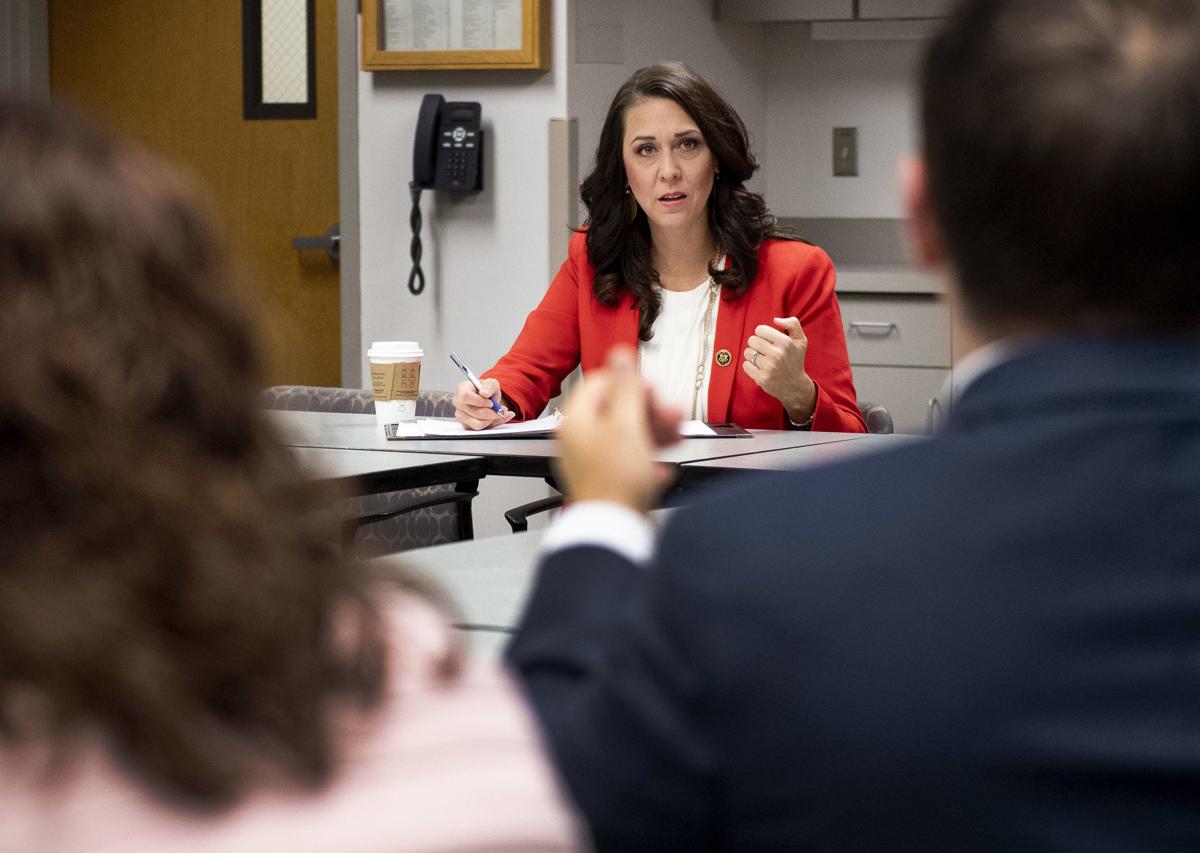 More people in Cowlitz County have died from relapses or natural causes related to drug use than they have from "acute" overdose cases, Coroner Tim Davidson told Congresswoman Jaime Herrera Beutler and a panel of local experts during a round table discussion Wednesday morning.
"They go in for treatment, come out and are used to using so much drugs (that) they go to take the same amount and die immediately," Davidson said. "(And then) you've got the people that get reformed, or maybe not reformed, but now they're dying of organ failure because of the physical toll on their body. We have more of those cases in the last few years than we do the acute or actual drug overdose."
Herrera Beutler, a Battle Ground Republican, stopped in Longview to talk to local law enforcement, Columbia Wellness and PeaceHealth behavioral health and pharmacy representatives about the county's opioid crisis.
Medical professionals told Herrera Beutler they are changing prescription protocols related to opioids along with increasing community education about opioid doses, how long they take to kick in and how to dispose of them.
In addition, they have increased the distribution of naloxone, a medication that can reverse opioid overdose, to go along with prescriptions should patients take the wrong dose or a child accidentally ingest the pills.
"You all are on the front lines of people exhibiting symptoms," Herrera Beulter said. "It makes me wonder, is this worse? ... Are we just aware of it now? Or is it worse than it's been in the last couple decades?"
Cowlitz County Sheriff Brad Thurman said opioid use has "skyrocketed" over the last 20 years.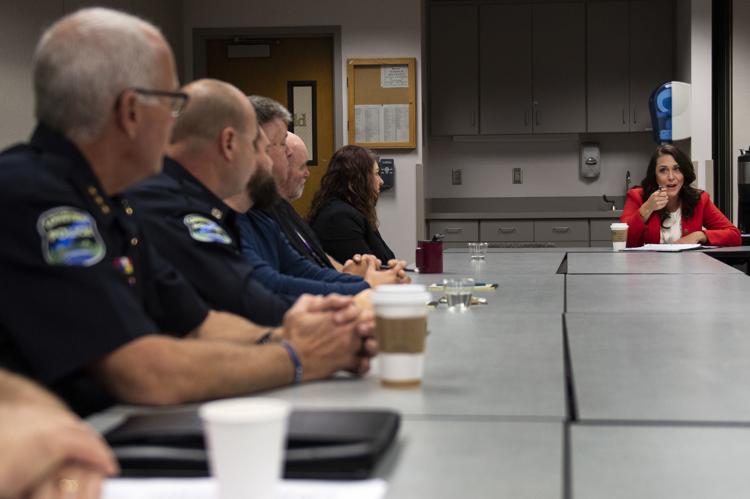 In 2018, more Washingtonians sought treatment for opioid addiction than alcohol addiction, Thurman said. "That's a good indicator that there's an issue and it's growing."
There was a sentiment in the mid-2000s about the need to "stamp out pain," said Jerad Shoemaker, PeaceHealth medical director of behavioral health. As a result, medical professionals were aggressive in prescribing opioid pain medication. Over a decade, that attitude increased the number of opioids prescribed in a community, he said.
When professionals realized it was "an unhealthy trend" and started restricting the availability of opioid pills in the community, "the instance of heroin really jumped in our community," Shoemaker said.
Longview Police Captain Robert Huhta said he was in the drug unit during those years when opioid prescriptions increased and he noticed a lot of arrests for prescription pills. Eventually access to pills dried up, and, as law enforcement predicted, there was a transition to heroin.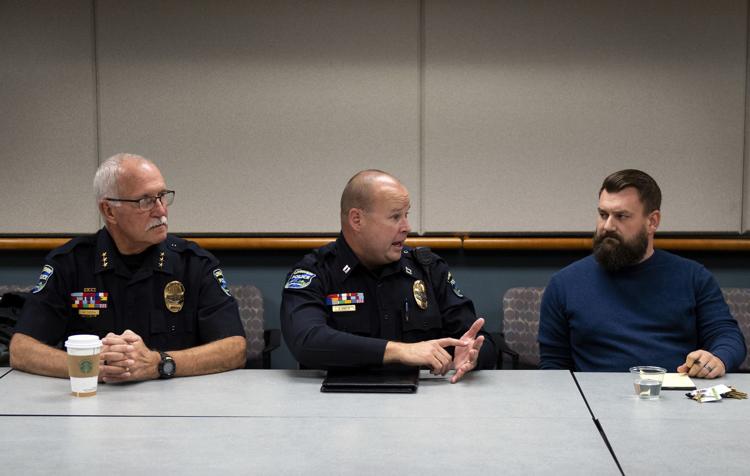 Last year, Herrera Beutler supported a spending package from the U.S. House Appropriations Committee that included nearly $4 billion to combat the opioid crisis.
"In the last five years, this has been something I've heard everywhere," Herrera Beulter said. "Everyone in Congress is talking about this. Then it was 'Quick, just send money.' ... I understand we're behind on pretty much the whole scope: providers, spaces, counselors, first responders, treatment. ... I don't know if those dollars are starting to hit you. I don't know if they're making a difference."
Local law enforcement said they are still waiting to see the funding, especially federal grants that are tied up in a national fight regarding so-called sanctuary cities.
"You mentioned resources coming out and are we seeing them? I'd have to be blunt and say, 'No.' " Longview Police Chief Jim Duscha said.
Longview wants to use those funds to hire five more police officers and create a crisis response team with one officer and other community partners. This team could spend more time with people in crisis to "stay on top of the curve instead of always working from behind," Duscha said.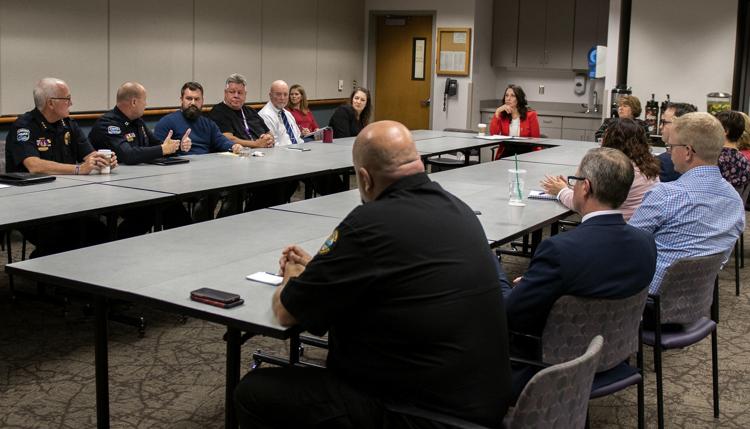 Liz Cattin, network director of community health with PeaceHealth, said she is working on partnering with different groups and finding new ways to reach people who need help.
"We need to get outside the clinical and direct black and white stuff and really get in the middle. That's where it's going to make the difference for people," Cattin said. "We know that what we've been doing is working to a certain extent, but we need to go beyond that. ... It really is a whole person approach instead of an issue approach."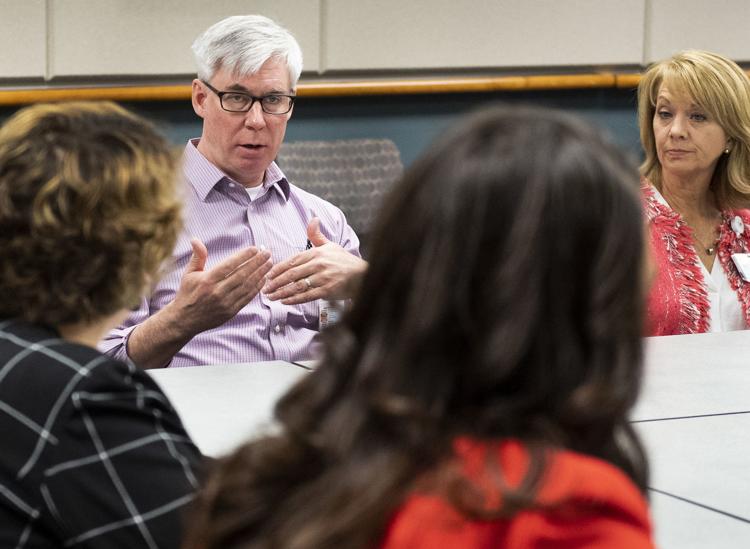 Herrera Beutler thanked the group for their efforts and said her job is to support them in their jobs.
"I just keep coming back to how do these folks in our community — neighbors, friends who we see everyday — how do we break out of the isolation that is driving them to look? They're all looking for something. We're all humans. We all understand that," Herrera Beutler said. "It gets a little overwhelming, but I keep coming back to these people need to fill a place in our communities and that's not something I can fix in Washington D.C., but I can support you as you're filling those communities here."
Get local news delivered to your inbox!
Subscribe to our Daily Headlines newsletter.