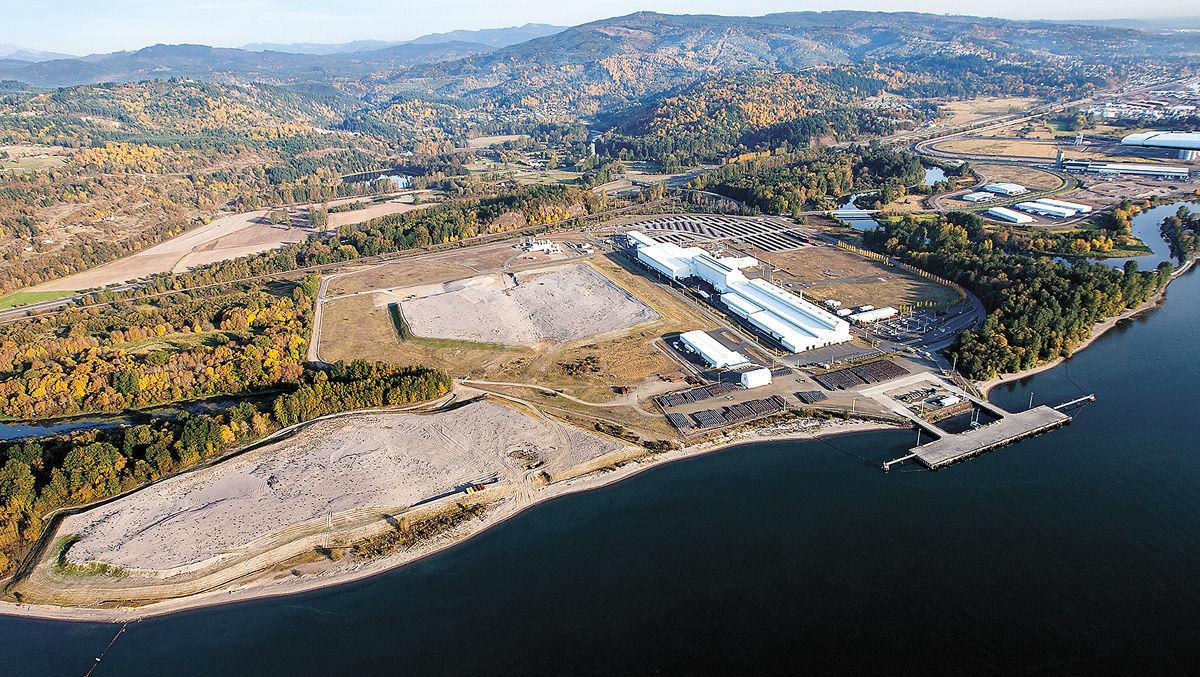 Northwest Innovation Works has formally asked Longview contractor JH Kelly to build major parts of its $2 billion Kalama methanol plant and also has committed to using local union construction labor, signaling that the company is gearing up to build the plant after a new study found the facility would displace dirtier plants.
"We've come to recognize that JH Kelly brings a lot of value-added support for our project and we're really excited about moving forward," Vee Godley, Northwest Innovation Works (NWIW) chief development officer, said Monday. "These guys bring a wealth of skills that we can utilize and make it happen."
The proposed plant, located at the Port of Kalama, would convert natural gas into methanol, which is a key ingredient in plastics manufacturing.
In a joint meeting with The Daily News on Monday, representatives from NWIW, JH Kelly, the Cowlitz Economic Development Council and labor leaders all touted the plant's potential economic and environmental benefits.
Mason Evans, president of JH Kelly, said the company's scope of construction would employ a few hundred people, making it one of the nearly 90-year-old company's top five largest projects. And about 20 percent of the laborers would be apprentices.
"It's exciting for me, as a labor leader, to see the opportunities for the youth to get into the building trades and apprenticeships," Plumbers and Steamfitters Local 26 Business Agent Adam Davis said. "I'm looking at the future of our youth in this community and I'm really excited for the project."
JH Kelly's contract would be more than $100 million, with opportunities for other work as construction moves forward, Godley said. JH Kelly would be a subcontractor to a large general contractor. The total number of construction jobs is expected to be about 1,000.
Godley said he'd realistically like to start constructing the facility at the end of next year. Construction would likely take three years to complete.
The project would also keep local union workers near their homes and families instead of forcing them to travel long distances for work, said Dan Guglielmo, with JH Kelly.
Godley added that bringing in JH Kelly from the beginning means that the local contractor will understand the facility and can perform repairs in the future.
Mike Bridges, president of the Longview Kelso Building Trades Council, said the project could set the standard for future industrial projects along the Columbia River.
"We can have responsible industrial development and create jobs," he said. "The ripple effect through all the other businesses is going to be huge. That's what we've been lacking in this area for a while."
Ted Sprague said NWIW has been one of the most "responsive" proponents he's seen as president of the Cowlitz Economic Development Council. He pointed to the company's decision to have zero water discharges to the Columbia River and ultra-low emissions technology.
He added that NWIW has committed to trying to hire locally for its 200 permanent jobs.
"You can't ask for a better project to come to your community," Sprague said.
Environmental group Columbia Riverkeeper has challenged the project's permits and successfully argued for an additional "life-cycle analysis" of the project that measures upstream emissions related to the fracking process and downstream emissions related to the transport of methanol to Asia.
The draft supplemental environmental impact statement, released earlier this month, found the project would displace coal-based methanol plants that produce far greater volumes of carbon dioxide, one of the main greenhouse gases linked to global climate change. (The full study is attached.)
The plant, therefore, would decrease annual carbon emissions by 12.7 million tons worldwide, the equivalent emissions of 2.7 million cars.
The plant would release about 1.1 million tons of carbon at the Kalama site. NWIW has said it would voluntarily work to reduce or compensate those carbon releases as well through actions such as purchasing verified carbon credits or paying a comparable amount to a greenhouse gas mitigation fund.
Riverkeeper has called the displacement findings "speculation." Representatives said the study references "outdated" reports on methane leakage rates and other "cherry-picked" numbers.
Evans on Monday called arguments against the project "anti-development" and said the methanol plant would probably be the greenest project JH Kelly has ever worked on.
"I'm not sure Riverkeeper would let Lewis and Clark down the river at this point," Evans said.
There will be a public hearing on the study at 6 p.m. Dec. 13 at the Cowlitz Expo Center in Longview. The public comment period concludes on Dec. 28.
The comments will be compiled into a final report, released early next year, which could be used as the basis for issuing permits for the project.
Get local news delivered to your inbox!
Subscribe to our Daily Headlines newsletter.