After moving more than 9,000 miles away from their homes in East Africa, Kelvin Kuniara and Grace Wangeci both say they are happily adjusting to life as Lower Columbia College students.
"It has been great. I really want to thank LCC," said Kuniara, 31, who has been at the school for over a year. "When I applied, I really kept good grades. I was the happiest person, and I'm still the happiest person."
In fact, Kuniara said he likes LCC so much that he's been telling families back home in Kenya to apply to the school. Now there are 14 Kenyan students in the international program, mostly studying nursing, according to International Programs Director Marie Boisvert.
Kuniara said even though the other Kenyan students on campus may not know he helped pave the way, "When I see them, I'm happy that they're going to change their lives."
Kuniara and Wangeci are two of 33 international students from 11 countries studying at LCC, Boisvert said. The goal of the program is to connect the LCC community to people from other cultures.
"(It adjusts) our own understanding of what we do ... and the more we know about other cultures the more we learn about ourselves," Boisvert said.
U.S. education understandably tends to focused on our own nation, so having students from different countries can help introduce more discussion of world news, Boisvert said.
Wangeci, 27, said she grew up outside of Nairobi, the capital of Kenya. She arrived during the summer, and she said everyone has been welcoming and warm-hearted and she's had less culture shock than she expected.
"The mentality I used to have was — American and Kenyan, it's not going to work for me. But it's actually working for me," Wangeci said.
Kuniara also grew up near Nairobi, and he's surprised at how much Americans smile and how punctual they are. And he sees that, if you work, you get something in return.
"Here, middle class is good, and a poor person is not so extremely poor," Kuniara said. "I can see the government is working here."
Kuniara is studying welding on the advice of a friend, who is a welder in Germany. Kuniara used to be a geography teacher in Tanzania, but he has bigger ambitions.
"I loved my job. Teaching is a calling. But sometimes ... I have to look at myself," Kuniara said. "It was a good job but I was very frustrated. You reach a point where you're not happy any more."
He said he chose LCC because an international education consultant LCC contracts with in Nairobi told him about the school, and the programs seemed strong. He had never welded before, and almost quit after he burned himself badly in class in the first few days.
"I was like ... I'm not doing this anymore. I didn't sign up for this," Kuniara said. "How can I pay all of this money to get burnt? I almost quit."
However, welding instructor David Pittsley convinced him to keep trying, and now, "you couldn't tell me to do any other job."
Pittsley said he saw right away that Kuniara had a "knack for welding," even if Kuniara didn't see it himself.
"He has a strong urge to learn," Pittsley said. "It's not just about getting the degree for him. He always wants to know why things are the way they are."
Even if he passes Kuniara's work, Kuniara often asks to redo the weld one more time, and he's always meticulous and always positive.
"Every time he shows me a weld he says, 'I know I can do better'," Pittsley said.
Wangeci is studying nursing, because she did first aid work at home. She said her family wanted her to study business, but she wasn't interested.
You have free articles remaining.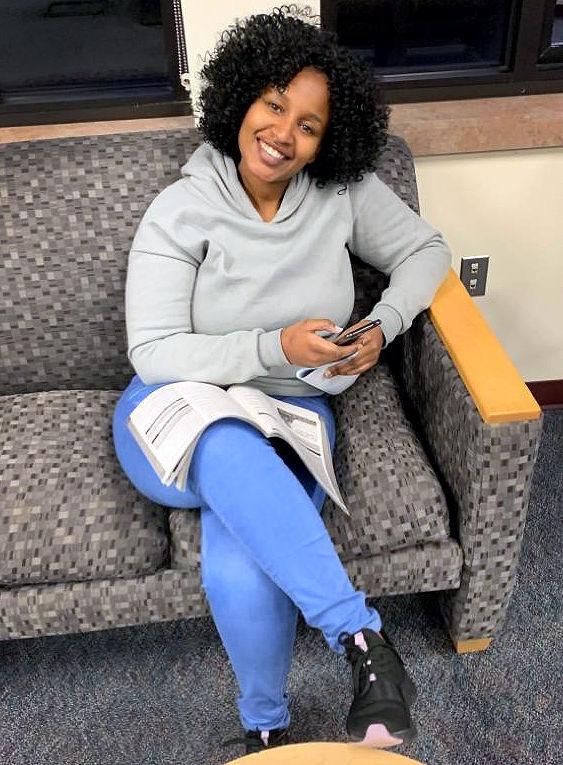 "You have to love it," Wangeci said. "I had somebody say (nursing) has to be in your bloodstream. It's not something you can force."
She is finishing her prerequisites before entering the full nursing program. She chose LCC because she knew other people who studied there who said the nursing program was the best in the area. She also has family nearby in Federal Way.
Both live in LCC's student housing, which they said is affordable and a short walk to the college library. Wangeci lives with other Kenyan students, and she said they often cook together.
Kuniara said finding their own housing also would have been complicated.
"They need credit scores, job history, it's not easy because we're not allowed to work outside the college," Kuniara said. "So LCC has been great."
Boisvert said having student housing in addition to host families has allowed the program to grow, because host families are in limited supply.
Kuniara said above all, he misses his mother and 8-year-old daughter, who he said is "his happiness." He said he video-chats both, and he keeps in mind that he's making this sacrifice so they can have better lives.
Wangeci said she certainly also misses her family, but also misses the food.
"I miss home every day," she said. "And, not to be rude, but I miss Kenyan food."
She solves those problems by video chatting her family, though the time change makes it tricky, and by occasionally buying food from a friend's aunt who runs a Kenyan grocery store in Federal Way.
"Mostly I cook my own food, because everything has a lot of sugar in it and ingredients I'm not aware of," Wangeci said. "But every once in a while I eat pizza and burgers."
Both students said they've felt welcome in Longview.
"In Longview the people are nice. They're beautiful and amazing," Kuniara said.
Wangeci said she likes that Longview is not as busy as her hometown, and that she bowls every weekend with her friends.
"Longview is so calm. It's not so busy or crowded. It's a cool town," Wangeci said. "Longview is a good place. You can do your own thing."
Wangeci still has several years of school to go, but said she wants to find a nursing job in America when she graduates.
"I'm praying I'll get a good job in America," Wangeci said. "But still, having the nursing credentials ... back home, when you've studied aboard there will be high opportunities to get employed because they have this mentality that education abroad has higher advantages."
After finishing the welding program in the next few months, Kuniara said he wants to work for a few months in Washington under his visa before taking classes to become an underwater welder. He then wants to work in Europe, or on oil rigs in Alaska.
"I'm that ambitious," Kuniara said. "That's what I want in life. I feel like I will not accomplish my life if I'm not taking bets."
He said he also wants to start a scholarship at LCC to help sponsor other students, because "I'll forever be grateful to LCC."