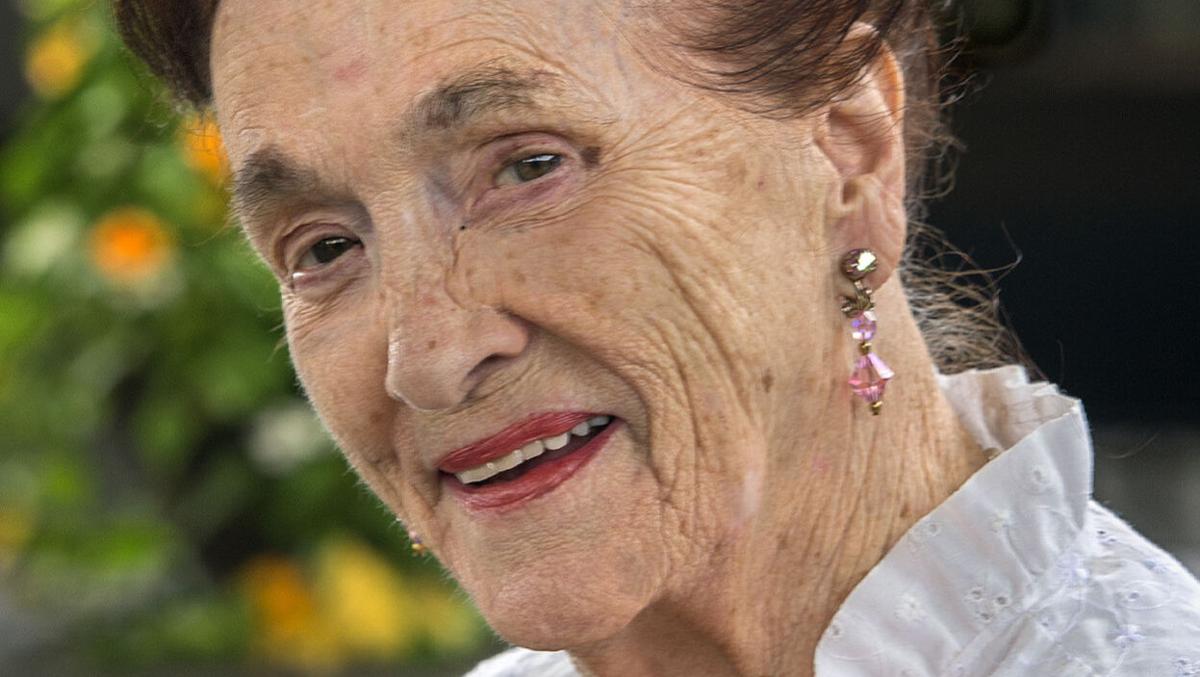 When Buffe Antilla passed away earlier this month, the community lost someone synonymous with Longview itself, a beloved teacher with whom many former students kept in contact with for decades after they left her fifth-grade Olympic classroom.
"She had deep roots and a long history in Longview," said her son Bill Antilla. "She was very involved her entire life."
Former student Dave Weibel said she was "one of those teachers that makes an impression that lasts a lifetime."
Now a lawyer, Weibel said he thinks of Antilla when he speaks in court, because she made all her students learn to speak comfortably in front of the class. The math flashcards she drilled students with also stuck with him, as did her insistence on respecting other people.
Support local news coverage and the people who report it by subscribing to The Daily News.
"She really taught you some life lessons, more than I recall other teachers doing," he said.
Longtime family friend David Silke said Antilla was a second mother to him.
"Everybody who ever came across her learned something from her, whether she was your teacher or not," Silke said.
Born in 1917, Antilla passed away March 9 at 103 years old and was laid to rest in a private family inurnment at Longview Memorial Park. A memorial service is planned at the Longview First Christian Church after the pandemic. Antilla was preceded in death by her parents, siblings and husband J. William Antilla.
Bill Antilla said the family is suggesting a donation in her memory to The Arbor Day Foundation at www.arborday.org instead of flowers because of her deep love of nature and trees.
'Adventurous spirit'
"It wouldn't matter it was cold or if there was rain pouring down, she had no fear and no hesitation. She would be out in the backyard pulling weeds and planting trees," he said.
That motivation and lack of fear defined Antilla, her son said, along with her deep compassion, inquisitive nature and quick mind.
"She was a real pioneer," he said. "She had an adventurous spirit in her approach to life. She was very, very positive and very kind and compassionate to everyone."
Silke recalled Antilla's "great sense of humor" and said she was a delight to be around.
Antilla was one of five children born to Eugene and Lillian May (Fisher) Hall, who moved to Longview from Maine. Antilla graduated from R.A. Long High School, then from Western Washington University in 1943 with degrees in education and psychology. She went on to teach for decades and was very active in the Longview 23 club and the Lower Columbia Teachers Association.
Bill Antilla said her "zest for life" and the way she "always looked for the goodness in people" shaped him growing up.
"There were never any barriers for either me or her students to do anything they wanted to do," he said. "Her encouragement was really awesome."
While Bill Antilla now lives in Minnesota, he said the "outpouring from all of my Longview friends with stories about my mom was great to see."
"She loved kids and she loved being around all of my friends," he said. "Everyone always came over to our house as much for my mom as to play with me."
Neighborhood center
A particularly strong memory for Bill Antilla is the massive breakfasts his mom used to cook for all his friends on weekend mornings. Silke said those breakfasts were "known the world over."
"On Saturday there would be 15 guys over in the morning, and she would cook breakfast for five hours," Bill Antilla recalled. "Pancakes, dozens and dozens of eggs, French toast, pounds of bacon and ham, hash browns. My friends and I would play football and basketball so we were big, hungry guys who would pack away a lot of food."
She loved those mornings, he said, especially when his Mark Morris friends stopped by.
"You'd have a combination of Mark Morris and R.A. Long rivals all coming together as one to have Saturday and Sunday breakfasts at my mom's house," he said. "She just loved stuff like that."
She also loved reading and writing poetry, and often composed poems for events she attended, Bill Antilla said. She left behind "a lot of files of short stories, little memoirs and times of her life" for her three children, Tim, Bill, and Sue, and her six grandchildren, seven great-grandchildren and generations of nieces and nephews.
"She had a way of expressing events in words that very few people have," Bill Antilla said.
She passed that love of poetry and writing on to student Jim Nailon, a songwriter who said Antilla encouraged him after reading his work in front of the class.
Upbeat and encouraging
"I've since seen those poems again and they're pretty trite little kid poems, but when she read the poems to the class and looked at me, totally intense and honestly, and said, 'Jimmy, you didn't write that yourself did you?' and when I said I had, I felt so proud."
Weibel said that's what Antilla was like as a teacher: always upbeat and encouraging.
"When you would bump into her she would still make you feel special," he said. "She would remember who you were, she would remember your name, and it was big deal if you bumped into her on Fourth of July. She had a big heart, was very kind and had a great memory for her students."
Silke said at 96 years old, Antilla could still name every student from her first-ever class.
Nailon said he and many other students stayed in contact with Antilla up until her death, visiting when they were in the area and writing letters and emails back and forth that almost always contained poetry.
"If you're lucky, you have at least one teacher that really sees you and can bring out the best in you," he said. "I was a C student until 5th grade and after that something turned on and I ended up going to West Point."
Antilla continued to inspire Nailon later in life. After the Reynolds lab shut down, Nailon returned to school and got a master's degree in education so he could teach. He had his son memorize one of the poems from Antilla's class: "If" by Rudyard Kipling, because it's a poem about "how to be an authentic human being."
Calvin Fowler, who was a middle school teacher in the same district as Antilla, said she was "thought of very highly by her students," and while Antilla would rarely put political signs in her yard, if there was a school bond or levy on the ballot, you could count on a sign and support from Antilla because of her "extreme enthusiasm for her community."
She served as president of the 23 Club in 1990, Fowler said, and frequently volunteered to be a greeter at the yearly dinner.
"She was very well spoken," Fowler said. "One of last times I saw her was 3 or 5 months ago at Fred Meyers. She was still doing her own shopping at 103 years old … she was sharp as a tack, an absolutely amazing woman."
Bill Antilla said the best way to sum up his mother was that she unfailingly saw the good in people and had faith in human spirit, even if people had different beliefs than her.
"She was never judgmental," he said. "She was always accepting of you, regardless of your beliefs or background. She accepted people for who they were and saw who was inside, not just who was on the surface."