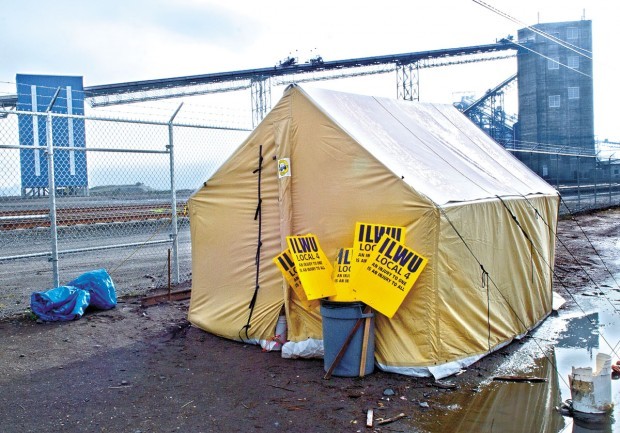 Union dock workers and EGT Development Monday reached a tentative agreement to end their year-long labor dispute at the Port of Longview under a cease-fire negotiated by Gov. Chris Gregoire.
The longshore union's share of the 25 to 35 jobs at the terminal still must be worked out, and a labor contract must still be ratified by union membership, union officials said. However, the union agreed to withdraw its pickets and bargain.
The date of the first ship coming to EGT terminal has not been announced, and planned protests have not been called off. However, for now, Monday's announcement brings labor peace at the $200 million grain terminal, where protesters blocked two incoming grain trains, police arrested hundreds of longshoremen and supporters and a federal judge levied heavy fines against the union. The agreement also appears to head off a mass protest of EGT's first inbound grain ship, expected within weeks.
"It brought tears to my eyes. Gov. Gregoire must be an angel. That's the only thing I can figure out. Everybody tried, but she got it done," said Darold Dietz, a Port of Longview commissioner and retired longshoreman.
Several issues remain unresolved, including how many union operating engineers will continue to work at the site. Also uncertain is the status of a federal lawsuit in which the Port of Longview is trying to force EGT to hire union longshore labor.
Gregoire met as a mediator with EGT and ILWU leaders about a dozen times since August, said Karina Sharen, the governor's spokeswoman.
"Both parties should be commended for their willingness to work together and compromise. This framework reflects considerable effort to put the interests of the Longview community and the entire Columbia River basin first. I am confident an agreement can be reached that will satisfy both parties and allow the new grain terminal to become fully operational," Gregoire said in a written statement.
Added Robert McEllrath, president of the San Francisco-based International Longshore and Warehouse Union, "This is a win for the ILWU, EGT, and the Longview community."
Gregoire ratcheted up her involvement in the grain terminal after she helped Boeing and union machinists resolve their own contract dispute in December over construction of a new jet in Renton, said state Rep. Brian Blake, an Aberdeen Democrat whose 19th District includes Longview.
The apparent resolution of the EGT dispute was a welcome relief, Blake added.
"I threw some paper in the air and cheered. That kind of strife did not help as we try to get people back to work," he said.
Contract talks between EGT and the ILWU broke off a year ago, and union protests heated up over the summer. In July, EGT officials announced they would instead hire Federal Way-based General Construction, who employed union operating engineers, to a five-year contract
The fate of those workers, represented by the International Union of Operating Engineers Local 701, is unclear. A representative of General did not return a message seeking comment, and union officials said they would stay with the contractor.
"Local 701 members will continue to work for General Construction as we have done for almost 90 years whether at the EGT facility or somewhere else. Our labor contract is with General Construction. We have never had and still don't have a relationship or contract with EGT," said Mark Holliday, Local 701 business manager, in a written statement.
In a separate written statement, EGT CEO Larry Clarke did not address the company's contract with General Construction, but he said he looks forward to finally shipping the first grain to Asia.
"While the parties are still working to finalize certain conditions over the next several days, we are optimistic we can resolve the dispute and get on with the business of operating the facility. From the beginning, we had two core goals - to operate this 21st century facility safely and efficiently and to ensure the entire Longview community shares in the economic benefits this facility will provide," Clarke said.
Outside the EGT terminal Monday, two tents that had served as home base for the pickets were empty. ILWU officials have not called off their protest of the first grain ship, but they indicate it's a likely next step if a full agreement is reached with EGT. Officials with the Cowlitz-Wahkiakum Central Labor Council and the Occupy movement said they would do the same in solidarity with the ILWU.
Area labor leaders say an agreement is cause for celebration in Longview and a lesson for other unions caught in their own disputes.
"If you just stick to it, long enough... it will get resolved in the proper manner. It certainly wasn't going to get resolved without a lot of attention coming to it," said Jeff Washburn, president of the Cowitz Wahkiakum labor council.
Get local news delivered to your inbox!
Subscribe to our Daily Headlines newsletter.