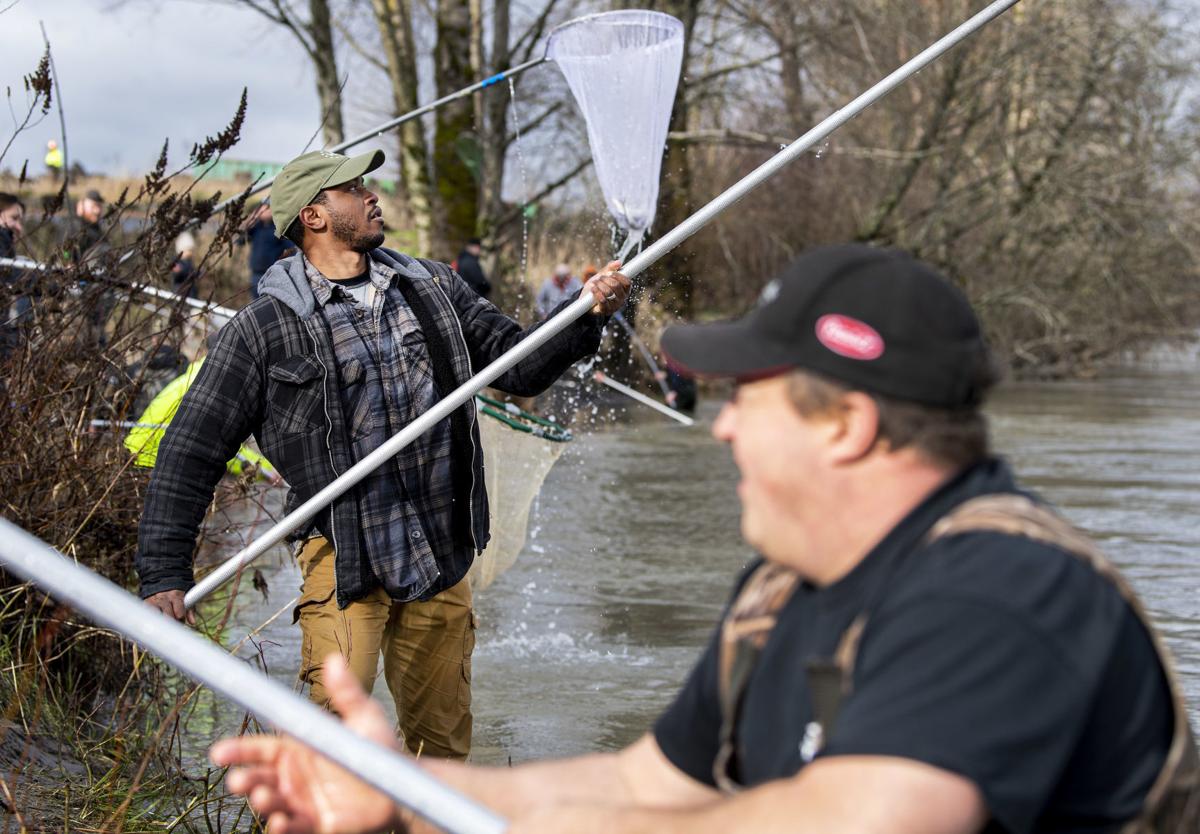 This story has been updated and expanded.M.D. and Julie Johnson spent Valentine's Day on the banks of the Cowlitz River at Gerhart Gardens Park, dipping for their dinner.
Johnson stood in the river, pulling his net through the water and tossing his catch into a bucket held up by his wife.
"We've been married for 26 years," he said. "This is as romantic as I get."
The Cathlamet couple were among hundreds of dippers who lined the river Friday to take advantage of the first recreational smelt fishery opportunity in three years.
The Washington Department of Fish and Wildlife opened the river from Castle Rock to Tennant Way to dip netting. Julie Johnson said she grew up smelt dipping and introduced her husband, a Midwesterner, to the activity. In years past, dippers could make one scoop of the net and reach their limit, she said.
"But this is okay," her husband said. "It's more fun. And a workout."
The five-hour season ended at 1 p.m.
"It's a fantastic opportunity, thanks to Mother Nature," Johnson said. "It's a great social event, very enjoyable and it's free."
Just down the river, Lauren Sjavik and her three kids took turns dipping. Sjavik said they drove from Carnation, Wash., east of Seattle, to smelt dip with her father.
"He didn't think it would be so busy, but because of short window it's pretty crazy," she said.
This is the first year since 2017 that a recreational smelt fishery has opened on the Cowlitz.
Each dipper could keep 10 pounds of smelt, or about a quarter of a 5-gallon bucket. No fishing license was required.
"I think it went over pretty smoothly," said Laura Heironimus, WDFW's Columbia River sturgeon, smelt and lamprey lead. "A lot of people had a good time. We had happy anglers."
Heironimus said the most successful dippers seemed to be between Gerhart Gardens and Lexington, but catch rates varied by location.
"We saw some people hit their limit in five to 10 minutes, some took longer than that," she said. "It seemed to do a lot with how close the fish were to shore and how easy they were to get to."
Fish and Wildlife officers caught a few people with fish over the 10-pound limit, but most stayed within legal bounds, Heironimus said.
Some fishing actually started on Thursday, when the Cowlitz Indian Tribe held a ceremonial dip at Gerhart Gardens to celebrate the return of smelt to the river, said Bill Iyall, tribal chairman.
The fishery provided Fish and Wildlife with "great biological data to understand run dynamics in Cowlitz River," Heironimus said. The department has to crunch the numbers before knowing if it will open another recreational fishery, she said.
Smelt dipping has been limited because stocks have plummeted during the last decade and the species is listed as threatened under the federal Endangered Species Act.
Get local news delivered to your inbox!
Subscribe to our Daily Headlines newsletter.