It takes a brave mom to subject herself to culinary scrutiny.
That's what Columbia Heights mothers Ivy Masters and Beth McFadden did when they opened their kitchens to professional restaurant inspectors, who checked whether their cooking practices were four-star or ran afoul of safe food preparation guidelines.
"For sure, homes aren't up to commercial standards," Masters said during her May 27 evaluation. "When you have food poisoning, you always hear it's when you eat out. Maybe people just don't know (about food poisoning at home). Maybe nobody cares."
In other words, perhaps there's more danger lurking at home than in a greasy spoon down the street.
About 48 million people a year get sick from contaminated food, according to the Centers for Disease Control and Prevention. While restaurant chefs and waiters are regulated to prevent food-borne illnesses, home cooks aren't. So a question arises:
How careful — or careless — are home cooks?
To get some insights, The Daily News partnered with the Cowlitz County Health Department to test the women's food prep skills. They a took true-false test to see if they could differentiate facts from myths. Then the department's lead restaurant inspector, Audrey Shaver, watched the women prepare dinners. The afternoon ended with a sit-down review.
Shaver didn't give any pass/fail grades, and the women understood basic kitchen safety. As concessions to busy family life, through, they did commit a supersized blunder or two that Shaver, always the clinical professional, gently pointed out.
Shaver said it's unrealistic to hold home cooks to restaurant standards, but they can still improve food handling habits amid life's distractions.
"You have different challenges, certainly," she said. "We never inspect with pets and kids. It's probably why we don't regulate in private homes. It's normal."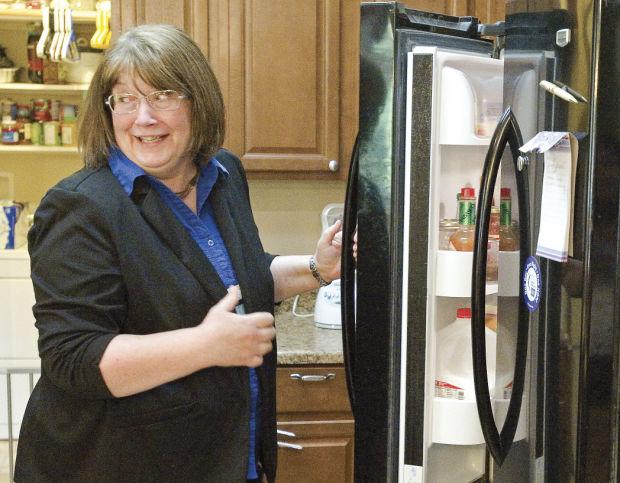 Sometimes, concern about exposure to germs falls to the wayside when a toddler is nearby.
"There are some corners I cut here and there," said Masters, 29. "There's a point when you're sacrificing health (steps) to take care of your child."
It's an odd rationale Masters said she's trying to adjust to as she and her husband, Rick Masters, 28, raise their 21-month-old son, Parker, on a healthy diet. The family recently started eating more fruit, vegetables and wheat-free bread."
For Shaver's inspection, Masters chose a dish with inherent danger: Chicken stir-fry with gluten-free noodles, which could be a serving of salmonella if not cooked properly.
Despite a spacious kitchen, Parker sat on the counter next to Masters' prep area, where she was chopping vegetables and chicken on separate cutting mats. Though groggy and quiet initially, Parker grew more curious about the food and occasionally grabbed at the raw carrots, hoping for a bite.
"He really wants to help and be part of what I'm doing," Masters said. "(But) if I'm up close to the counter, he pushes me away because he wants my attention."
Masters was previously certified to handle food as an employee at Izzy's Pizza Restaurant and the Red Lion, where she worked as catering manager for six years before she had Parker. But she admitted she's not that strict in her own kitchen.
She doesn't wash her hands as often as she should — though during the evaluation she washed her hands every time she touched the chicken. She also subscribes to the "five-second rule" if she drops food on the floor, except when it's meat or something sticky.
So when Parker started playing with his bouncy ball, Masters was barely fazed when it landed twice on top of the cutting mat with chicken on it. Masters just moved the chicken, and Parker continued playing with the ball.
Shaver somehow managed to remained poker-faced. Later, she gently recommended that Masters occasionally wash Parker's toys in a water-diluted bleach bath to stave off salmonella or other bacteria.
"When you have a 2-year-old, things don't go the way you want them to," Masters said, adding that she wanted her experience to be honest to readers. "I could've done things differently to be safe, because I'm being watched."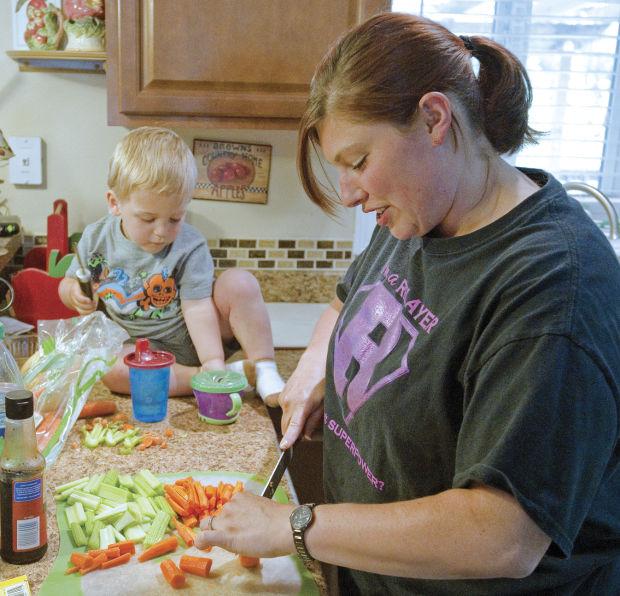 Her toddler was unpredictable, but Masters' dinner prep was an unflagging routine.
The chicken breasts were thawing on a plate left in the microwave and on the counter for nearly seven hours. That common time-saving task, however, was the stay-at-home mom's food safety weak spot.
Shaver said thawing meat at room temperature is a big no-no that allows bacteria to breed quicker on the outer portion of the meat. Instead, meat should be thawed inside a refrigerator colder than 41 degrees.
"Either refrigerate or (defrost) in the microwave and finish cooking it right away," Shaver said.
"I was aware of it, because I had a food handler's card, but I didn't really think about applying it in a home setting," Masters said. "I guess I didn't make the connection."
Shaver did compliment Masters for thawing the chicken on a plate, so the raw meat couldn't drip onto other food.
"It's good to use a solid plate, which I see you did," Shaver told Masters as she transferred the chicken to a hot pan.
Her fridge also got top marks.
"You have (the produce and meat) separated and spread out so there's good circulation," Shaver told a beaming Masters, who said she cleaned her fridge ahead of time after a light scolding from her mom.
The dinner was almost done before Masters' husband came home at 6 p.m. Leaving completed meals out a short time isn't a problem, but Shaver recommends that hot food go back into the fridge if it's ready two or more hours before it needs to be served. Food left to cool at room temperature can become a breeding ground for harmful bacteria and should be tossed, the Washington State Department of Health states.
"We would have changed (Masters' mistakes) immediately in a commercial kitchen," Shaver said. "It's about learning the best practices."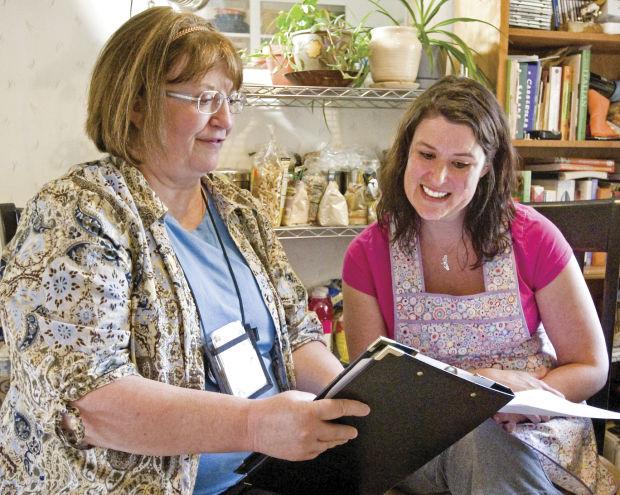 Moms know how to handle chaos, but Beth McFadden was a skilled improvisor when her oven died just before Shaver's May 28 visit. Instead of cancelling, McFadden ran to her neighbor's house to bake chicken breasts for her taco dinner. The move impressed Shaver when she arrived.
"I know it wasn't in your plans today," she told McFadden, who had a day off from her job at the Progress Center. "On the days when your oven quits, your husband should take you out."
Nonetheless, McFadden forged ahead. But she continued to run into problems.
Her chicken — piping hot and measured by her neighbor at 160 degrees as the recipe suggested — nevertheless was slightly undercooked by restaurant standards. Experts recommend cooking meat to at least to 165 degrees internally to kill bacteria.
Like many cooks, McFadden normally doesn't use a thermometer unless she's barbecuing. The mom to 21-month-old Desmond usually just "eyeballs" the meat to check if it's done.
"I have a food thermometer, but I don't use it that often. Who knows if my thermometer's calibrated accurately?" she said. "I do it by sight and touch, like Anthony Bourdain," the chef and TV personality.
Food thermometers are the only accurate way to ensure meat is thoroughly cooked. Some studies have shown that some meats, such as beef, sometimes turn brown and look cooked even though they aren't.
Shaver suggested shredding and reheating the chicken to 165 degrees to kill any bacteria.
McFadden did use different cutting boards for the chicken and vegetables — a holdover from an ongoing argument she has with her husband, Brad McFadden, 47.
"He doesn't care if you put the chicken on the cutting board," she said. "So, we bought this set, and he does use different cutting boards (now)."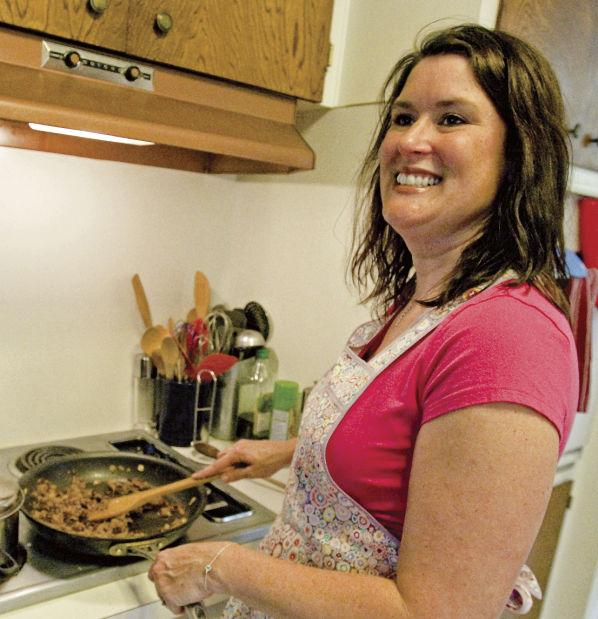 Food safety vs. cleanliness
Before her oven broke, McFadden's chief concern was getting critiqued for a messy kitchen.
"I was afraid you guys would say the kitchen's filthy," she joked. "I had it in my head (Shaver) would swab for bacteria."
Aside from normal clutter, McFadden said oil sometimes splatters onto unreachable parts of her range hood and fine dust accumulates on the light switch. A few months ago, moths infested McFadden's pantry, causing her to throw away all of their dry food.
The critters and clutter may induce shivers up the spine but do not cause food-borne illnesses, Shaver said.
"Those bugs don't usually cause diseases," she said. "Grease doesn't impact food safety."
Instead, Shaver recommended McFadden wipe down frequently touched surfaces, such as fridge or oven handles, to minimize cross-contamination.
The women aren't exactly running their kitchens like a restaurant. But it's safe to say crying kids, pets and toys wouldn't be allowed in commercial kitchens, either. Still, the most basic food-handling rules are just common sense, Shaver said.
"It was a different experience. It was interesting. In a food establishment, you get to say stop (on violations)," she said. "There are no standards for home kitchens."
McFadden said by phone later she's still using her meat thermometer and now sanitizes her cutting boards with bleach. She also replaced her stove and the rest of her outdated appliances.
"It didn't really change my routine. I was fairly aware of all the basics," she said. "I'm just more aware."
Masters called the experiment "fun and educational," though some habits — such as taking the temperature of cooked meat — weren't so convenient for daily meals.
"I still check based on cutting the meat open and seeing if it's brown," she said. "It's the way I've always done it."
The rest of Shaver's tips were easier to put into practice, Masters said.
"The rules are realistic," she said. "It's just a matter of getting in the mindset to be consciously aware if you're not practicing the right food-handling habits."
Lyxan Toledanes covers health, Castle Rock city government and south Lewis County for The Daily News. Reach her at 360-577-2586 or ltoledanes@tdn.com.