Like a catchy chorus on a Top-40 radio station, some people in Longview have been repeating, "Go back to the Cowlitz River!"
So let's go back — not to the river as a water source, but to Longview's transition from the Cowlitz to the Mint Farm Regional Water Treatment Plant.
Six years of research and planning led to the switch, which took place in January 2013. Testing focused on the possibility of industrial contamination of the deep groundwater table, but the other problems that have plagued Longview's water system were not unforseen — and some, like high iron and manganese, have been dealt with.
Dislodged scale buildup from reverse flows — aka murky brown water — has nearly disappeared as old pipes have acclimated to new water or been scoured out by vigorous flushing of the mains. But it took much longer than expected.
"We knew there was going to be a transition period, but we didn't anticipate there was going to be this much dissolving iron and manganese and that it would take this long to get (that) to stabilize," Public Works Director Jeff Cameron said.
Those metals affect aesthetic qualities of the water — color, taste and smell.
That's one problem down, but residents still see a glass half empty, and possibly stained.
White silica spotting on sinks, dishes and appliances has become the community's biggest complaint. More than 60 percent of residents think it's a "major concern," and another 19 percent have "some concern" about the mineral residue, according to a recent scientific survey.
"It didn't raise a red flag for us or our consultants that it would be the issue that it has turned out to be," Cameron said. "That's part of why we hire consultants, who are experts in water quality. In hindsight I'm not sure what we could have done differently."
One of the city's consultants, Kennedy/Jenks, had previously helped Vancouver with a new water treatment plant where silica is present.
"Their silica levels are almost identical to ours — and (there have been) no issues," said city engineer Amy Blain. "Not that they don't deal with the spotting, but because they were already a groundwater source and dealing with harder water, it was accepted by their customers without the reaction that we have had from ours."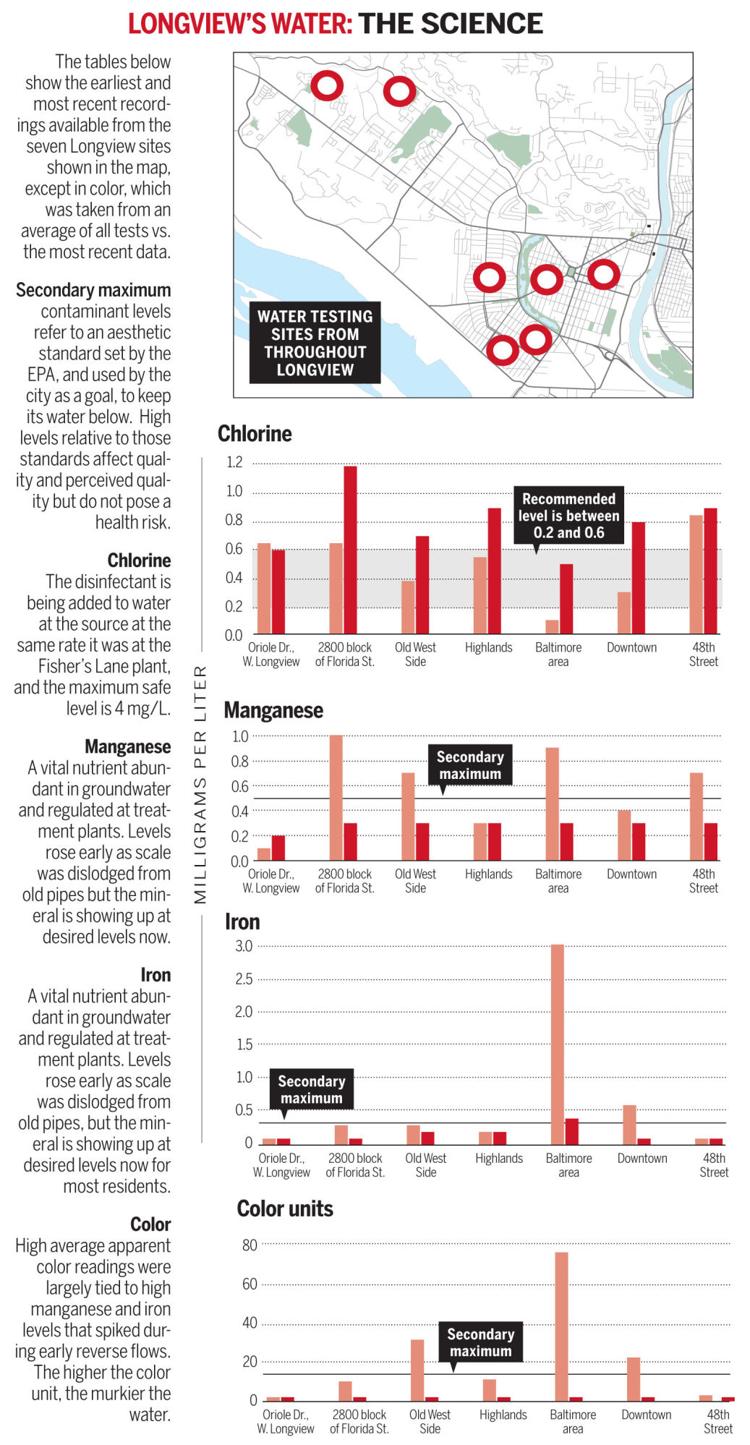 There's no health or aesthetic standard for silica, though it is widely accepted as nontoxic at even high levels. And though the new groundwater wells have twice as much silica on average as the Cowlitz River, bottled water can contain levels much higher.
Spotting and buildup happens when mineral-heavy water evaporates, leaving deposits behind. So the problem is highly visible — but its severity is debatable.
"I think a lot of it is psychological," Cameron said. "Obviously there were a lot of people in town dealing with crappy water, the iron and manganese dissolving off the pipe. If I lived there I would be mad, too. But I think the reaction from people has been biased because of that iron and manganese problem, and it makes them more suspect of the water."
The suspicions haven't been uniform throughout town — even though silica is showing up in equal amounts at most taps.
"Why some parts of town are complaining more than others, I don't know," Cameron said. "It may be that people's tolerance varies and it's random who is more tolerant."
Another aesthetic problem — no health risks have followed the change in water — has been the smell and taste of chlorine. Two-thirds of residents recently surveyed have a problem with the taste, and just more than half have a problem with the smell.
The disinfectant's levels have been all over the map, tests throughout the water system show. But chlorine levels have never approached the maximum, and the Baltimore Street area in he Highlands neighborhood regularly hasn't seen enough chlorine. (That's the part of town that had the most trouble with water until main replacements last year.)
Cameron said the odor and taste is often related to low chlorine instead of too much, and he noted that the amount put in at the treatment plant is exactly the same as was added at the old Fisher's Lane plant, which drew water from the Cowlitz.
"Chlorine is more a matter of perception," Cameron said, adding that some chlorine complaints have come from areas that used to be much closer to the treatment plant and thus had higher chlorine levels.
As the city approaches two years with the Mint Farm wells and has just dipped its toes into a study of alternatives, a few options have already floated to the surface. Nothing as pleasing to the ears, perhaps, as simply switching some pipes and turning back the clock.
"Going to the Columbia or the Cowlitz is not a panacea for getting perfect water," Cameron said.
He said he thinks installing Ranney wells in the Columbia — which would take water below the riverbed, like Kelso does in the Cowlitz — and blending that with Mint Farm well water is a possibility to reduce silica, though treatment would have to be ramped up.
For chlorine, the city has already run trials on injecting dissolved oxygen with some success.
"Adding dissolved oxygen would assist in improving water quality and the perception of water quality," Cameron said.
That was put on hold while a new, $217,000 water supply study — prompted by complaints — got underway in late summer. Other options could be presented in the months to come by CH2MHill, the firm doing the study.
"I was a little surprised by the willingness to support rate increases that was shown in the (public opinion part of) the study," Cameron said about the near-majority support for $5 or $10 rate increases to fix the system. "For that level of willingness it may be feasible to go to a different source."
The City Council will discuss the next steps for the water study at a workshop 6 p.m. Thursday at City Hall.