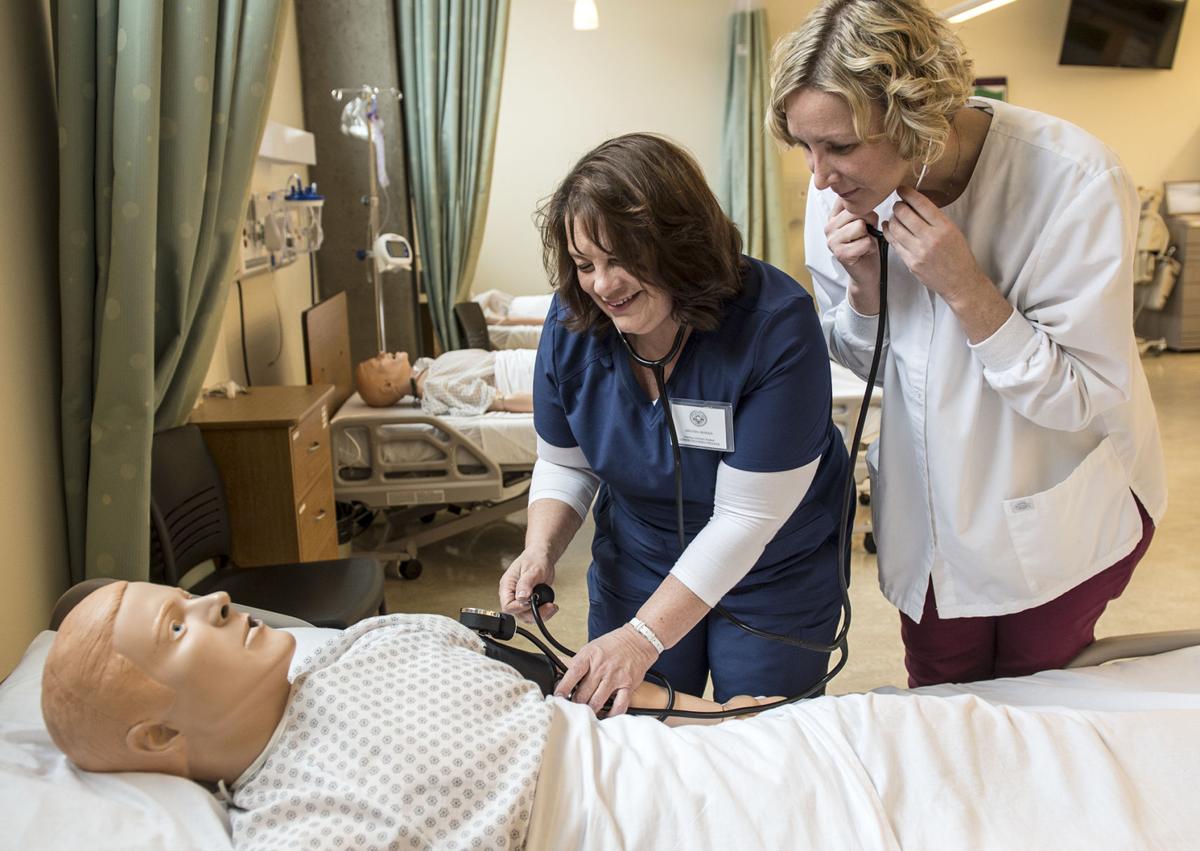 Editor's note: This is the first in a three-part series about how to boost local employment and prosperity. The other stories will run Tuesday and Wednesday.
As a kid, Mandi Bowen-Curtis spent her afternoons hanging around the Cowlitz Stud mill in Randle, Wash. The workers taught her how to stack lumber so she could pitch in, too.
"I was a little mill rat," she joked.
Years later, when she was in her 30s, that background helped her get hired at Cowlitz Stud, where her dad worked. She was there for five years until she was laid off when the company was bought out in 1997.
Since then, Bowen-Curtis has moved to Utah and back to Washington, working at a handful of manufacturing jobs and in other fields, most recently as a supervisor at Blue Rhino propane company in Chehalis. She made $23 an hour, the same wage she had earned at Cowlitz Stud 15 years earlier, but after a steady series of reductions in hours, she finally was laid off last April.
"It's the same everywhere you go. In every manufacturing job, it becomes more of a person operating a machine that can do several things at one time. It's less labor-intensive because the machine now is doing it. .... but at the same time you're eliminating jobs," said Bowen-Curtis, a 54-year-old Morton resident who is studying at Lower Columbia College with plans to move to Longview.
"(In manufacturing) I was not ... getting ahead in my career development. I just got tired of playing that little rat-race game," Bowen-Curtis said. "I wanted to get into something that I knew would be good for me as I go throughout my life."
Her story reflects fundamental changes in the rural Southwest Washington economy over the last four decades. Manufacturing employment in Cowlitz County has declined by a third since 1990, while health care employment has zoomed up, reflecting in part the region's aging population. While Cowlitz County's workforce has mostly recovered — at least numerically — from the 2008 recession, job growth is struggling to break past pre-recession levels. And recently the county has been hit by more negative job news: Macy's is closing, and PeaceHealth is laying off lab workers.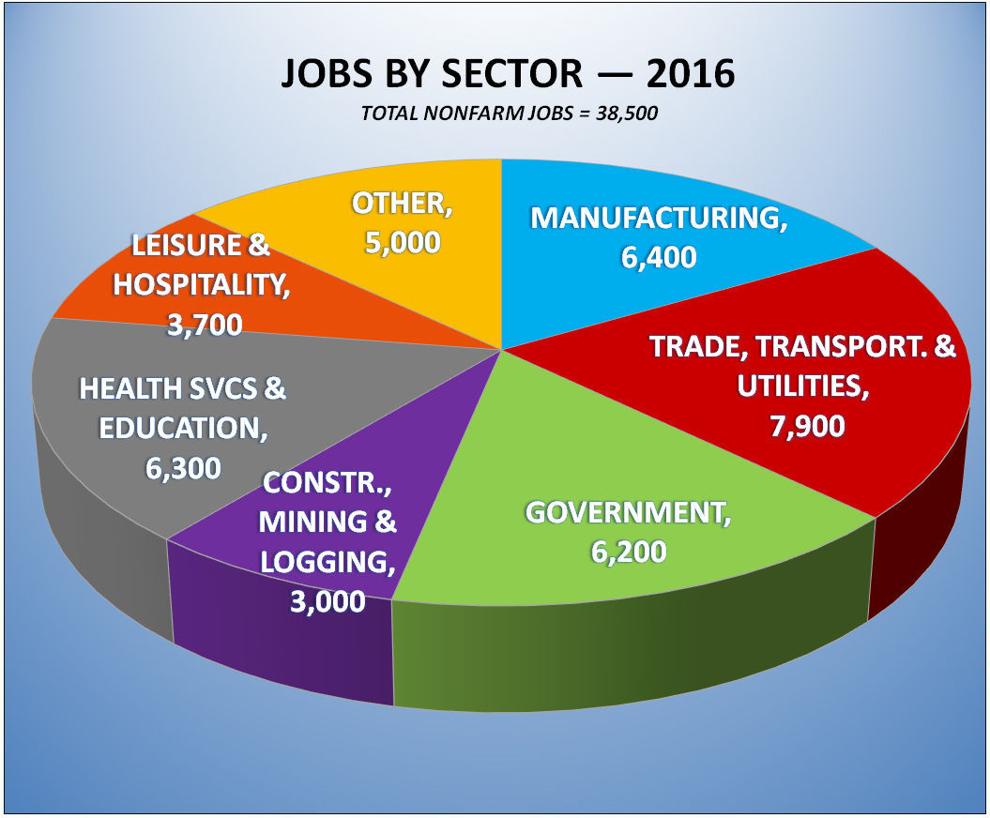 Unemployment has generally hovered between 7 percent and 8 percent for the last three years and has been perennially higher than the state average for decades. Economic development and business leaders have tried many economic development strategies, with mixed success. So it seems like a good time to ask again: How, and how soon, can the community chart a course to prosperity?
A look back
Since 1990, Cowlitz County's manufacturing sector has shed 2,600 jobs, falling to 6,400 jobs, according to the state Economic Security Department. Through a combination of globalization, changes in the paper and logging industries, technological advances and factory closures, the percentage of the county workforce slid from 26 percent in 1990 to 16 percent in 2016. That still is double the national average, but the decline represents a significant blow to an economy built on family-wage factory jobs.
Meanwhile, the health care and social services sector has boomed, from 3,000 in 1990 to 6,000 jobs last year. The health care and social services sector now employs almost the same amount of Cowlitz County workers as the manufacturing sector does here. Yet even the health care sector has had only modest to flat growth here since 2009.
Overall the demand for new jobs hasn't kept up with supply. The size of the civilian labor force — the total of unemployed and employed workers — has expanded by 19 percent since 1990. But the number of nonfarm jobs has risen only about 10 percent.
Ted Sprague, president of the Cowlitz Economic Development Council, said the area needs to support continual growth in health care while attracting new construction and manufacturing jobs, too.
"Health care jobs often pay above-average wages in the county, so they're a very important part of our economic picture," Sprague said. "But we would like to see a better balance of rising manufacturing jobs and construction jobs with the rising of health care."
Economic development leaders still are trying to land some larger employers, but they are also looking to small and medium-sized businesses from a diverse range of industries to steer job growth. That has been a key part of the Port of Kalama's success. Port tenants today employ about 1,120 people, up from 818 in 1990 and 450 in 1985.
Helping current businesses survive and grow is a big part of job creation, economic development specialists say. There are several services here aimed at offering training to support small business growth. The Kelso-Longview Chamber of Commerce has "Business Boot Camp" courses to help business owners brush up on various skills; the City of Longview offers low-interest loans for small business through its Revolving Loan Fund; and nonprofits such as the Workforce Development Council and the Cowlitz Economic Development Council offer support for employee retention and recruitment, business growth and other needs.
Joe Phillips, economic development coordinator for the City of Longview, said there has been talk of creating business incubators here that would offer more favorable lease terms for new companies or offer shared services to reduce some of the initial burdens of starting a business.
Lowering the barriers and costs of running a business in Washington also is important for economic development, said Brian Magnuson, who owns three local business and serves on the Cowlitz Economic Development Board.
Health care: An area of future growth?
An aging population may explain part of the increased demand for many services in Cowlitz County, said Hyatt Yu, Longview administrator at Kaiser Permanente. But there also has been a growing national shift to expand services from the hospital to outpatient clinics or at-home care, where patients often can recover faster, Yu said.
"As we learn more about how to heal patients faster, the emphasis on what kind of facilities are needed begins to change. … There are a lot of procedures that can be done outside a hospital in an ambulatory clinic at a fraction of the costs," Yu said. "When you think about growth, are we going to see another hospital here? Probably not, unless the population grows quite a bit." Rather, the county likely will see growth in clinics and support services first, he added.
Even health care is not immune to cutbacks, though, as shown by PeaceHealth's recent decision to outsource its lab work, which will result in layoffs of about 500 employees in Washington, Oregon and Alaska. (Local job loss figures are not yet available.)
Magnuson, who also chairs the PeaceHealth St. John Medical Center Community Health Board, said the area should expand specialized services to reduce the number of patients who are referred to Portland and Vancouver to see medical specialists.
"We want to slow down the treat-and-transfer and be able to keep more … (of the dollars) from those specialties in the community," Magnuson said.
The CEDC has recruited companies that manufacture health care equipment, too, but typically those companies like to cluster together, and scoring the first big plant is a ways away, Sprague said.
Barring unforeseen events, economic development planners aren't expecting one major manufacturing plant to land in Cowlitz County. Instead area planners hope to attract small-to-medium-sized businesses from a range of industries to promote gradual growth.
"A lot of people still say, 'We need GM to come in or another big industry.' That's nice, but you really build your economy on small steps," said Mike Karnofski, CEDC board member and former Cowlitz County commissioner. He pointed to Northwest Innovation Works, which is slated to hire 192 permanent workers at its Port of Kalama methanol plant; and to Millennium, which is projected to hire 130 permanent workers for a coal export dock west of Longvew. Both were attracted here because of the transportation infrastructure.
"This is probably the only place maybe in the state of Washington where you could probably, if you had a good arm ... stand and throw a rock across the major interstate, across the railroad and into the Columbia River," he quipped.
He pointed to the Export Grain Terminal at the Port of Longview and the Temco grain terminal expansion at the Port of Kalama as recent examples of projects that came here because of the region's location on the transportation corridor.
Those two projects are in many ways a result of channel deepening on the Columbia River, which made it possible for bigger and more fully loaded freighters to use the river, Sprague said.
"If you look at any of the comments during the channel deepening (permitting process), what we were always saying was that, 'This is going to increase cargoes and increase capital investments on the Columbia River,'" Sprague said. "It happened automatically once channel deepening happened."
Phillips and others said the area should continue to play to its strengths in manufacturing and export.
"The age of mass-consumer manufacturing ... might not come back as long as it's cheaper to make it and ship it someplace else, but there's sure opportunities for it here. And I think that plays to our strengths," he said.
What's on the horizon?
Several projects are under way that could stimulate job growth. The Port of Longview is remarketing the Bridgeview Terminal (berths 1 and 2) in an effort to generate more income and jobs; the Port also is working toward expanding its rail corridor, a project that was key to attracting the Export Grain Terminal.
At the Port of Kalama, the proposed methanol project is undergoing permitting and construction is expected to start soon on a new McMenamins hotel. The City of Longview is preparing to eventually build a hotel to attract conference-related tourism. The Longview, Woodland and Kalama ports, as well as the City of Woodland, all are in various stages of developing future business or industrial parks. The opening this spring of the Cowlitz Tribe's Ilani Casino in north Clark County, with a staff of 1,000, also is likely to be a significant employer of Cowlitz County residents.
Between public and private proposed projects, there is about $4 billion worth of capital investments proposed for the county, according to the CEDC.
Area planners are expecting continued slow, steady growth in Cowlitz County — incremental changes rather than sudden bursts of economic activity.
"I don't think it's going to be like a superfast growth unless something else decides to drop down here out of the blue, but it would probably be a few jobs here, a few jobs there and a few more residents there," Phillips said.
He added that he expects growth from the Portland-Vancouver area to trickle into Cowlitz County, too. As the cost of doing business in Portland and the pace of development there increases, "I think we're probably going to start seeing more of those opportunities," he said.