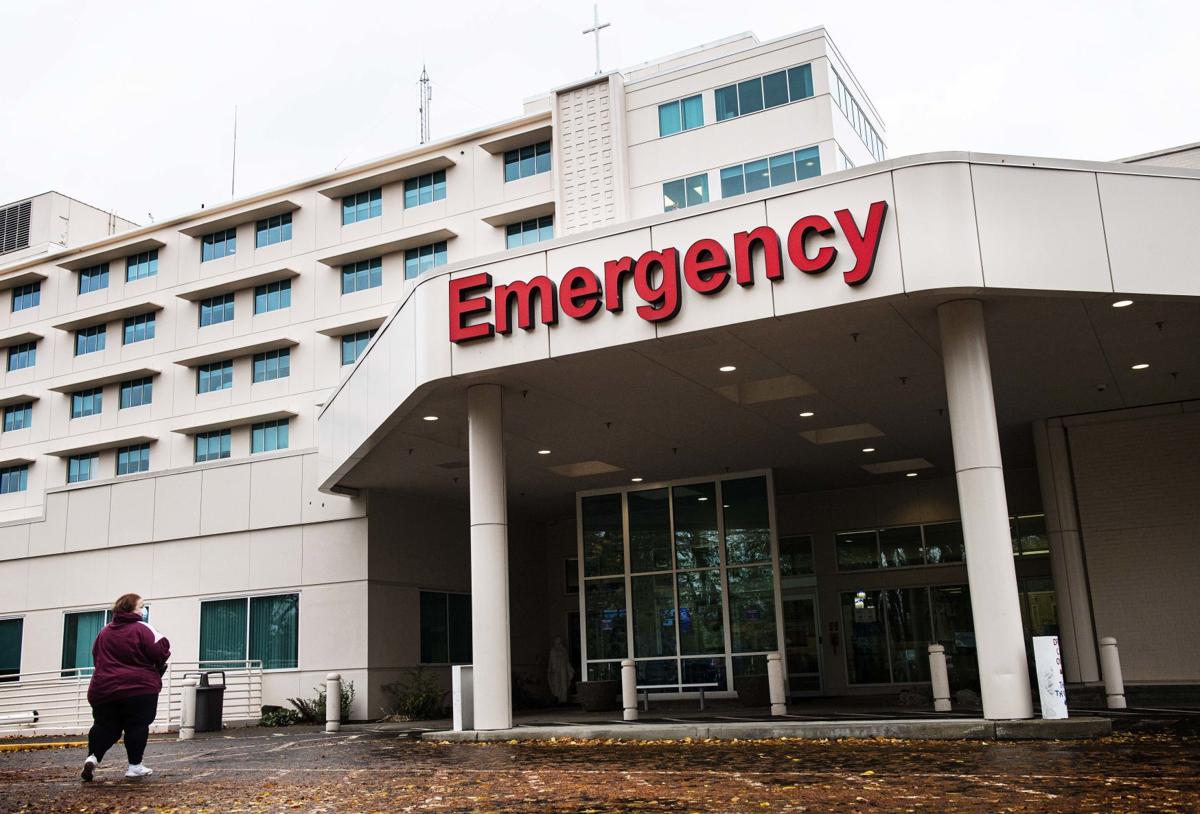 COVID-19 hospitalizations are increasing as virus activity soars, prompting calls from local health officials for residents to take precautions to prevent a surge that could push hospitals beyond their limits.
"This is where we most urgently need your help," said Dr. Ray Lee, PeaceHealth Southwest chief of staff Monday. "For the hospital systems to continue to function well, efficiently and safely, we need to operate within our resources. … Help us avoid the surge that could overwhelm the system."
In a briefing Monday, Lee and other health officials urged people to stay home, avoid indoor gatherings with people outside their households, wash their hands and wear face masks to decrease COVID-19 activity.
"The stakes of our personal decisions before us right now could not be higher," Lee said. "I think all personal decisions about adhering to ways to temper the spread of the virus will have tremendous impact on whether our hospitals are overwhelmed in two weeks or not. Avoiding hitting that threshold, avoiding that surge capacity is going to be a gift to the community."
PeaceHealth St. John Medical Center transfers Cowlitz County COVID patients to Southwest in Vancouver, and both hospitals currently have adequate capacity, according to a statement from the system. At this point, there are no plans to open a COVID-19 unit at St. John, said Randy Querin, PeaceHealth spokesperson.
Hospitalizations of Cowlitz County COVID-19 victims have been fairly low but have ticked up recently, said Dr. Steve Krager, county deputy health officer. Seven patients are currently hospitalized outside the county, up from three on Monday.
In Clark County, cases and hospitalizations have increased significantly over the past several weeks, with the average number of COVID-19 hospital patients more than doubling from about 20 to 50, Krager said.
Although most cases in both counties are among those ages 20 to 49, as transmission increases, cases will expand to older populations who are more likely to be hospitalized, said Dr. Alan Melnick, health officer for Clark and Cowlitz counties.
Despite the jumps in cases and hospitalizations, at this point sending Cowlitz County patients to Southwest is more efficient than both hospitals setting up and staffing COVID-19 units, Melnick said.
Late last month, Dr. Lawrence Neville, chief medical officer for Southwest and St. John medical centers, said Southwest has a 16-bed COVID-19 unit, as well as seven beds set aside in the intensive care unit (ICU) for virus patients.
On Monday, Lee said in the past two weeks, Southwest has been housing about 35 COVID-19 patients, with about five or six in the ICU. That's much higher than in the spring, he said. On average, each patient will stay in the hospital for one or two weeks, which has a cumulative effect on capacity, he said.
Currently, PeaceHealth's capacity is sufficient, and the system hasn't cancelled or reduced surgical procedures at any facility at this time, according to a statement from the healthcare system. PeaceHealth will continue to assess COVID-19 trends and capacity levels daily, including surgery schedule reviews.
"We remain in close contact with our local public health and government partners – as well as other area hospitals and providers — to ensure we are all working together to manage surges in COVID-19 and meet the needs of our communities," according to the PeaceHealth statement.
Although most Cowlitz County virus patients are sent to Southwest, some go to other hospitals in Vancouver or Portland, Krager said. Kaiser Permanente patients would likely be sent to a Kaiser hospital and other patients choose to go to Legacy Salmon Creek Medical Center in Vancouver, he said.
The number of COVID-19 patients at Legacy Salmon Creek Medical Center has almost doubled in the past few weeks from 10 to 17, said Dr. Hoa Ly, medical director, Monay. The Vancouver hospital is decreasing surgical volumes by 25% to help decrease capacity, and if needed could take further steps, such as cutting back elective procedures or setting up beds in other areas of the hospital, Ly said.
In Clark County, COVID-19 patients occupied 9.6% of hospital beds as of Monday, just shy of the state's goal of 10% or less, according to the Department of Health. This has increased from about 5% of beds occupied by COVID-19 patients three weeks ago.
"Right now today, we have hospital capacity, but as you know there's a lag between getting sick and then requiring hospitalization and that can be several weeks," Melnick said. "If we wait until we get to that point … it's very difficult to turn that around once you have that widespread transmission. And we're heading in that direction."
About 80% of people infected with COVID-19 have mild or moderate illness and don't require hospitalization, said Lee, with Southwest. About 15% develop severe illness and are hospitalized and 5% are critically ill and require a respirator, he said.
Mortality varies by age, but hovers around 15% for hospitalized patients and up to 40% for ICU patients at Southwest, Lee said.
Doctors know more about COVID-19 now than in the spring, and mortality rates have improved significantly, Lee said.
Ly, with Legacy Salmon Creek, said many people don't realize that even if they don't die from COVID-19, if they are hospitalized they are still using up resources that could have been used to save someone else's life.
Hospital resources and capacity doesn't just include beds, but staff as well, Melnick said.
Melnick said he's also concerned that once flu season starts, more people will likely become sick enough to need hospitalization, which could be a "double whammy" to capacity.
All of the health officials said they are concerned about Thanksgiving .. especially on top of "pandemic fatigue." Ly said taking things one day at a time can help people cope with the virus and restrictions.
"It's very difficult, but … we are fully capable of making sacrifices," Ly said. "We are capable of making a difference for ourselves, our loved ones and our community each day. … This may not be the best holiday season … but this is probably going to be the most memorable and meaningful holiday season."
Concerned about COVID-19?
Sign up now to get the most recent coronavirus headlines and other important local and national news sent to your email inbox daily.