Tasha Krakenberg watched from the other side of the fence as the pallet homes were built in December on Alabama Street. Krakenberg lived in the Longview camp — which many unhoused people called "Tent City" — for eight months but had been homeless in Longview for three years.
"Tent City" never exactly felt safe for Krakenberg, but she viewed it as a consistent home base. When Salvation Army staff began meeting with camp residents to find the first group to live in the new city-sponsored village, Krakenberg leapt at the opportunity. She now lives in one of the 50 HOPE Village pallet homes with her dog Bear.
"We were all so curious about what it was going to be, if there was going to be electricity and heat," Krakenberg said. "I know I can speak for a lot of people that it's been amazing."
For almost three years, people like Krakenberg slept in tents on the City of Longview lot. As of Thursday afternoon, 46 people had an individual tiny home, and another 37 people were on the waitlist for open units or were being interviewed for spots. Officials and residents say the structures are part of the path to permanent housing.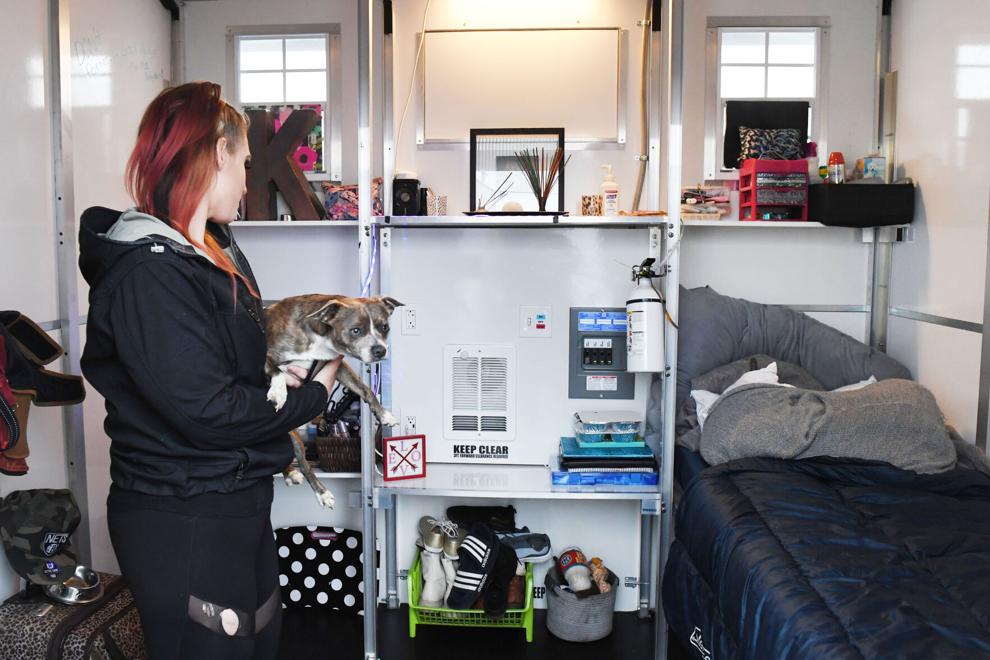 The routine
HOPE Village has 50 pallet homes lining the clear makeshift walkways through the site. Each unit comes with a bed, lights and heat, and a few outlets to plug in small items. The site has bathrooms, showers, a laundry unit and a small bathroom area for the handful of dogs living there.
The number of residents in HOPE Village fluctuates as people find housing or opt out of the requirements.
Sandra Schmaltz manages the eight-person staff of Salvation Army members at the site. During the day the staff provides breakfast and lunch, offers case management services for all the residents, and generally keep an eye on the location. At night, private security from Northwest Enforcement oversees the area.
"People are getting in a new routine," Schmaltz said. "They're getting to know the expectations we have of them and what we expect for them, but also their rights as residents."
The rules
The Longview City Council chose last year to pursue the collection of pallet homes run by the Salvation Army as the replacement for the tent camp which was not managed by a nonprofit and did not have rules.
The people living at the site now sign up for a couple hard-and-fast rules and behavior expectations. No drugs or alcohol are allowed on site. Staff perform random checks of units throughout the week and control the master keys to each of the pallet homes. There is a 10 p.m. curfew at night, after which nobody is allowed to enter or re-enter the site.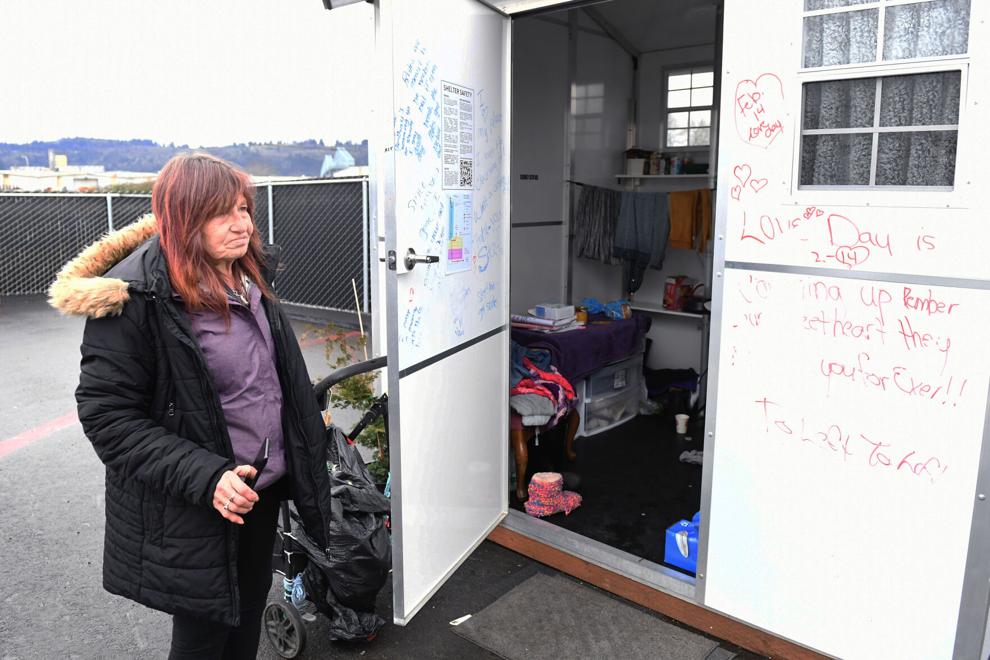 The rule that's been the toughest for people living there is the visitor restriction. Gates into the site are permanently locked and manned by Salvation Army staff. Schmaltz said the strict limits are a best practice from other pallet homes run by the Salvation Army to limit bad outside influences and keep residents safe.
Cindy Draper moved from Seattle to Longview 10 years ago but has been homeless off and on for even longer. She lived at the Alabama Street camp for most of its three year existence with her dog Fattykins. Draper said she wasn't sure at first about the changes involved in going from the tent camp to HOPE Village.
Draper said she has regularly pushed against the visitor rule, especially when it comes to socializing with other residents.
"Humans are very social, we're social animals. So that I don't understand because we can't have visitors in here but we can't go into other pallet homes," Draper said.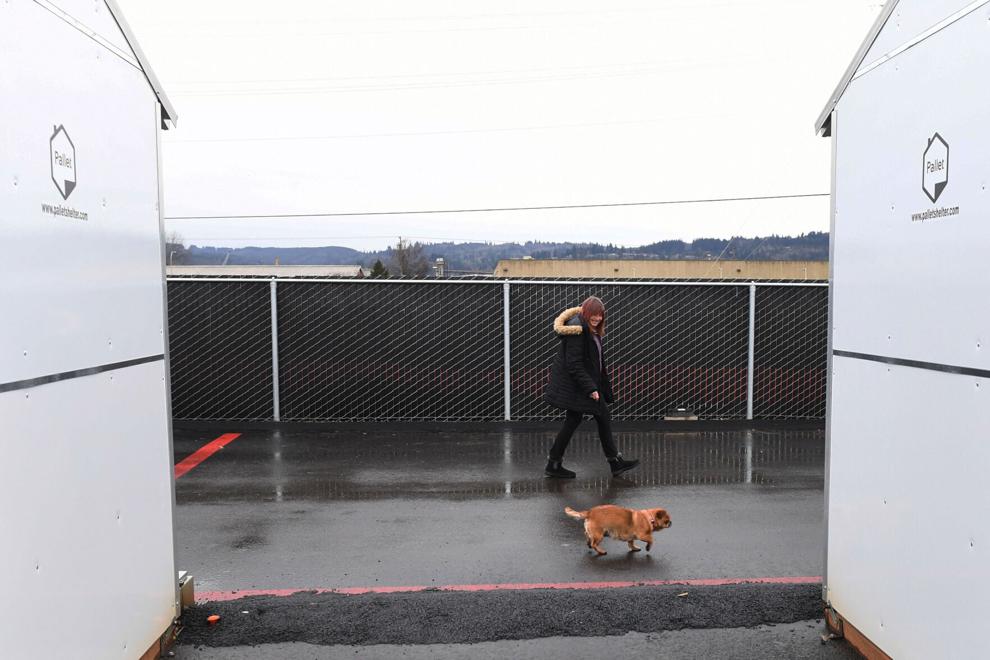 The goals
There's not a hard time limit for how long people can stay in the tiny homes. The initial goals stated by the city and the Salvation Army were to find people permanent places to live within a few months. Schmaltz said their clients can stay as long as they obey the site rules and are working to find housing.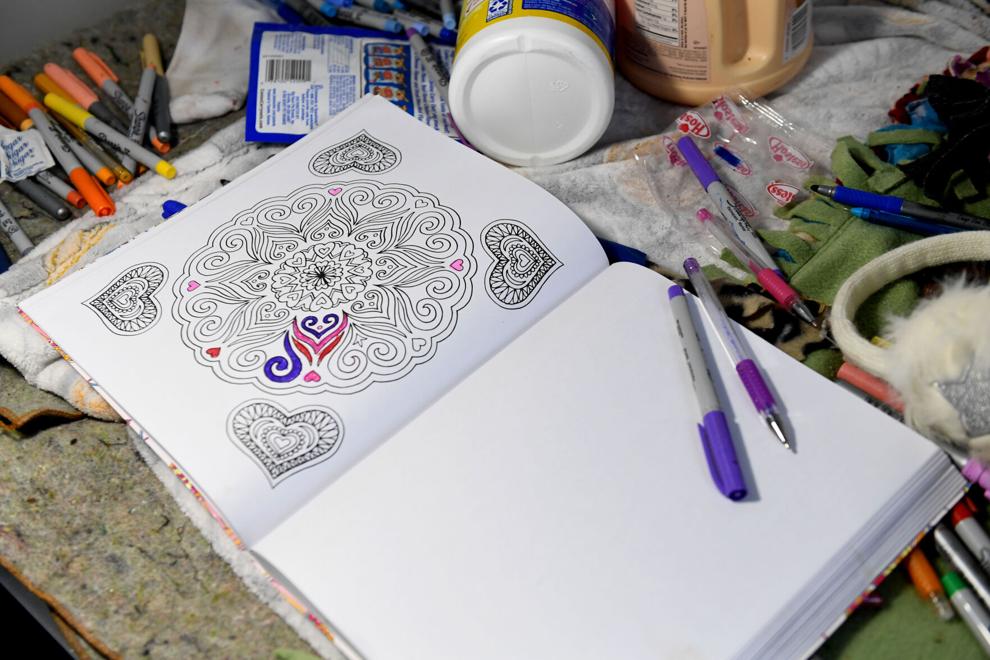 Residents are required to meet with caseworkers at least once a week to advance whatever goals they set for themselves. The ultimate goal is for everyone to work their way into housing but the staff also help them register for new IDs or make medical appointments. Krakenberg recently finalized a round of job applications.
"They keep you motivated and keep you on track. If it's just me, I'm like 'oh, I can wait until tomorrow,'" Krakenberg said.
Once the income starts coming in, Krakenberg said her ultimate goal is to move out and find her own home. Draper has the same goal, calling the pallet homes a "stepping stone."