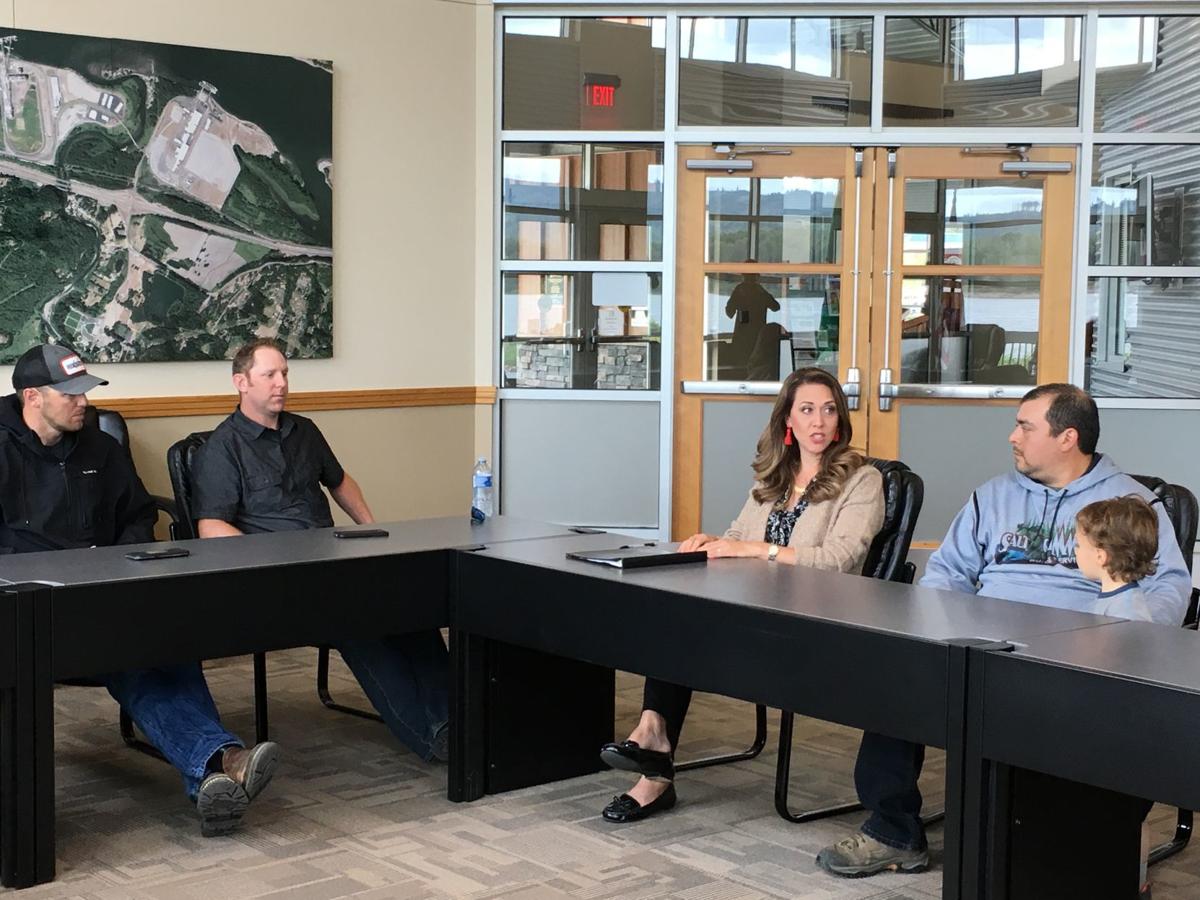 KALAMA — Nearly a year after introducing a bill that would make it easier to shoot predatory sea lions, U.S. Rep. Jaime Herrera Beutler got strong backing for the legislation Tuesday from local anglers and fishing guides.
"Anything that passes the Astoria Bridge needs to be shot and hazed," Woodland fishing guide Cameron Black told the Southwest Washington Congresswoman at the Port of Kalama Tuesday.
The anglers and fishing guides, almost all from south Cowlitz and north Clark counties, argued that killing sea lions was the only solution to saving salmon runs, as well as those of other fish like sturgeon.
Marlin LeFever, who works with Black for the fishing company Fishing Addicts NW, said sea lions are intelligent enough to leave their colonies if they realize humans are killing them off.
"You didn't (find) as many sea lions back in the day because people would shoot them," he said. "...They would see the other ones get shot, and they'd be like, 'oh, we shouldn't be here.' "
Ridgefield fisherman Dion Hess even went as far as comparing the marine mammals to terrorists.
"A few years ago, in the Middle East, ISIS was destroying 2,000, 3,000-year-old Christian artifacts, wiping them off the face of the earth. That's the feeling I got when I see a picture of big sea lions killing an eight-foot sturgeon," he told Herrera Beutler. (Sturgeon can live a century or more.)
The congresswoman said her bipartisan bill, co-sponsored by Rep. Kurt Schrader (D-Ore.), is necessary to reset an "out-of-whack ecosystem."
"We're not talking about wiping a species off the map. We're talking about trying to protect a species," said Herrera Beutler, a Battle Ground Republican. "It's a whacko imbalance."
Herrera Beutler and Schrader's Endangered Salmon and Fisheries Predation Protection Act, introduced in June last year, would allow tribal and government fish managers to lethally remove up 100 sea lions per permit. Herrera Beutler also said the bill would "streamline" the permitting process.
Herrera Beutler said she was "as confident as I can be" that the bill would be voted on by the U.S. House of Representatives in August. Her spokeswoman Angeline Riesterer added that Sen. James Risch (R-Idaho) is sponsoring a companion bill with "the exact same language" in the Senate.
Most local Democrats and Republicans are supportive of the bill, Herrera Beutler said, but she and Schrader are still trying to whip up votes in their respective parties.
"This is not a Republican bill," she told the group in Kalama. "If you're a Democrat, you should love this as much as Republicans. This has nothing to do with party."
Two Vancouver Democrats campaigning for Herrera Beutler's seat, Carolyn Long and Dorothy Gasque, both agree with the incumbent's plan. A spokesman for Long's campaign said "we need to do whatever we can to protect our fisheries," and called harassment techniques for controlling sea lions "grossly inefficient."
Although Gasque said the 100 sea lions-per-permit "kind of seems like a lot," she also supported lowering sea lion numbers.
"I'm not against — and I know this will frustrate a lot of people on the left — hunting the sea lions," she said. "I think allowing hunting (of) the sea lions will be far more effective than" other means have proven.
A third Vancouver Democrat running against Herrera Beutler, David McDevitt, did not respond to The Daily News' call for comment.
According to the U.S. Army Corps of Engineers, there were 156 sea lions counted at the Bonneville Dam fish ladder in 2017, a drop from 203 in 2016, which was the second highest yearly total since 2002, when the Corps started monitoring the area for sea lions. The sea lions' estimated salmon consumption rate at the dam in 2017 was 5,384 salmon in the dam's vicinity, according to Corps reports. In 2016, they ate around 6 percent of the salmon that passed through, or over 9,000.
At the Kalama meeting, Herrera Beutler implored the fishing guides and anglers to repeatedly contact their local representatives to help pass the bill this summer.
"I hope and pray that we muster enough juice to get (this bill) across the finish line," she said.
Get local news delivered to your inbox!
Subscribe to our Daily Headlines newsletter.