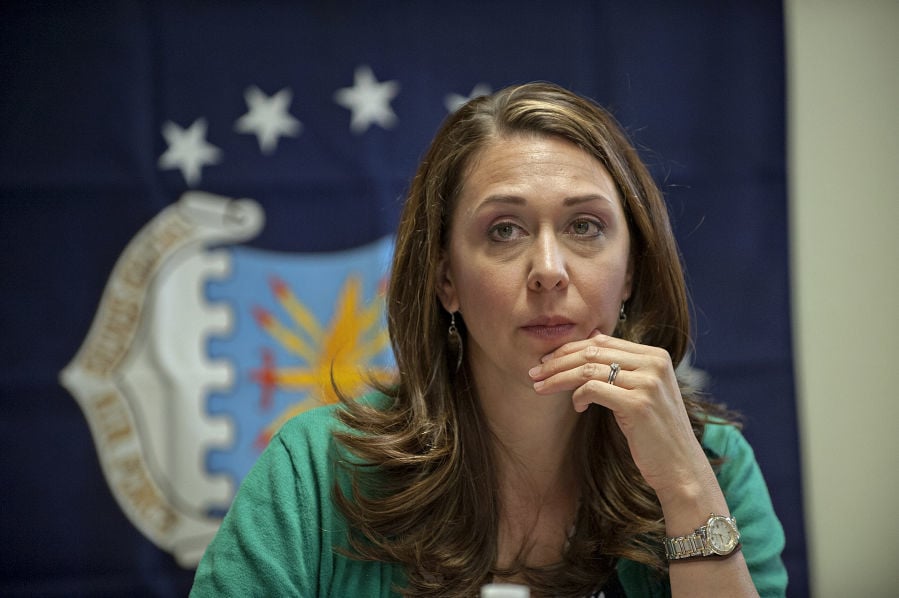 Southwest Washington Congresswoman Jaime Herrera Beutler has signed on to police reform legislation that would finance body cameras, encourage hiring diversity, discourage chokeholds and give agencies more information about potential recruits' disciplinary records.
The legislation, called the "JUSTICE" Act, is a companion to similar legislation filed in the Senate by U.S. Sen. Tim Scott and other Republicans, according to a press release from Herrera Beutler's office.
It calls for a raft of changes to how law enforcement agencies operate and how governments report on them. It follows the national uproar, demonstrations and riots that followed the death of George Floyd, a black man, while in the custody of Minneapolis police on May 25.
"It's time for Congress to take action to make sure every single one of us is treated equally, has the same access to justice, and can count on law enforcement to keep us safe," Herrera Beutler, a Clark County Republican, said in a prepared statement.
Law enforcement agencies would be required to consider the disciplinary history of each of a potential recruit's prior law enforcement employers, though the law doesn't specify to what degree that information must weigh on an agency's decision. Each state would receive $1 million to fund the collection and maintenance of those records, and governments that fail to do so could lose some federal funding.
The act would provide a yearly $100 million matching grant program to equip agencies with body cameras. Participating agencies would have to ensure that officers keep the cameras running during any arrests or detainment, and those which fail to do so intentionally would lose a percentage of their federal funding.
It would also let agencies use federal grant money to hire recruiters and candidates to better reflect the racial and ethnic makeup of their communities.
State and local governments would have to report yearly to the FBI any uses of force that result in death or serious injury, as well as incidents leading to the serious injury or death of an officer. They would also have to report on usage of "no-knock" warrants and the context behind their usage. The bill would set aside $112 million for departments to fund these efforts.
Given chokeholds' risk of causing serious injury or death, the act would also require officers to "severely limit" their use of the technique except in situations where deadly force is needed. Agencies that fail to make that change in their policies could lose Byrne-JAG or COPS grant funding.
The act would make it a distinct crime to falsify police reports filed in cases involving a civil rights violation that results in serious bodily injury or death, with a maximum standard sentence of 20 years in prison. And it would make conspirators in acts of lynching criminally liable.
It would also require the Attorney General to study and submit a proposal on accountability requirements for agencies that receive federal dollars.
The act would also fund de-escalation and intervention training programs at the Department of Justice and create federal commissions to study racial disparities in the criminal just system and the affects of poverty, violence, arrest and incarceration rates and other conditions affecting black men and boys.
Finally, the act would make it a crime for a federal law enforcement officer to engage in a sexual act with someone in police custody, or while acting under color of law. Consent granted by the person in custody would not be a defense to the crime. (The federal government and some states currently allow consent to be used a defense when officers have sex with someone in custody, often referred to as the "consent loophole.")
Get local news delivered to your inbox!
Subscribe to our Daily Headlines newsletter.