Amarilis Espana says she can't help but dance when she hears music.
"I don't care if it's on the street or in the mall, whatever. It's something that is in my blood," Espana said.
So when a friend turned her on to Zumba, it was a natural and instant fit.
"She knew I loved exercise and dance. ... And she asked if I wanted to come and teach a dance (at her studio)," said Espana, who has since earned her Zumba instructor's certification.
Now Espana, 50, of Longview is sharing her love of dance and exercise at Nutrifit, a downtown Longview business she opened in August. The nutrition and fitness center is geared toward "helping people from the inside out," she said.
"I want people to feel like me: very happy with a lot of energy," Espana said.
Nutrifit's two-story building includes a cafe on the first level and a small exercise studio upstairs. Espana sells nutrition products in the restaurant, including protein shakes, waffles and coffee and vitamin and mineral supplements. She leads daily Zumba classes in the studio.
"(My clients) say, 'I don't feel like I'm working out. I'm having fun dancing … I see people with the biggest smiles, looking in the mirror and saying, 'I lost weight. I feel so good,' " Espana said.
A former life coach and cosmetologist, Espana said the nutrition and fitness business combines several of her interests. With protein shakes and Zumba, she can help clients improve their self-esteem and personal body image, she said.
You have free articles remaining.
It's an added benefit that she gets to dance regularly, she said.
Though she is not a licensed nutritionist, Espana said she is interested in learning more about the practice. For now, she uses Google to answer her client's questions, and she only sells products she knows works for her, she said.
Espana holds Zumba classes at 8:30 a.m. and 6:30 p.m. every day at Nutrifit. On Tuesday and Thursdays the cardio-based dance sessions include "tonification" exercises, or muscle-building activities such as squats and weight lifting.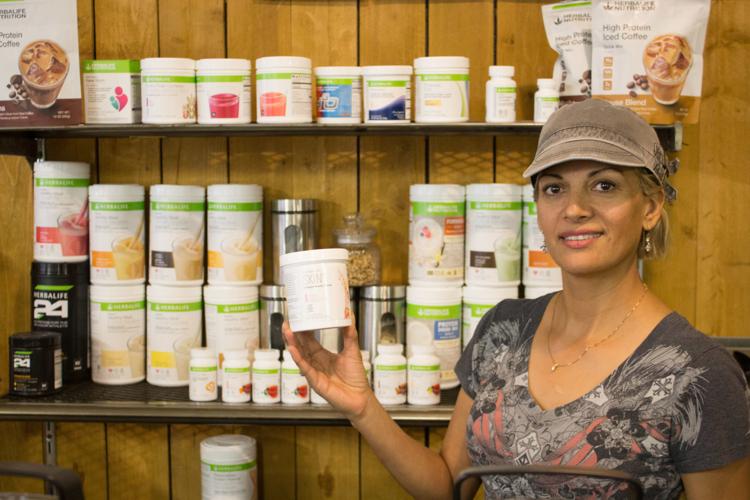 The cafe is open before and after classes, and it is stocked with Herbalife products. Herbalife is a multi-level marketing company that sells dietary supplements and nutrition and personal-care products.
A month-long membership to Nutrifit usually costs about $90, she said, but during October she is running a special deal offering free Zumba classes for any customer who purchases an Herbalife drink in the cafe.
"When they smile in the mirror, that's the best payment I can get," Espana said, adding that the business is "more to help people than to make money."
She said she plans to expand her Zumba classes to include children's sessions. She also wants to add counseling, therapy and "life coaching" as a service, she said.
"I love to dance. I love to do exercise, and I love to help," Espana said. "I think I'm on the right track because I'm doing what I really enjoy."