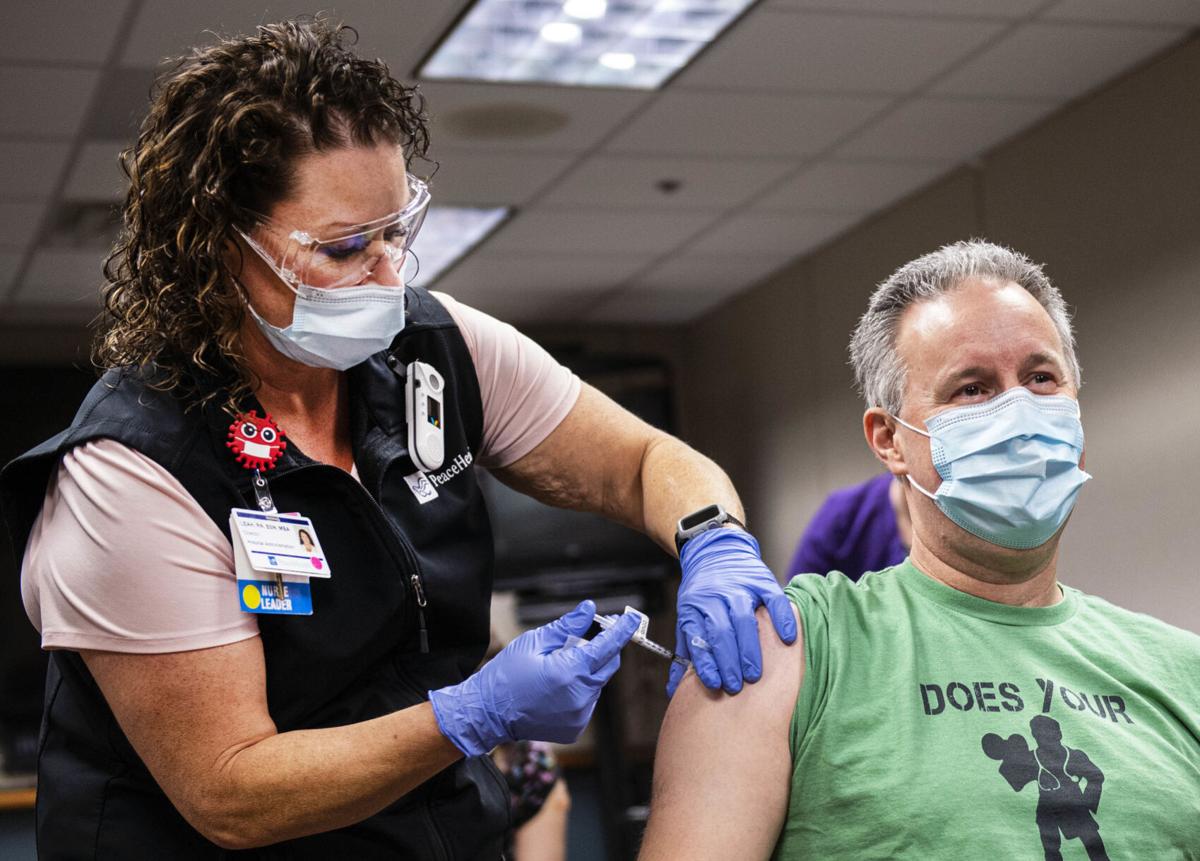 COVID-19 vaccine demand remains high ahead of eligibility opening to all Washington residents 16 years old and older next week, yet some of the first people eligible for the vaccine remain unvaccinated.
PeaceHealth St. John Medical Center set a minimum goal of getting 75% of staff vaccinated and has been trailing it for several weeks, spokesman Randy Querin said. About 72% of caregivers in PeaceHealth's Columbia Network in Cowlitz and Clark counties have been vaccinated, he said.
"We continue to talk to our own staff about the importance of getting this, the safety of it, the efficacy of it," Querin said. "We're moving the needle, but we're not where we hope to be yet among our own staff."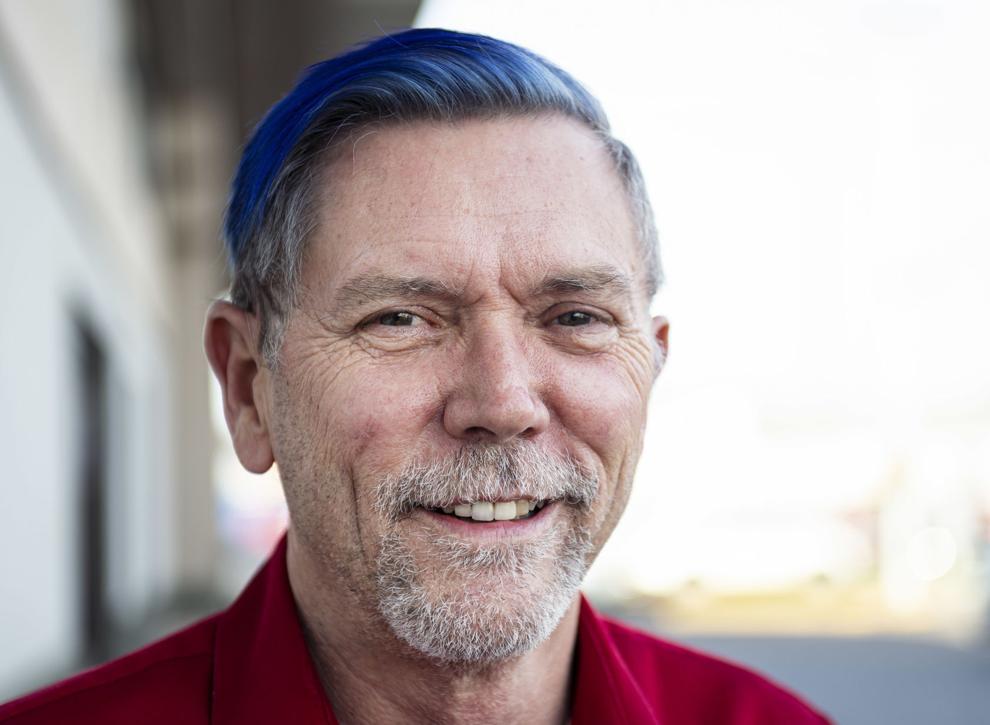 About 58% of Cowlitz Family Health Center staff are vaccinated, Chief Executive Officer Jim Coffee said Thursday. Coffee said he does not ask people why they haven't been vaccinated because he doesn't want the question to be viewed as shaming or targeting an employee.
"It really is a personal choice," he said. "Do I think it's a smart one to not get vaccinated for this disease that's killing people? No, but that's my personal opinion."
Support local news coverage and the people who report it by subscribing to The Daily News.
As of early March, about 52% of frontline health care workers said they've received at least one dose of a COVID-19 vaccine, according to a Kaiser Family Foundation/Washington Post survey. The Kaiser Family Foundation is a nonprofit organization focused on national health issues. It is unrelated to Kaiser Permanente.
Vaccine uptake was higher among hospital staff and outpatient clinics, around 65%, compared to about 52% among staff in doctors' offices, according to the survey report.
A majority of unvaccinated health care workers surveyed said worries about potential side effects and the newness of the vaccines are major factors in their decision making, according to the report.
Coffee said he's sent out some companywide emails encouraging people to get the vaccine.
The more people are vaccinated, the more data shows the vaccines are as "safe and effective as advertised," Querin said. The hospital has not seen any unusual outcomes among vaccinated people, including deaths caused by the vaccine, he said.
"We definitely want everyone who is eligible to get the vaccine," he said. "It (the pandemic) is not over with, as much as everybody wishes it was. The only way to get over it is if people eligible for vaccine come in and get it."
Patient demand
Querin said vaccine demand now is steady among patients, with the hospital meeting its capacity of 300 appointments per day.
Family Health Center staff haven't reported hesitancy among patients, in part because the clinic is offering appointments first to people who have expressed an interest in getting the vaccine, Coffee said.
The organization holds vaccine clinics once a week and administers 100 doses of the Johnson & Johnson vaccine. COVID-19 vaccine appointments are booked through April, according to Family Health Center's Facebook page.
"I expect demand to continue to grow over at least the next several months until the vast majority of folks wanting to be vaccinated are vaccinated," Coffee said.
Trends in vaccination demographics likely will become more clear after everyone 16 years old and older is eligible, he said.
"Across the nation I think it's going to be close to bedlam with people trying to get appointments," once eligibility opens, Coffee said. "We really are trying to target our patients. We're not going to turn people away … but because we serve an underserved population, we want to make sure that opportunity isn't lost for them."
Appointments for the Cowlitz County health department's COVID-19 vaccine clinic Sunday have been filling up slower than in the past, with several still available as of Thursday afternoon. The 1,200 appointments opened Wednesday at noon at www.co.cowlitz.wa.us/CovidVaccine.
The appointments could be filling up more slowly for several reasons, including improved vaccine supply in the county, said Cowlitz County Health & Human Services Communications Manager Stefanie Donahue.
About 3,300 doses were allocated to local pharmacies through the Federal Retail Pharmacy Program and about 4,000 doses were allocated to other vaccine providers in the county by the state last week, she said.
"It appears many appointments at local vaccine locations are full, or are filling up, which indicates there is demand for COVID-19 vaccine in the community," Donahue said.
Some county residents may be offline or out of town this week for spring break, which began April 5 for local school districts, she said.
Eligibility requirements also expanded to new groups fairly recently and it's possible not everyone who is eligible knows they are eligible, Donahue said. The county is continuing to do outreach to make sure those groups are alerted before eligibility expands April 15. People can check if they are currently eligible at doh.wa.gov.
Donahue said the county is sharing COVID-19 vaccine information that addresses common questions from the public. The department also plans to share resources with other organizations in the community to distribute.
"We are encouraging people who are hesitant to get the COVID-19 vaccine — or who are waiting to get it — to talk with their regular health care provider and explore the scientific data from a trusted source," she said. "Data shows the vaccines are safe and effective."
"We are encouraging people who are hesitant to get the COVID-19 vaccine — or who are waiting to get it — to talk with their regular health care provider and explore the scientific data from a trusted source." - Cowlitz County Health & Human Services Communications Manager Stefanie Donahue.